Disc Golf Exercise and Injury
In my last blog post about disc golf practice, I alluded to the need for fitness and stretching to improve our performance in disc golf. In this blog, I will look at our health as it relates to disc golf by looking at our exercise habits and the injuries we received last year. I'll cover the numbers and types of injuries we received, and our approach to exercise as it relates to disc golf. I have experienced, and seen firsthand the issues that arise due to injuries relating to disc golf. It's so frustrating to miss a tournament from an injury, much less an entire season. But, in any sport or activity that requires such a heavy use of body mechanics, there will be injuries, regardless of the level of fitness of its participants. Let's see how we did last year.
Getting Injured
To start, let's see how many of us indicated that we sustained an injury last year. According to the survey, about one in five of us were injured in 2019. Of those people, about a third of us received more than one injury.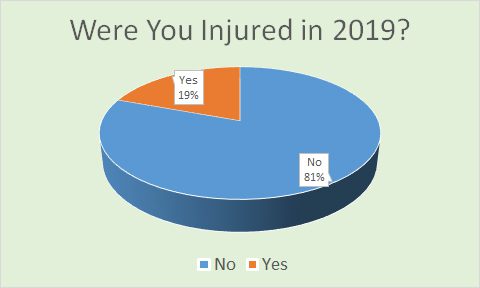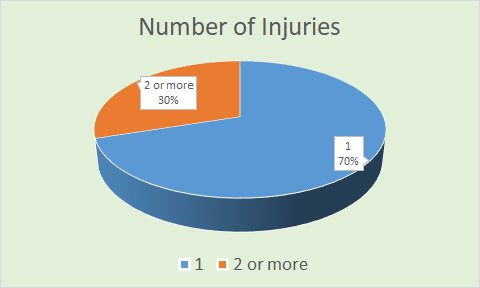 What Gets Injured The Most
Before adding up the numbers for each type of injury to see which ones are the most common, I reached out to Seth Munsey of Disc Golf Strong. Seth works with disc golfers at all levels, and said there are two injury types that he sees the most, shoulder and elbow. He said, "We see many different injuries in disc golf, but two that stand out prominently are injuries to the shoulder and elbow. The shoulder is the most mobile joint in the body.  It's important to build stability and strength in the shoulder to keep it safely in its socket and limit injury risk.  The elbow takes a beating when throwing forehand, so building strength in the tendons and surrounding tissues is crucial for long-term elbow health."
The data from the survey had pretty much the same result. Shoulder and elbow injuries came in first and third for specific injuries. Here is the breakdown.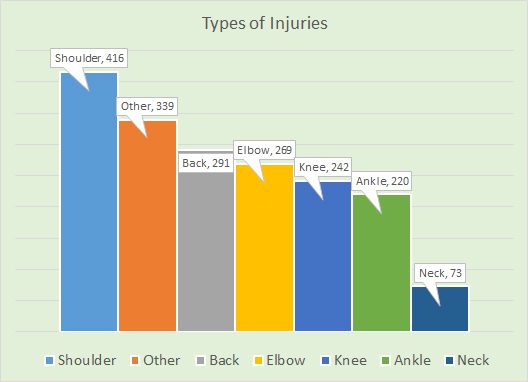 How Bad Are Our Injuries
The severity of the injuries surprised me. There are a lot more serious injuries occurring while playing disc golf than I thought. In the survey we had participants list the severity of their injury on a scale from 1, which is a minor injury that didn't affect their play more than a week, to 5, meaning they required surgery and was out for months. I considered anything rated 4 or 5 as very severe. In 2019 nearly 15% of us that had injuries, had very severe injuries. To put that in the bigger picture, about 3% of respondents had severe injuries. Not a huge percent. But, when you consider how many of us play disc golf, it is quite a few injuries.
On the other end of the spectrum, over half of our injuries (59%) kept up out of play for little to no time. That represents about 11% of all disc golfers. Here is the severity ratings.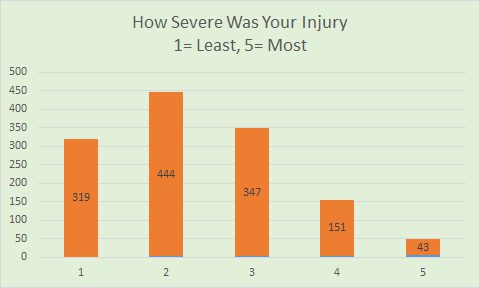 Our sport requires extensive use of a variety of muscles. As Seth Munsey puts it, "As disc golfers, we are throwing athletes.  The rotational power and force we generate when throwing a disc places a high amount of stress on our tissues." We've seen how many of us are getting hurt playing disc golf. Now let's look at what we are doing to prevent injury.
Exercise and Stretching
To improve our game and simultaneously reduce our risk of injury, we can use exercise and stretching routines to strengthen our tissue, and prepare it for use. In the survey we asked about people's exercise and stretching habits. I'll start with stretching.
I was pleasantly surprised to see that nearly half of us will always stretch before we play. I'm one of those who stretches before playing, and I know it makes a difference in my play. Conversely, there are about 10% of us who never stretch. An even smaller percent of us will stretch, but only before tournaments or leagues. Here is how you responded.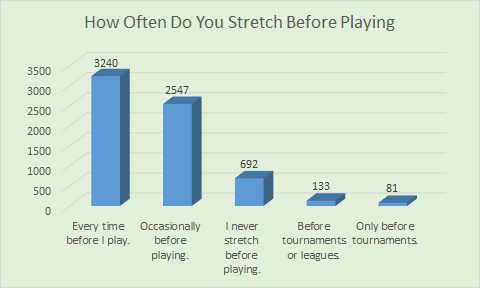 The other component of fitness that we covered in the survey was exercise. We asked if you regularly exercise, if you exercise specifically for disc golf, or if you exercise, but would do so even without disc golf. Half of us said we exercise regularly, but would do so even if we didn't play disc golf. Nearly a third of us said that disc golf is basically the only exercise we get. About 18% of us exercise specifically for disc golf. These are our exercise habits.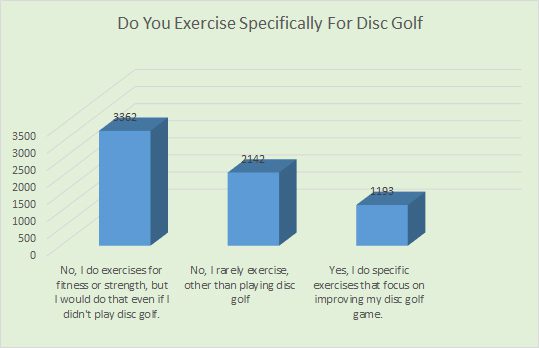 Conclusion? Wait For It…
Normally, I like to summarize the statistics and draw a conclusion based on the numbers. In this case, I would like to encourage everyone to set up a regular exercise regiment, which includes stretches, and warm up before you play or practice, because those things reduce your chances of getting injured. However, I decided to look at a couple more survey results to make sure they fell in line with the narrative that I was encouraging. The results didn't fall in line.
I looked at how people responded to the question, "Do you exercise specifically for disc golf?", and compared those answers with the question about whether or not they were injured in 2019. Certainly, the people who exercise specifically for disc golf would have the fewest injuries, right?
Exercise=Injury?
Of the 6711 people who answered the question, 2142 people said they rarely exercise, other than disc golf. Of those 2142 people, 434 of them suffered an injury. That's 20.3%.
There were 3362 people who said they do exercise, but they would even without disc golf. They had 540 injuries in their group, for a total of 16.1%. I would have thought they would have had a much lower percent compared to the non-exercisers. But, at least there were fewer, percentage-wise.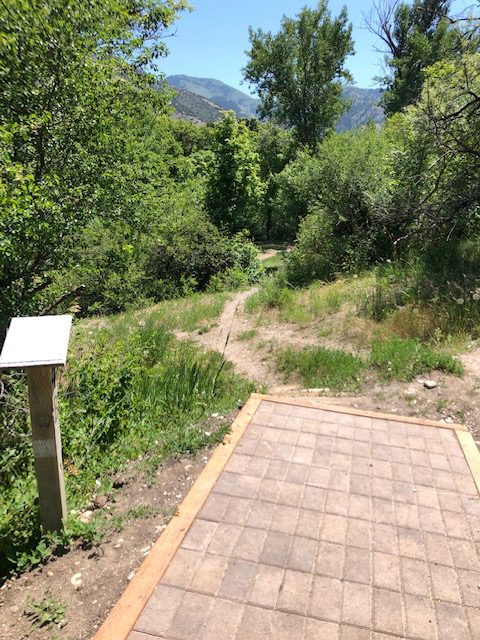 Then I looked at the group that one would assume would have the lowest injury rate of the three. There were 1193 people who indicated that they do exercises specifically for disc. Yet they had 322 injuries, for a total of 27%! That's about one in four people who train for disc golf, yet end up with injuries.
I have a couple theories about why that would be the case. I will need to look at a few more statistics to see if they support my ideas. I'll run the numbers and post in another blog. Until then, stay safe and happy hucking!
Other survey results:
Seth Munsey's website has great information about exercises and stretches for disc golf. It can be found here: