Add Your Scores
There are three ways that you can add your scores to Infinite Courses.
Before you add your score, make sure you select the correct Layout. Different layouts may have different par ratings and difficulty scores. Your rating might be negatively affected by selecting an incorrect layout.

To add round scores, simply click the "add your score" button on the course details page when logged into your Infinite account.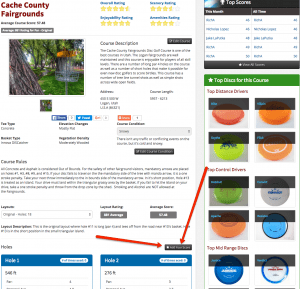 Enter your score for each hole. This allows the system to calculate average strokes per hole, and lets you see what parts of the course provide the most challenge for you.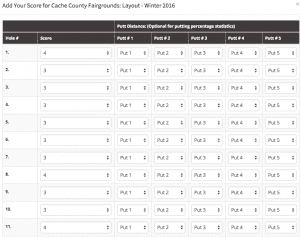 After pressing "Post Score" you will be asked to review and confirm your score. Make sure your score is correct, and was entered on the correct layout. Once the score is confirmed, it cannot be edited or deleted.
When adding scores, make sure that you don't just include your "good scores" as this will give you an artificially inflated rating, and make courses seem to be easier than they really are. Submit both good and bad rounds of golf on all of the course layouts you play.
Optional Putting Statistics
Putting and Green Percentage stats are automatically calculated when putts are entered in the optional fields on the "add score" input. These statistics are designed to keep track of "in round" putting percentages as opposed to practice putting when you have a stack of discs and can get in rhythm.
Recording Putts
The putting drop down options and statistical divisions are in following ranges: 5, 10, 15, 20, 25, 30, and 33+.
These are meant to be rounded putting zone ranges, so the 5′ zone is meant to be anything from a drop in back to about 7 feet. 10 feet should be selected for putts attempted in the 8′ to 12′ range etc.
To record your putts, simply enter the distance range of each putt attempted. When you make your putt, you don't need to do anything else. The system assumes that the distance for the last entered putt is a make.

Green Hit Percentage
When putting information is entered, the Green Hit Percentage is automatically calculated for you based on the hole par, your score, and how many putts you attempted. A throw is considered a "green hit" when it lands within the circle (10 meters from the basket) giving you and opportunity for birdie (one stroke below par).