Monthly Top Selling Discs
TOP-SELLING DISCS OF MARCH, 2023
Welcome to the top-selling discs report! At the beginning of each month, we will take a look back at the previous month to calculate which discs sold the best. You have a chance to win a $20 gift card each month if you correctly guess a certain spot for the next month (see below for more details).
Each month, we look at the top 50 disc sales data for mold AND plastic type to see which disc rose to the top. Due to this, it is possible that a single model could show up on the list several times, each representing a different plastic type. This also helps us to know which disc in which plastic are the most popular among our customers.
Here is the breakdown of the top 50 molds from March 2023 at Infinite Discs:
#1 – MVP Neutron Soft GLITCH
#2 – Infinite Discs Gummy C-Blend CENTURION
#3 – Infinite Discs D-Blend ALPACA
#4 – Infinite Discs I-Blend ROMAN
#5 – Innova Star WRAITH
#6 – Axiom Total Eclipse ENVY
#7 – Thought Space Athletics TSA Glow MANA
#8 – Axiom Proton HEX
#9 – Innova Star DESTROYER
#10 – Streamline Proton Soft SL ECHO
#11 – Infinite Discs D-Blend TOMB
#12 – Discmania C-Line CD1
#13 – Discmania Horizon DD1
#14 – Clash discs Blueberry Glow BERRY
#15 – Innova Halo Star AERO
#16 – MVP Cosmic Neutron MATRIX
#17 – MVP Eclipse 2.0 UPLINK
#18 – Discmania S-Line DD1
#19 – Infinite Discs I-Blend SPHINX
#20 – Infinite Discs G-Blend MAYA
#21– MVP Fission WAVE
#22 – Axiom Fission PROXY
#23 – Discraft ESP BUZZZ
#24 – Clash discs Steady WILD HONEY
#25 – MVP Proton Soft DEFLECTOR
#26 – Discraft Signature ESP HADES
#27 – Innova DX LEOPARD
#28 – Dino Discs Egg Shell STEGOAURUS
#29 – Discraft Sig. ESP ATHENA
#30 – Streamline Neutron SL ECHO
#31 – Infinite Discs Signature Swirly Halo S-Blend CENTURION
#32 – Dino Discs Egg Shell TYRANNOSAURUS REX
#33 – Innova DX AVIAR
#34 – Innova R-Pro PIG
#35 – Dino Discs Egg Shell PTERODACTYLUS
#36 – Discraft Z Line BUZZZ
#37 – Thought Space Athletics Ethos PATHFINDER
#38 – Infinite Discs I-Blend TOMB
#39 – Discraft Special Blend LUNA
#40 – Axiom Plasma CRAVE
#41 – Discmania Color Glow D-Line Flex 3 RAINMAKER
#42 – Discraft Z Glo ZONE
#43 – Infinite Discs I-Blend EMEROR
#44 – Infinite Discs Halo S-Blend EMEROR
#45 – Infinite Discs C-Blend Glow DYNASTY
#46 – Innova GStar WRAITH
#47 – MVP Eclipse Rim R2 GLITCH
#48 – MVP Cosmic Neutron TESLA
#49 –  Innova Star TERN
#50 – Axiom Fission HEX
*All this data comes from Infinitediscs.com sales ONLY
MVP/Axiom took many of the top spots last month due to the release of the OTB Open discs. They were released on March 30th, and we are confident that these numbers will continue to reflect popularity as April continues on. The Glitch continues to be a very popular mold, and is now available in the special Eclipse plastic. But don't be surprised that the Paradox and the Panic are also among some of the popular discs. Did these discs get purchased dule to the beautiful OTB stamp designs? Or are they just good discs?
You will also see several Kastaplast molds on the list, especially the Eric Oakley Signature Berg in the #11 spot. And as recently announced, the Kaxe Z among several other Kastaplast molds will be discontinued. We believe this is why we saw an influx in that mold last month; people want to get their hands on things that will become rare.
Some of the smaller brands spotted last month is Wing It Disc Golf with their new DREAM mold. And Clash Discs always seems to shine monthly. This month they had two on the board; their new SPICE mold and a classic, Wild Honey
Here is how many times each brand appeared in the line up:
The Guessing Game
Every month you'll be able to place your guess for a certain spot on the chart for the next month. The first person to guess the disc and plastic type correctly for the named chart position will win a $20 gift card for the Infinite Discs online store.
PLACE A GUESS for next month. If you can by the first to guess the #11, #12, or #32 spot for April then you can be a winner. Leave your guess in the comments on this blog.
Thanks! See you next month
Want a recap from last month? Next time, we will leave January's data below so you can compare it with all the data collected from February, and so forth. 
Check out the data from the previous months
 – March – 
#1 – MVP Neutron Soft GLITCH
#2 – MVP Eclipse Rim R2 GLITCH
#3 – Axiom Prism Proton TRANCE
#4 – Infinite Discs Halo S-Blend EXODUS
#5 – Thought Space Athletics Sig. Nebula Ethereal COALESCE
#6 – Axiom Prism Plasma HEX
#7 – Discraft ESP VENOM
#8 – Axiom Prism Soft Proton ENVY
#9 – Axiom Neutron Soft HEX
#10 – Discmania Color Glow D-Line Flex 3 RAINMAKER
#11 – Kastaplast Signature K1 BERG
#12 – Clash Discs Signature Steady SPICE
#13 – Innova Star WRAITH
#14 – Axiom Eclipse 2.0 Soft PROXY
#15 – MVP Proton REACTOR
#16 – Infinite Discs D-Blend ALPACA
#17 – Discraft ESP BUZZZ
#18 –  Infinite Discs Signature Halo S-Blend ANUBIS
#19 – Innova Star DESTROYER
#20 – Thought Space Athletics Test Blend Nerve x-out TEMPLE
#21– Discraft Signature ESP ATHENA
#22 – Infinite Discs Sig. Metal Flake Glow C-Blend CHARIOT
#23 – Infinite Discs Signature N-Blend ALPACA
#24 – Thought Space Athletics Test Blend Nerve TEMPLE
#25 – Infinite Discs I-Blend SPHINX
#26 – Axiom Prism Neutron PANIC
#27 – Infinite Discs P-Blend ALPACA
#28 – Axiom Eclipse 2.0 PARADOX
#29 – Infinite Discs Signature Halo S-Blend DYNASTY
#30 – Thought Space Athletics Ethos PATHFINDER
#31 – Infinite Discs Signature Swirly S-Blend EMPEROR
#32 – Infinite Discs Halo S-Blend EMPEROR
#33 – Discraft ESP ZONE
#34 – Infinite Discs I-Blend DYNASTY
#35 – Infinite Discs Halo S-Blend PHARAOH
#36 – Axiom Fission CRAVE
#37 – Discraft Signature ESP HADES
#38 – Infinite Discs S-Blend EMPEROR
#39 – Wing It Disc Golf Lift DREAM
#40 – Infinite Discs D-Blend TOMB
#41 – Innova Star CHARGER
#42 – Latitude 64 Opto RIVER
#43 – Clash discs Steady WILD HONEY
#44 –Infinite Discs D-Blend x-out TOMB
#45 – Thought Space Athletics Ethos MANTRA
#46 – Infinite Discs R-Blend COHORT
#47 – Kastaplast K1 Soft BERG
#48 – Infinite Discs C-Blend MAYA
#49 –  Innova Halo Star DESTROYER
#50 – Kastaplast K1 Line KAXE Z
*All this data comes from Infinitediscs.com sales ONLY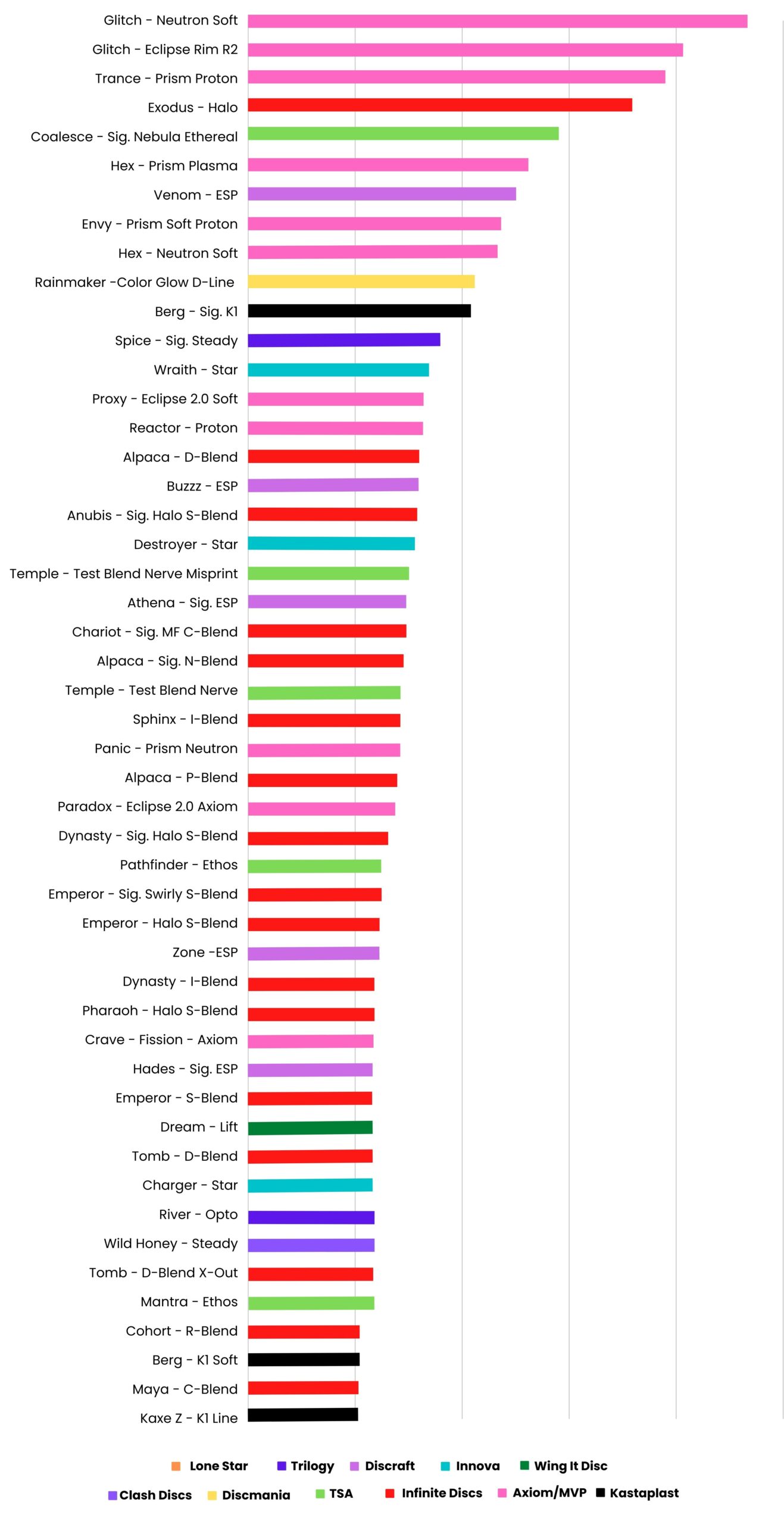 – JANUARY –
#1 – MVP Neutron Soft GLITCH
#2 – Innova R-Pro PIG
#3 – Innova Star CHARGER
#4 – Discraft Signature ESP ATHENA
#5 – Innova Star DESTROYER
#6 – Infinite Discs Signature P-Blend Glow ALPACA
#7 – Innova Star WRAITH
#8 – Discmania D-Line Flex 2 P2
#9 – Infinite Discs Metal Flake Glow C-Blend x-out DYNASTY
#10 – Discraft Special Blend LUNA
#11 – Innova DX AVIAR
#12 – Infinite Discs D-Blend ALPACA
#13 – Finish Line Forged SUPRA
#14 – Thought Space Athletics Signature Nebula Aura MANA
#15 – Clash Discs Steady WILD HONEY
#16 – Trash Panda Disc Golf 100% Recycled INNER CORE
#17 – Axiom Neutron RHYTHM
#18 – Infinite Discs Halo S-Blend PHARAOH
#19 – Infinite Discs D-Blend x-out TOMB
#20 – Discmania C-Line FD
#21– Infinite Discs Metal Flake Glow C-Blend x-out CHARIOT
#22 – Thought Space Athletics Ethos VOTUM
#23 – Infinite Discs I-Blend SPHINX
#24 – MVP Neutron VOLT
#25 – Discraft ESP BUZZZ
#26 – Discraft Jawbreaker ZONE
#27 – Innova KC Pro KC AVIAR
#28 – Axiom Proton CRAVE
#29 – Axiom Eclipse 2.0 ENVY
#30 – Infinite Discs Halo S-Blend EMPEROR
#31 – Discraft ESP FLX BUZZZ
#32 – Axiom Eclipse 2.0 INSANITY
#33 – Viking Discs Ground RUNE
#34 – Axiom Neutron WRATH
#35 – Discraft Signature ESP HADES
#36 – Infinite P-Blend ALPACA
#37 – Innova DX LEOPARD
#38 – Infinite Discs Halo S-Blend TOMB
#39 – MVP Neutron SPIN
#40 – Discraft Z Line Misprint BUZZZ
#41 – MVP Neutron ORBITAL
#42 – Lone Star Disc Bravo MOCKINGBIRD
#43 – Infinite Discs Swirly S-Blend x-out EMPEROR
#44 – Discraft ESP FLX UNDERTAKER
#45 – Infinite Discs I-Blend x-out EMPEROR
#46 – Axiom Fission CRAVE
#47 – Innova Champion Color Glow ORC
#48 – Lone Star Discs Bravo NIMITZ
#49 –  Doomsday Discs Toxic Waste BLACKOUT
#50 – Latitude 64 Opto DIAMOND