Reviewing Courses
There are two different elements to reviewing courses, star ratings and the actual review.
Star Ratings
We rate four different criteria for each course.

Overall – This is your rating for overall satisfaction gained from playing the course. Consider enjoy-ability, mental challenge, scenery, amenities, and anything else that makes a course good overall to you.
Enjoyability – How much fun do you have playing the course. Do you get frustrated by having to wait for other groups, non disc golfers that interfere with when you can throw, or too much time spent looking for discs?
Scenery – Take some time to look around. Is the course in a peaceful setting where you can enjoy the beauty around, or are you surrounded by garbage and unattractive landscape?
Course Amenities – Consider, does the course have restrooms, drinking fountains, benches, garbage cans, a pro shop, golf carts, or places to buy snacks?
Best Suited For

Consider: Is this course good for beginners, intermediate players or advanced players? Is the course so long that it will just discourage new players who can't throw very far? Is there lots of water or places where discs will get lost and frustrate those just learning the sport? Is the course very technical and challenging as to be rewarding for top players who can throw very far?
Written Review
The written review has three sections where you can write whatever you like about the course. The main section, pros section, and cons section. The more words you write, the more Infinite Points you get.
Some good things to consider in your written review:
What do you like about the course?
What do you dislike?
Was the course very crowded?
How is the course design and layout?
Is the course affected by other park activities?
Is the course easy to find and follow without a map?
Does the course have good tee signs?
Does the course have good tee pads?
Is it easy to lose discs at this course? What are troublesome spots that new players ought to be aware of?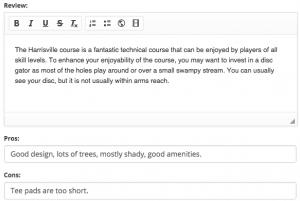 Once the review is written, you have the opportunity to add your favorite discs for this course.