2018 Disc of the Week–Week 7–Westside Harp

Happy President's Day! Time for this week's Disc of the Week from Infinite Discs! And this week we are featuring one of the best selling discs in recent years, the Westside Harp!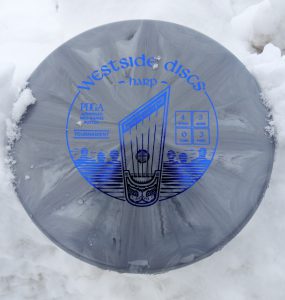 The Westside Harp is considered by many to be the best approach disc in all of disc golf. The Harp is an overstable putt and approach disc that features a flat top and a somewhat deep dish. The rim is beadless, which allows the Harp to fit in the hand comfortably for both backhand and forehand grips. The Harp will fly straight when given a lot of power, but you can always count on it to have a strong and consistent fade at the end of the flight. As I previously mentioned, the Westside Harp has sold very well in recent years. There are a few factors that likely contribute to this. For one thing, it has become one of the staples in the bag of two-time world champion Ricky Wysocki. He has become famous for slinging his BT Hard Harps exactly where he needs to out on the course. Another contributing factor is the Harp is available in pretty much every plastic blend made by Westside Discs, including the new and beautiful Tournament Burst blend. No matter your preferences in grip and feel, there is a Westside Harp for you! And of course, maybe the most important reason this disc is a great seller is how it performs. This disc is a consistent staple in the disc golf world, and if you have been thinking about giving one a try, now is the time!
This week only take 15% off all Westside Harps in stock at Infinite Discs by using the discount code: DWHARP18. If you already throw the Harp and love it, this is your chance to stock up on some backups! And if you haven't thrown it yet, take advantage of this offer and find out what you have been missing out on! And of course, don't forget to check out our Facebook page later today to enter a giveaway!