Doppelganger Headbanger
Harrisville Disc Golf Doubles Tournament
Despite miserable weather conditions, wind, frozen rain and snow, the Doppelganger Headbanger was a success!
Here are the final results:
Open
1 TJ Smith & Shae Chamberlain 56
2 Jason Rippon & Brodey Hansen 57
3 Brock Shepherd and Shane McBane 59
Intermediate/Advanced
1 Jake Songer and Cameron Curtis 61
Jared Cutlip & Seth Adams 61
Shane Hill & Brandon Merzlock 61
4 Jade Sewell & Casey Lee 63
5 Jeremy & Kyle Knighton 65
Kevin Cook and Derek Delgado 65
Taylor Pingree & Kaden Schlieper 65
8 Brad Dicks & Matt Dicks 67
Layne West & Nick Lopez 67
10 Shawn Christopherson and Dustin Messerly 68
11 Carson Fresh and Shaun Ransom 69
13 Alan Barker and Camron Connoly 70
Dustin Kirby & Josh Kirby 70
15 Ted and Luke Hegemann 71
17 Jace Smellie & Dylan Durrant 72
18 Darik Roskelley & Carson Warner 74
19 Russel Evans and Dusty Evans 78
Beginners/Recreational
1 Rex Harris & Jake Hanks 63
2 Casey Songer and Mike Malmborg 69
3 PJ Jones & Preston Sorenten 71
Womens
All amateur players will receive a disc voucher good for any stock disc available at Infinite Discs, as well as a Dynamic Discs Koozie. Infinite Discs will have a healthy selection of discs available that can be redeemed the day of the event.
EVERYONE who pre-registers by Friday, April 10th will be eligible to win a Dynamic Discs Ranger bag as a CTP prize.
Estimated Infinite Buck Payout for AM Teams
Intermediate/Advanced
Place Payout $$
1st $136
2nd $120
3rd $112
4th $96
5th $88
6th $80
7th $64
8th $56
9th $48
Beginner/Rec
1st $24
2nd $20
3rd $16
4th $14
5th $10
6th $8
Course Layout
The Harrisville 9-hole course will be altered slightly to accommodate team style play. Also, two new temp holes will be added for this tournament.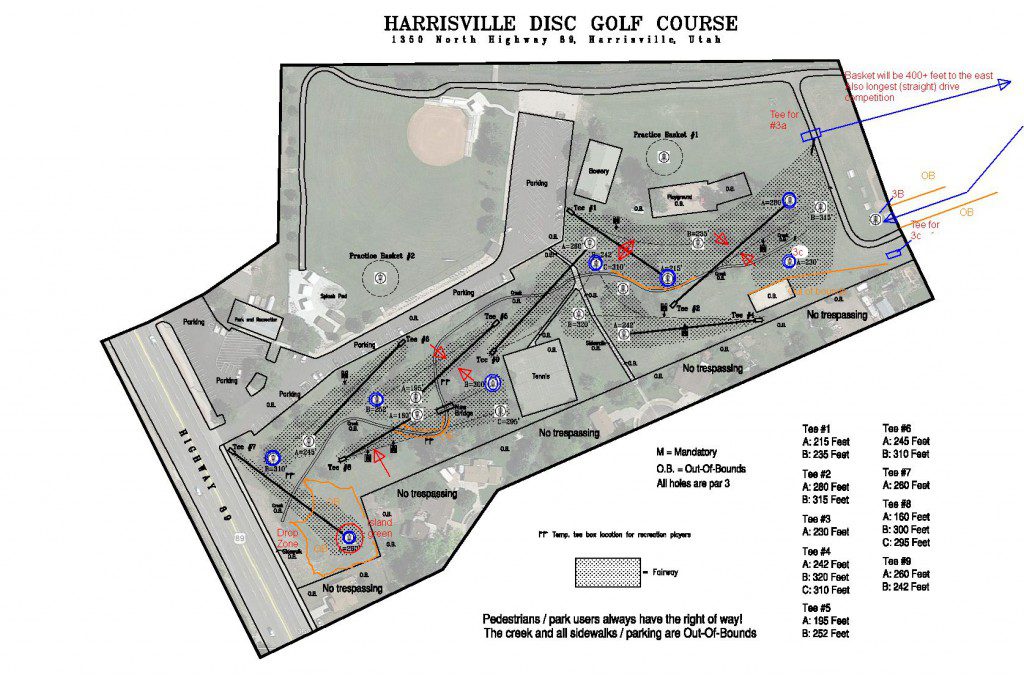 11 holes, 2 consecutive rounds (22 holes total).
#1 Position A. Main fairway will be mostly blocked with fencing between the two main pines. Also a horizontal mando at 15′ will force shots low and to the sides of the current straight run fairway. Creek and beyond will be OB.
#2 Position A. Triple Clown Mouth Mando (to be clearly marked) forcing discs to stay right of the big cottonwood, left of the creek and lower than 15′. Creek and to the right are OB.
NEW HOLES
#3a New hole. (see map) Wide open bomb at 450+ feet. Discs must land inside a 25′-35′ marked fairway to be eligible to win longest straight drive. Not a later contest, tournament drives count. Basket will be on north hillside near path.
#3b New hole. (see map) Tee will be in East field throwing west. Basket behind chain link backstop. Path and beyond are OB. Right of chain link is OB.
#3c New fairway to current #3 basket. (see map) OB to the left and Volleyball court. Creek and beyond are OB.
#4 Position A. Current Mando applies. Basket will be BLOCKED A FULL 180 DEGREES FROM THE SOUTH. Discs
landing left (south) of the basket will have no putt. Walking path and beyond are OB. Creek and beyond are OB.
#5 Position B. Triple Clown Mouth Mando (to be clearly marked) will force discs to stay right of pine tree, under pine branch and left of willow near creek. Creek is OB (painted lines on banks will mark borders)
#6 Position B. This will play normally except creek bank will be marked for clear OB line.
#7 Island green 50′ across. (see map) Drop zone (throwing 3rd shot) by highway if disc misses island. There will be a lay-up area just over the creek (about 65′ from basket) for shorter distance throwers.
#8 B position. Plays normally except OB lines on creek banks.
#9 B postion. Plays normally except new grass areas are OB and banks, will again, be marked.
Remember, the added difficulty is due to this being a team event so doppelgang, and headbang!
$30 per player (open/int/advanced)
$25 per player (rec/women)
Teams will be categorized based on the most skilled member (for example: If an open pro joins with an intermediate player, the team will be slotted into the open category). Both team members must be female to qualify for women's category.
Younger players are welcome but will compete against rec category. (no junior category)
Register Now
This event is limited to 33 teams, pre-registration is mandatory to ensure your spot. Select your division based on the skill level of the best player on your team.
Tournament will include In-round side games such as ctp, ace pot, and straightest long drives.
Prepare to be challenged and entertained.
Sponsor-Added cash and prizes
Sponsorships and player pack details will be posted shortly.
Sponsors
Registered Teams
Open
Alex Pommier & Dustin Norman
Digital & Smoke (Brock Shepherd)
Jason Rippon & Brodey Hansen
TJ Smith & Shae Chamberlain
Intermediate/Advanced
Alan Barker and Adrian Toledo
Brad Dicks & Matt Dicks
Carson Fresh and Teamate
Darik Roskelley & Carson Warner
Dustin Kirby & Josh Kirby
Jace Smellie & Dylan Durrant
Jade Sewell & Casey Lee
Jake Songer and Cameron Curtis
Jeremy & Kyle Knighton
Kevin Cook and Derek Delgado
Layne West & Nick Lopez
Russel Evans and Dusty Evans
Shane Hill & Brandon Merzlock
Shawn Christopherson and Dustin Messerly
Taylor Pingree & Kaden Schlieper
Ted and Luke Hegemann
Beginner/Recreational
Casey Songer and Mike Malmborg
PJ Jones & Preston Sorenten
Rex Harris & Jake Hanks
Women
Emily Hanks and Rebekah Songer

Definitions:
Doppelganger: noun 'An apparition or double of a living person'
Headbanger: noun 'A well thrown disc golf shot that lands under the basket putting the thrower in danger of injuring their cranium on the basket cage when bending to retrieve the disc.'