Recording Aces
One of the most exciting things about disc golf is getting Aces!
Show off your aces on your Infinite Profile. Display when, where, and with what disc you aced. You also earn Infinite Points by recording your aces.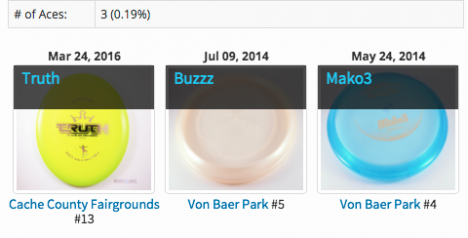 How To Record Your Aces
There are two ways to record your Aces.
Log into your profile.
1. Once logged in, click "my profile" in the top menu bar.
2. Click "my aces" below your profile picture.

3. Click "add aces"

4. Enter the details of your aces including course, layout, hole #, distance, and disc used.
Record your ace while using the Infinite Disc Golf Mobile App
Simply record a score of 1 while using the Infinite Mobile App. This will automatically record the date, course, and hole of your ace. To display which disc you aced with, simply log into your profile and select "Ace"