Best Disc Golf Putters for 2023

We're going to wrap up this blog series where we look at the best disc golf discs according to sales at Infinite Discs. We looked at the best distance drivers, the best fairway drivers, and the best midrange discs. Today we check out the top 50 putters.
Putters are the type of disc that we use on nearly every hole we play. They can be used as drivers or approach shots. And they are used almost exclusively inside the circle to finish a hole. Some putters are used just for drives and approaches, while others are used for both driving and short putts. Their rim profile is larger than other types of discs, and they can have beads or be beadless.
Let's look at the top selling putters from 2022 to see which ones you might want to check out for 2023.
Top 50 Best Putt & Approach Discs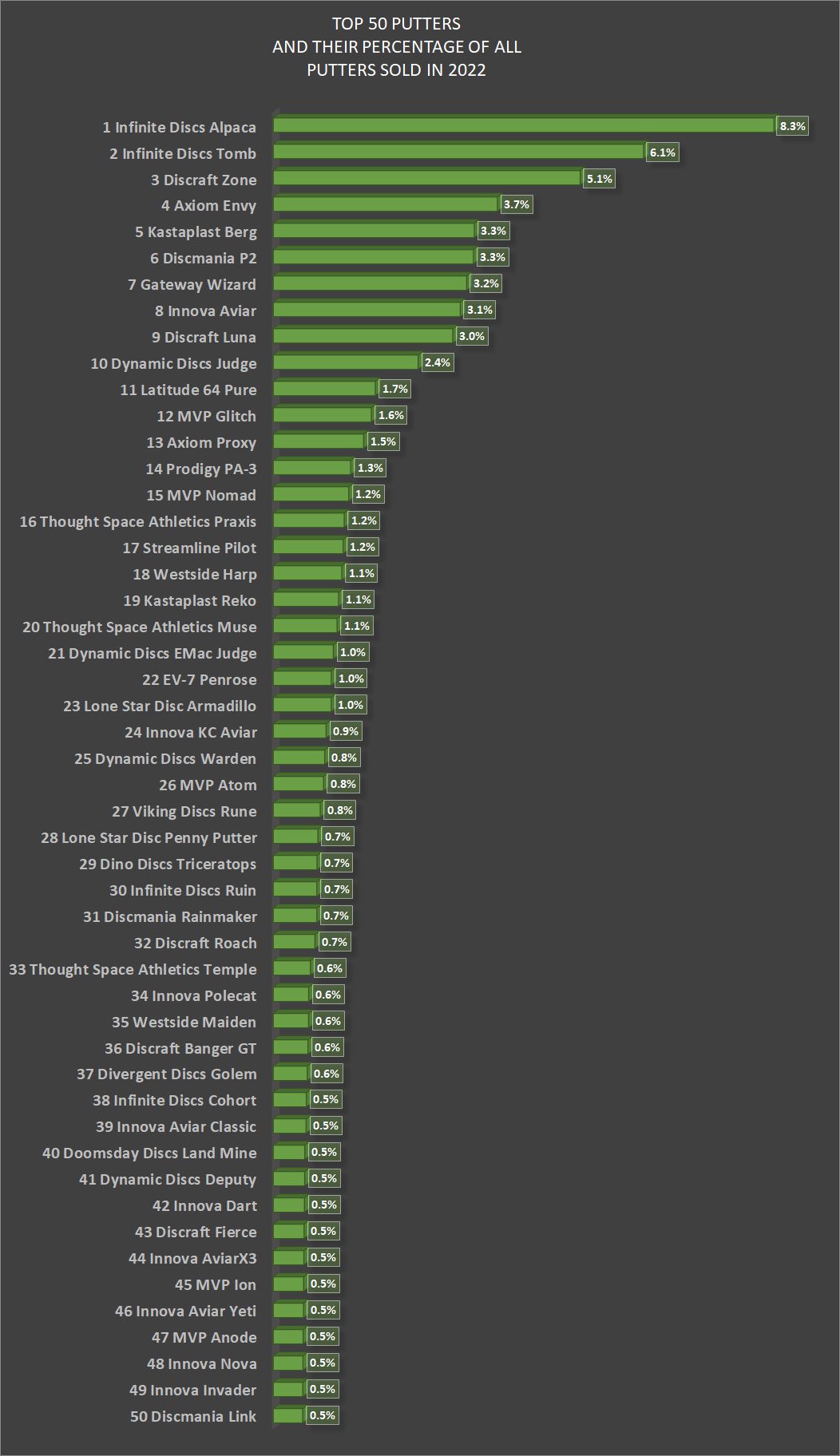 Best Selling Putt and Approach Discs
Two straight-flying Infinite molds top the list of best-selling putters. The beaded Tomb and the beadless Alpaca have been popular since they were released. These two molds, along with the third-place Zone, make up 20% of all putter sales at Infinite. The Zone is the most overstable of the top three, and is widely used as an approach disc and throwing putter.
Best Putters Monthly Trends Chart
It's fun to watch the trends of putter popularity. By following the monthly living chart you can see when the best putters were newly released or were simply restocked as they climb up the sales chart in popularity.
Hot New Putt and Approach Discs to Watch
Several molds that made the top 50 were PDGA approved just last year. Those include the Thought Space Athletics Temple, MVP's Glitch, and the Doomsday Discs Land Mine. The MVP Glitch's position on the top charts is especially impressive considering it was released near the end of 2022. We'll have to see if those molds move up the rankings with a full year of sales.
Top Putters Sorted By Brand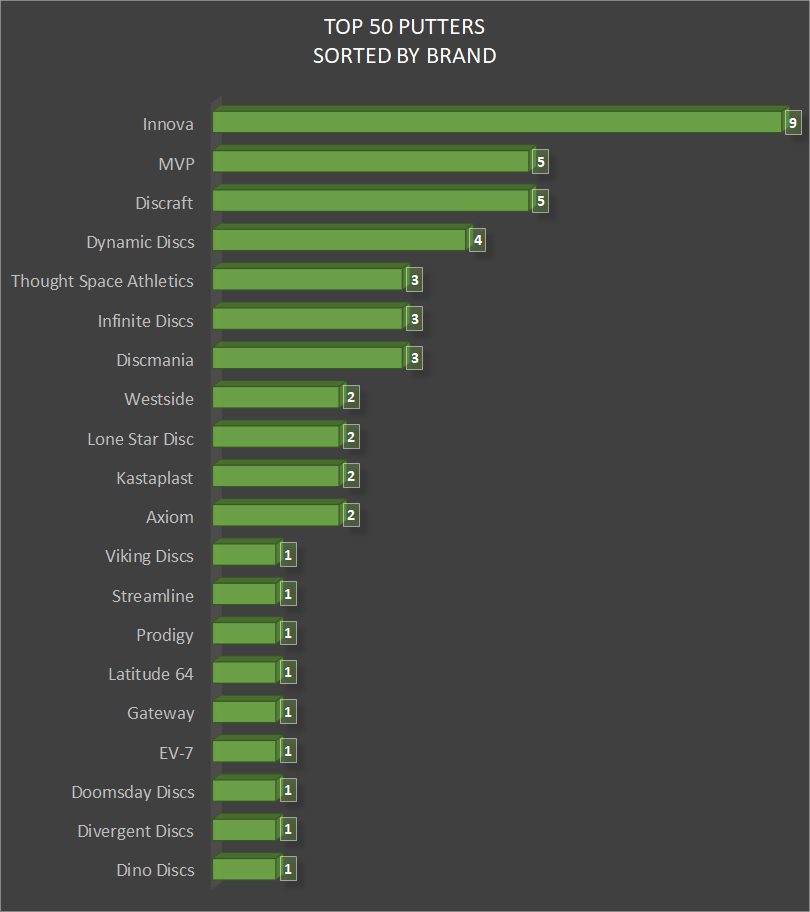 Despite Infinite Discs having the top two spots, Innova was the brand with the most molds in the top 50. Their popular Aviar family (Aviar, KC Aviar, Aviarx3, and Aviar Yeti) accounted for almost half of their top 50 molds. MVP and Discraft tied for second with five molds each. There were a total of 20 different brands in the top 50, and a whopping nine manufacturers that had one mold on the list. Those molds include the Divergent Discs Golem and Viking Discs Rune.
Best Putter Brands Sorted by Percentage of Sales

When it comes to market share, Infinite Discs dominates the putter category, selling almost 6% more than the next brand. The top three brands account for almost one out of every three discs sold! Half of the brands on the list sold less than 2% of the total putter sales.
Top Throwing/Approach Putters
Although any putter could be used for short putts, there are many discs that are usually only used as throwing/driving/approach discs. These are usually overstable molds that can handle a solid drive. Here are the top ten best throwing putters according to 2022 sales data.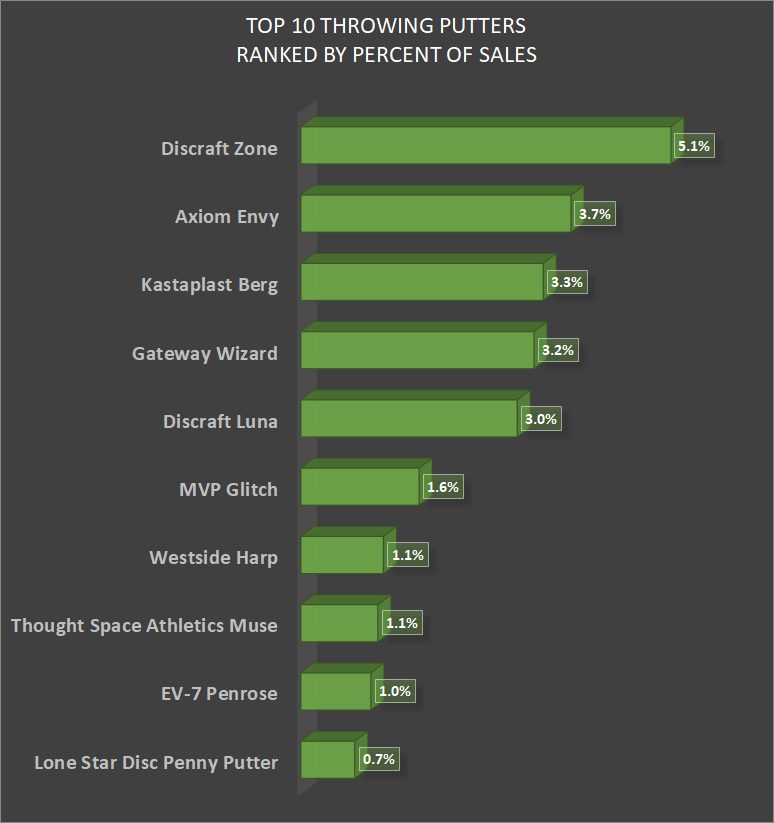 Top 10 Approach Discs/Throwing Putters
The Zone is the popular throwing/approach disc that regularly does well in the sales rankings. It can handle a lot of power, and still finishes reliably. It is similar in flight characteristics to the Innova Pig, which was recently reclassified as a midrange.
A couple ticks behind the Zone is the disc that got a huge boost from James Conrad at Worlds, the Axiom Envy. Not quite as overstable as the Zone, the Envy is still a great approach disc that can be thrown by people of all skill levels.
Putter PDGA Approval Dates
| | | |
| --- | --- | --- |
| Mold | Approval Date | Rank |
| Gateway Wizard | 9-Jan-02 | 4 |
| Discraft Zone | 28-May-08 | 1 |
| Westside Harp | 28-Oct-13 | 7 |
| Axiom Envy | 12-Jan-14 | 2 |
| Kastaplast Berg | 27-Mar-15 | 3 |
| Discraft Luna | 28-Dec-18 | 5 |
| Lone Star Disc Penny Putter | 29-Sep-20 | 10 |
| EV-7 Penrose | 21-Nov-20 | 9 |
| Thought Space Athletics Muse | 27-Sep-21 | 8 |
| MVP Glitch | 27-Jun-22 | 6 |
Checking out the PDGA approval dates and comparing them to their mold rating, we see that the oldest two molds, the Wizard and the Zone, finished at or near the top of the overstable/approach discs. Two newer discs, the Muse and the MVP Glitch, were approved in the last couple years, but still made the chart.
Putting Putters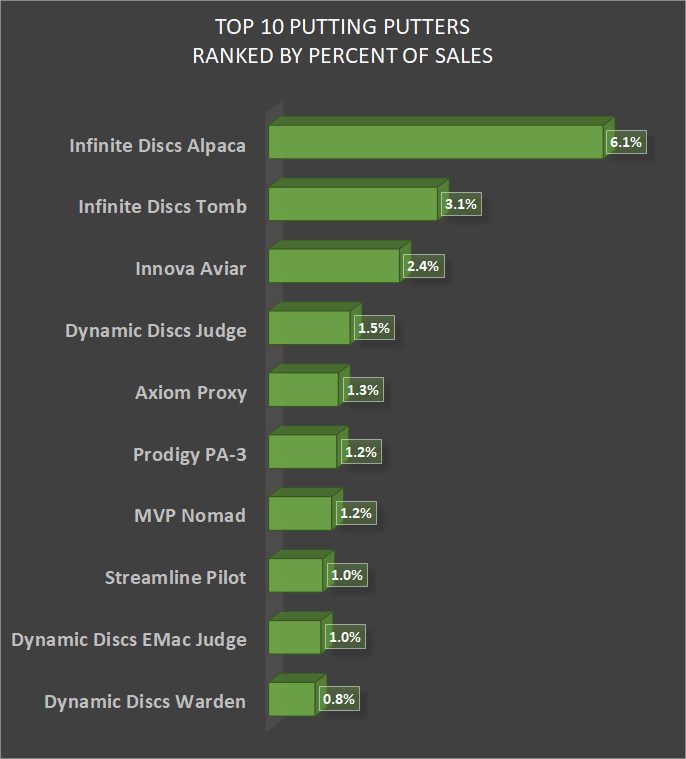 Top 10 Putting Putters
It is interesting to see that the top ten molds represents seven different brands. As mentioned above, Infinite's two best selling putters make up a bulk of the sales, followed by the Aviar and Judge. After that, the numbers level out.
PDGA Approval Dates
| | | |
| --- | --- | --- |
| Mold | Approval Date | Rank |
| Innova Aviar | 1-Jan-84 | 3 |
| Dynamic Discs Judge | 7-Dec-12 | 4 |
| Dynamic Discs Warden | 14-Oct-13 | 10 |
| Prodigy PA-3 | 25-Mar-14 | 6 |
| Axiom Proxy | 24-Sep-14 | 5 |
| Streamline Pilot | 22-Feb-17 | 8 |
| Infinite Discs Tomb | 29-Mar-18 | 2 |
| Infinite Discs Alpaca | 16-Nov-20 | 1 |
| Dynamic Discs EMac Judge | 5-Jan-21 | 9 |
| MVP Nomad | 22-Mar-21 | 7 |
The mold that has been around longer than many of the disc golfers throwing it, is the Innova Aviar. Approaching its fortieth birthday, the Aviar has been used by disc golfers of all skill levels. The Aviar got a podium finish behind the two Infinite molds. The MVP Nomad and the EMac Judge are the newest molds. They've only had a couple years to gain some traction in the disc golf world.
Highest Rated Disc Golf Putters
Our new website features highest rated pages that can show you exactly what the highest rated discs are based on reviewer ratings. Check out this link to see the top 20 highest rated disc golf putters.
What does Professional Disc Golfer Think of the Best Disc Golf Putters of the Year?
In this video, touring professional disc golfer Erika Stinchcomb tries out each of the top putters and lets us know which ones she likes best.
What are the Best Disc Golf Putters for You?
What will be the best putter of 2023? Will it be an existing mold, or a new one?
What are your favorite throwing molds? What is your go-to putting and throwing putters? Are there putters on our list that you consider approach discs or approach discs that you putt with? What putters do you think will be the best selling in 2023?