State of Disc Golf 2019–Brand Preferences
Which brands do we prefer to use? Did our favorite brands change this year? This is an especially interesting year in disc golf to take a look at the survey responses that relate to this topic because of the many sponsor changes made by top professional disc golfers this offseason.
In fact, we tried to address the big offseason changes directly by adding a new question to this year's survey. This survey was taken at the beginning of this calendar year during a time that was well after the news broke that Paul McBeth would be sponsored by Discraft and Ricky Wysocki would be sponsored by Innova. So we decided to ask straight up–Have you thought about purchasing Innova because of the Ricky Wysocki switch? We also asked–Have you thought about purchasing Discraft because of the Paul McBeth switch? Here is how we responded: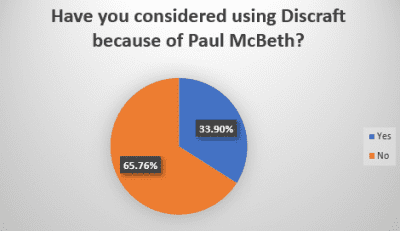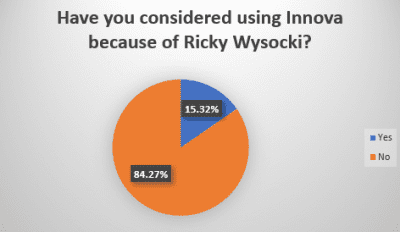 Well, if you didn't know already, Paul McBeth really is the king of disc golf in so many ways. As you can see, just over a third of all survey takers have thought about purchasing Discraft product strictly because Paul McBeth is now throwing their discs during tournament play. And then, as we saw in the favorite disc golfers post, Ricky Wysocki's change to Innova doesn't seem to have been as well received. I've mentioned this before, but I really think it is because the fans Ricky Wysocki gained over the last few years while he was sponsored by Latitude 64 viewed Innova as more of a rival than the fans of Paul McBeth viewed Discraft. This is a fascinating anomaly in disc golf.
But as the data has proven in multiple ways, we as disc golf consumers care about which brand of discs sponsor our favorite pros, and it influences our buying habits.
One little tidbit of data is especially interesting in this enigma that is the relationship between favorite disc golfers and favorite brands it what I would call the Eric Oakley effect.
Eric Oakley is one of the best touring pros not just at disc golf, but at marketing himself using social media outlets. This makes him an especially valuable team member for any sponsor. His manufacturer sponsor over the last few seasons has been Dynamic Discs, one of the Trilogy brands (Dynamic Discs, Latitude 64, and Westside).
In the survey we asked survey takers if their favorite brand of discs changed this year, and if they answered yes, we asked who their new favorite brand is now. So we took a look at survey takers who named Eric Oakley as one of their favorite disc golfers. Then of those participants, we looked at which ones changed favorite brands. Of these survey takers, 83% said their new favorite brand was one of the Trilogy brands. We see this trend when looking at other professionals as well, but Eric Oakley seemed to have the strongest influence this year.
However, when asked why they changed favorite brands, survey takers did not cite professional influence at so high a rate: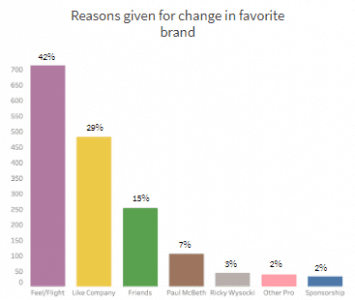 So if data trends show professional disc golfers making a significant influence on our brand preferences, why did so few cite them as reasons for changing their favorites? In my opinion, I think it is fair to say that perhaps these survey takers tried out discs made by their new favorite brands because of the influence of their favorite professional disc golfers, and they stuck around for reasons like the feel and flight of their discs. As was previously mentioned, nearly 33% of all survey takers said they would consider throwing Discraft discs just because of Paul McBeth–before Paul had even thrown a Discraft disc in tournament play!
Of course, this leads to the question–for those who changed their favorite brands, which manufacturer was their new favorite? Well first of all, it is important to note that only 20.76% of all survey takers said that their favorite brand changed during the last year. So for the most part, disc golfers stayed true to their previous favorites. But let's look at which brands that 20% chose as their new favorites:
TOP 5 NEW FAVORITE DISC MANUFACTURERS
Remember that Eric Oakley effect I talked about? We can definitely see that influence carried over here. You could also argue from these results that the McBeth effect is so strong that he doesn't even have to throw a disc to make people change their favorite manufacturer.
We also asked survey takers if they could only throw discs made by one manufacturer, which would they choose? For this question, we put together different brands made by the same manufacturer. Here are the overall results:
IF YOU COULD ONLY USE DISCS MADE BY ONE MANUFACTURER, WHICH WOULD YOU CHOOSE?
I think a lot of this comes down to selection. If you look at how many discs are available from each of these manufacturers, it pretty much coincides with these results. But it is significant that almost half of all disc golfers who took the survey would choose to only throw discs made in an Innova factory if they had to make that choice. All other manufacturers were selected by less than 1% of survey takers.
This leads us to what I believe is the ultimate indicator of our true brand preferences. We can claim certain brands as our favorites, but which brands are we actually throwing and including in our disc golf bags? Let's look: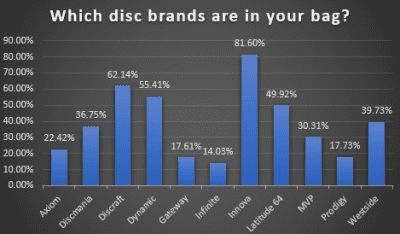 I don't think that Innova being the most popular is too big of a surprise, but over 80% of survey takers having at least one Innova disc in their bag is a bit surprising to me. It just goes to show how dominant their influence has been in the disc golf world over the years. I also was a little surprised to see that Discraft was number two. I would have predicted Latitude 64 to be the number two. Which means I was also surprised to see that Dynamic Discs was higher than Latitude 64.
That being said, it is important to note that the question just asks which brand of discs are in our bag. So if a survey taker has only one disc of a certain brand (like the extremely popular Discraft Buzzz) then they would include that brand in their response.
The trilogy brands together were the third, fourth, and fifth most popular brands. For a long time Latitude 64 was the only of the three that had a "complete" lineup, so they were always the most popular. However, both Dynamic and Westside Discs have released more and more discs giving players–especially those loyal to Trilogy–more options.
Looking further down the chart it looks like things shook out as expected. I was a little surprised at how low Prodigy was considering it wasn't that long ago that they took the disc golf world by storm and had a large team of professional disc golfers. But Prodigy has been a little more aggressive this year with newer molds being added to their lineup like the recently hyped D2 Max. It will be interesting to see if they can get these new molds into the bags of disc golfers.
So we have thrown together several charts and lists here today, but what does it mean? No, I'm really asking, what do you think it all means? Let us know in the comments what you think of this data and what it says about our current state of disc golf!