State of Disc Golf 2020 – How Do We Carry Our Discs?

How Do We Carry Our Discs?
It's time for our look at how we carry our discs in 2020! We've asked this question in several surveys past, so we'll have some good data to compare. For this data, we've broken down the results into five main categories: Backpack Bags, Disc Golf Carts, Small Bag, Large Tournament Style Bag, and Miscellaneous Bags (usually homemade or not made for disc golf).
2020 Survey Results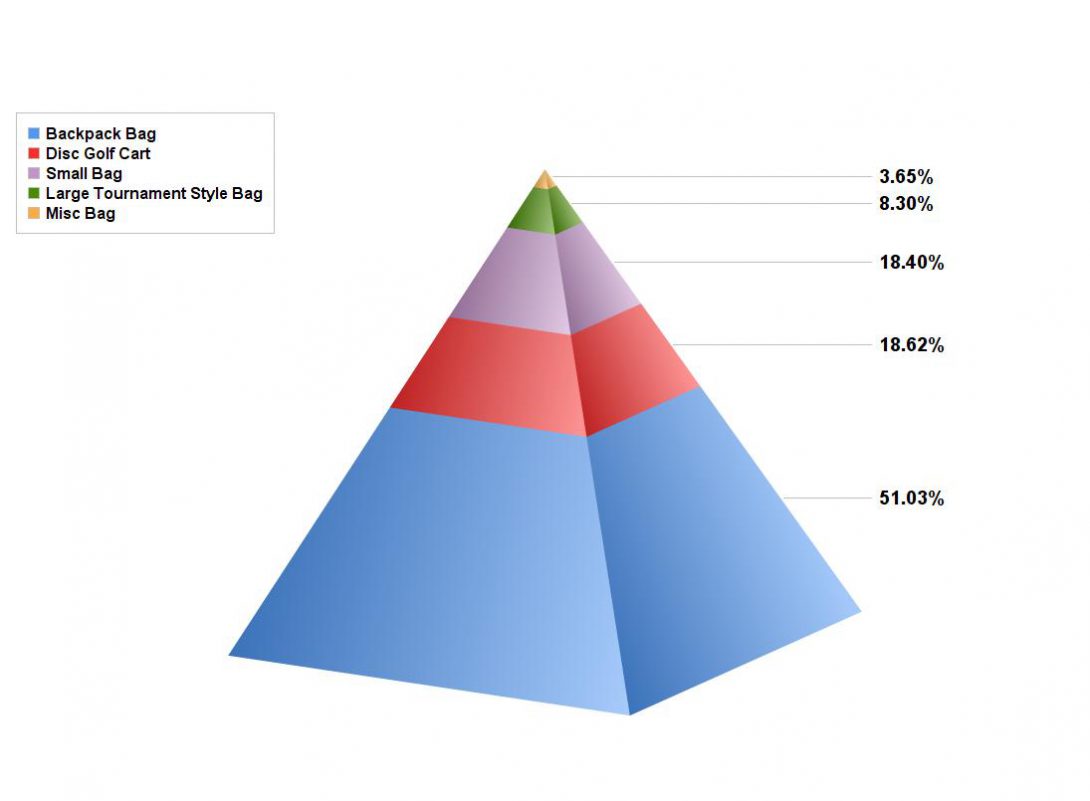 Backpack Bags take the cake with over 51.03% of people saying they use one. Disc Golf Carts took a close second place, at 18.62%, with Small bags being surprisingly high, at 18.4%. Large Tournament Style Bags only represent 8.3% of the results, with the last 3.65% being miscellaneous bags.
Let's break it down! Backpack Bags being so heavily used is not a huge surprise. Most people at the disc golf course are using backpack bags these days. They are widely available and come in all shapes, sizes, and price ranges. Even a beginner can afford a cheaper backpack bag, so many people are skipping over the Tournament Style Bag, which used to be a hot commodity.
Small Bags take a surprising 3rd place. But maybe it's not so surprising with how many new players are taking up the sport. Most people are starting with a $15 – $20 starter bag and then upgrading once they have enough discs to warrant it. We think those upgrades are going directly to backpack bags. More on bag upgrades/replacements later.
---
Bags Over the Years
Let's take a look at the trends over the years. We have data from 2020, 2018, 2017, and 2015 to show the trends. Let's take a look: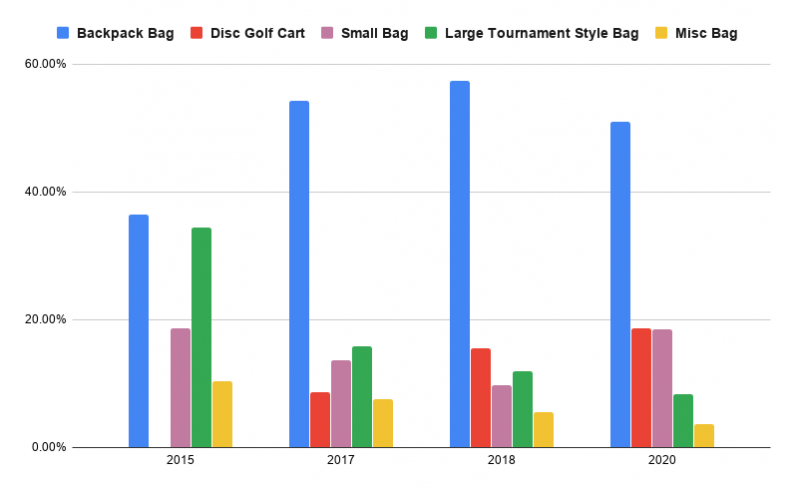 Let's look at the first takeaway- the decline of the Tournament Bag. Back in 2015, Tournament Bags were all the rage, taking up at least a third of the market. Over the years these bags have been used less and less, till now when Tournament Bags are only used by around 8% of people.
Small Bags have declined over the past few years, until this year. They made a big jump in the 2020 Survey. This is likely due to more and more new players getting into the sport. Some people, may also have opted to simplify their bag.
Disc Golf Carts have been raising in popularity ever since their introduction. ZUCA takes the majority share of Disc Golf Carts, offering them not only as ZUCA branded carts, but Dynamic Discs branded as well. More and more players are opting for carts now.
Backpack Bags steadily increased over the past years, and dipped a little bit this year. Backpack Bags seem to be the staple of Disc Golf Bags, so we don't foresee them dropping off the charts anytime soon.
---
Replacing Our Bags/Carts
In the 2020 Survey, we asked people how many times they had replaced their bag/cart in the last 10 years. Let's see the results: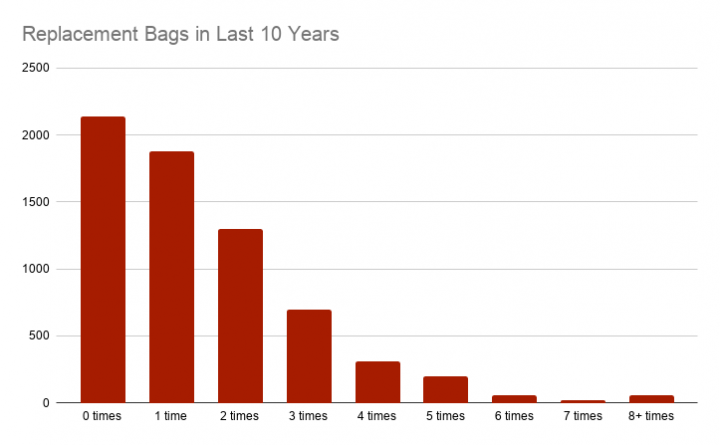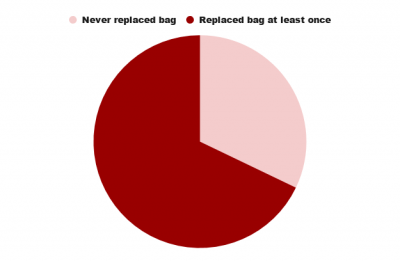 The chart starts off with those people who have never replaced their bag. Quite a lot!
We were surprised at how many people stayed loyal to one bag over the course of 10 years. But, when you pit the people who replaced bags against the people who haven't, it looks like the graph to the right. 32% of people did not replace their bag in the last 10 years.
Back to the upper chart- it seems like a perfect decline in people who replaced their bag multiple times. With each replacement, the number of people dropped, until 8+ times, a few bag-crazy people took it up just a notch on the chart. Where do you stand on the chart? What's your preferred bag? Let us know in the comments!
Thanks for joining us on this State of Disc Golf 2020 article. Stay tuned for more data!