2 A-Tiers — Another Win – Dave Feldberg Blog #3
Huk Central, South Carolina
Some days you feel great and other days you don't. Being that this event is only 3 hours away from our house I decided to drive back and forth each day. I also decided to just show up on the day of the event since I had played the course before. Both of these decisions were poor choices to play my best. So when I arrived after a 3 hour drive leaving my house at 4:40 am, I am also told that it will be a record hot day both days of the event. So I decided to take it easy and play in the masters division. Another poor decision.
I came out of the gates playing well but I somehow forgot how to make short putts? Which was the one thing coming in I had been the most consistent with this year. So I was spun and managed a 1020 rated round where I threw about a 1070. Then the second round I was trailing Barry by 2 and I cut the lead, but again I couldn't make routine 18 footers and then the heat broke me. I had not played in heat like that (97 degrees) in a long time and I just ran out of gas. My leg was cramping and my energy was gone allowing Barry to go ahead by 6 while shooting a lousy 983 rated round.
On day two I still had hope, and I started to make some putts, cutting the lead to 3 on the front nine. But then I managed to somehow miss a few more very short putts and ended the round with a bogey from 15 feet and gave him all the strokes back to be down by 6 again. The heat would not let up and the final round was a test to say the least. I played well shooting a 1052, but again I ended my round and event by missing a 15 foot putt for low round of the day.
I did finish in second, but I would have tied for 4th in Open and I probably would have made less of those silly focus mistakes if I was playing in the open division. I also would have made a little more money. Just a weekend of bad decisions and poor play. I want to thank Brian and the Huk Central staff for a well run event with plenty of water!! They always run a solid event that I will continue to play for years to come!! I want to thank my caddy Ryan Schollkopf  for helping me get through the heat!!
Trailblazer – Clermont, FL
I had no idea what to expect as I had never played in that part of Florida before. I did know that the heat wave had not gone away and I would be in for record hot temps again. I felt lucky that I had played the week before in South Carolina as I had learned how to deal with heat better. One thing was that Synthya bought me one of the chilly pad cool towels. Man those things are a life saver and only 8 bucks at Walmart. Also for this event I showed up two days early so I could learn the courses and be prepared.
They would have us play two really long courses twice a day, this was more of the Florida Iron man contest. Both courses were designed by Gregg Hosfield and one was brand new. The first course, Hiawatha Preserve a par 65 over 9000 feet, was a very fair mature tree course. It had challenging shots and fair ob's. I came out the first round on fire breaking the course record and I would have gone lower but I was stung multiple times by some yellow jackets while trying to stand out of the way of my fellow competitors shot. It shook me up for a few holes. I carded a bogey on the hole I was stung and missed a 16 foot birdie putt in the next hole as I was still a bit worked up from the incident. The good news was that the night before the event I had gone to the course and practiced putted in the dark and figured out what had gone wrong with my circle one putting. It was pure laziness. I noticed I was leaning back in my set up instead of leaning forward. I think the habit started because I was so tired the week before. Once I started leaning forward I started making all my putts again.
After the first day I had a 7 stroke lead headed to Palmetto point park, a new course that will be great but still needs some breaking in. The holes were long, par 67, and they were tight, many a car couldn't fit through. The rough was on another level (poisonous snakes) and you had to pitch sideways when you missed the fairway. I knew this type of golf would play to my advantage since I learned on wooded courses and my best skill nowadays is accuracy. I came out in the morning and set the new record of -12 with two bogeys. I was throwing well hitting most fairways and making all my circle one putts as well as making a few long putts. My competitors struggled as this course tightness is not easy to explain on paper. I extended my lead to 20 strokes.
Then in the fourth round I came out firing again shooting the exact same -6 on the front nine, but then with the lack of push and the heat reaching its peak of the day and it being the fourth round in two days I lost focus and shot only -1 on the back. It was still the low score of the round at -7. So I won by 21 strokes to win my first A-tier in Open this year. The course was hard period. Fox Hills video crew was there and so you can see when the video comes out what I am talking about.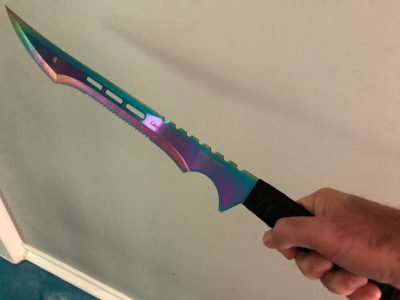 I want to thank my caddy on Saturday Dan Lewis and my Caddy on Sunday Anthony Rising. Without them it would have been rough. Also, great to see a lot of Florida guys I have not seen in years. I also won the putting contest claiming some cash and a mini basket!!
The trophy was a sick sword!! I want to thank the staff of the event for a great event and I look forward to this club and event growing over the years.
NG Update
On a business level NG is doing well and we are working out all the computer kinks that come with a new system. Everything should be working great in the next couple of weeks!! We have really been focused on building a quality staff this year so we can accomplish more and do it smoothly. If you've played an event, be sure to check out he current standings.
On a personnel level. Synthya and Leomax are doing great. He is smiling, and really becoming curious, we think he is also starting teething. Everyday the reward of a family is stronger and reminds me how small my life really is. My brother came to visit and loved Leomax. We took him on the lake and he caught his first freshwater fish. Synthya's Grandparents also came to visit while I was gone but I did get to see them for a few minutes before they left. They are always a treat. We are now getting ready for this summer and of watching Leomax grow !!
I am really starting to dial in my mixed bag, and i am looking forward to defending at the Masters World Championships in a month!!