2015 State of Disc Golf: Manufacturer's Overview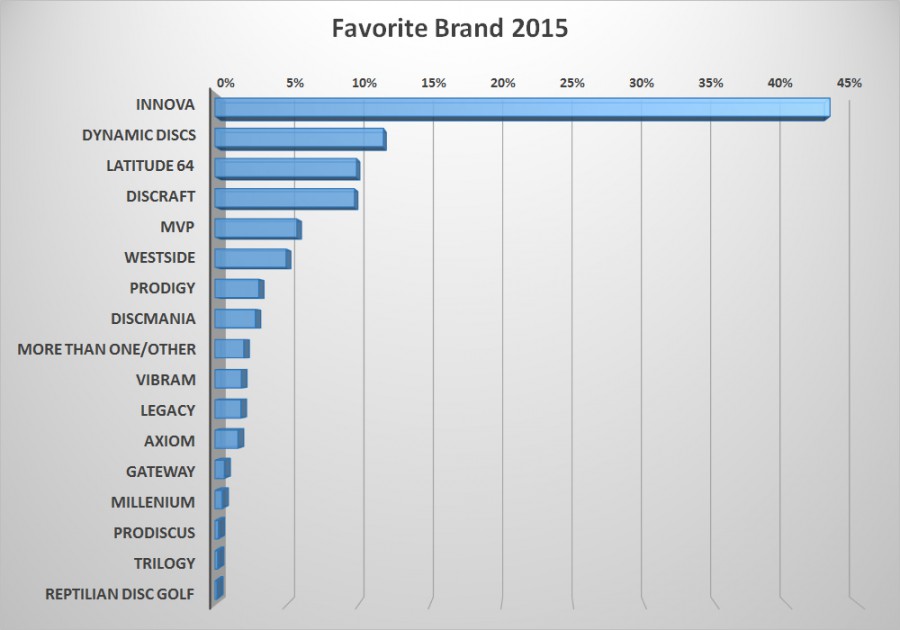 The results are in, and once again this series of blogs will examine the numbers, the changes, and the interesting aspects of our opinions about disc golf. We sincerely appreciate everyone who took the time to share a little bit about yourself so that we can get a better picture of the disc golf community.
We will begin by looking at the brands we like and the changes from the last survey.
Our BFF!
With the certainty of Paul McBeth sinking a 10-meter putt, Innova dominated the category of 'Favorite Brand' again this year. Last year they not only led the category, they also had an increase in percentage of respondents from the previous year. This year's survey showed a little different picture. The undisputed champion (pardon the pun) of the disc golf world slipped a little bit, dropping from 48% to 43%. But, that's still higher than the 2013 survey (38%). The next few positions experienced a few changes, but not big numbers. Discraft dropped from second place at 12% last year, to fourth this year at just under 10%. Dynamic Discs gained some ground, going from fourth last year with 6%, to second this year at nearly 12%. In third place, Latitude held steady at 10%.
When taken as a whole, the three members of the Trilogy brand (Westside, Latitude 64, and Dynamic Discs) were the favorite of 26% of respondents.
It is interesting to note that nearly a third of us changed our favorite brand from last year. With that much change, there is potential for some big swings in numbers. Yet, other than Dynamic Discs' 6% increase, none of the changes were drastic.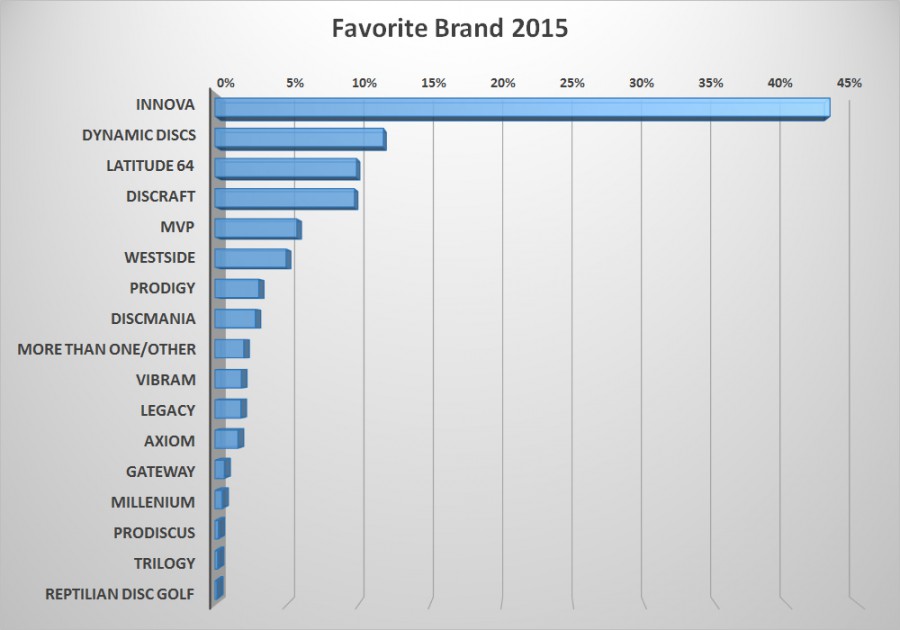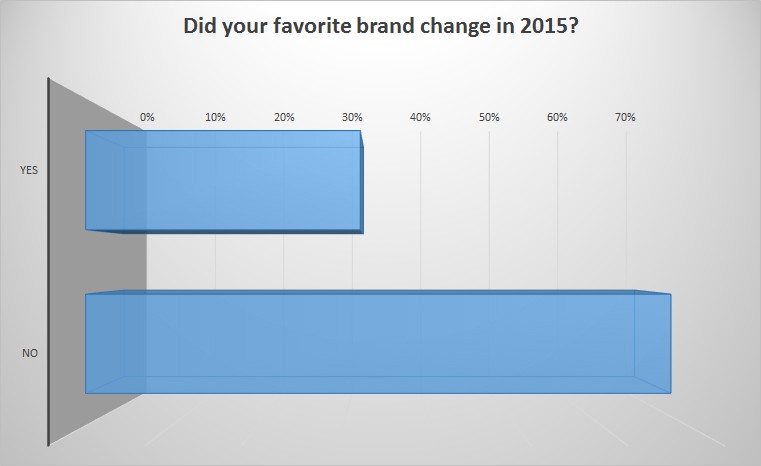 Just Can't Wait!
Although it is interesting to explore our favorite brands, there are other statistics in the survey that give a clearer picture of which brands are important to us. For example, the question "From which brand do you most look forward to new releases" showed a lot more even distribution of votes across manufacturers. According to the survey, 22.5% of us look forward to new releases from Innova. They are still number one in this category, but that is nearly half the number of respondents that chose Innova as their favorite brand. The second-most anticipated release is from Dynamic Discs at 15.3%, and rounding out the top three is Latitude 64 with 11.9%. Incidentally, nearly 12% of us don't really look forward to new releases.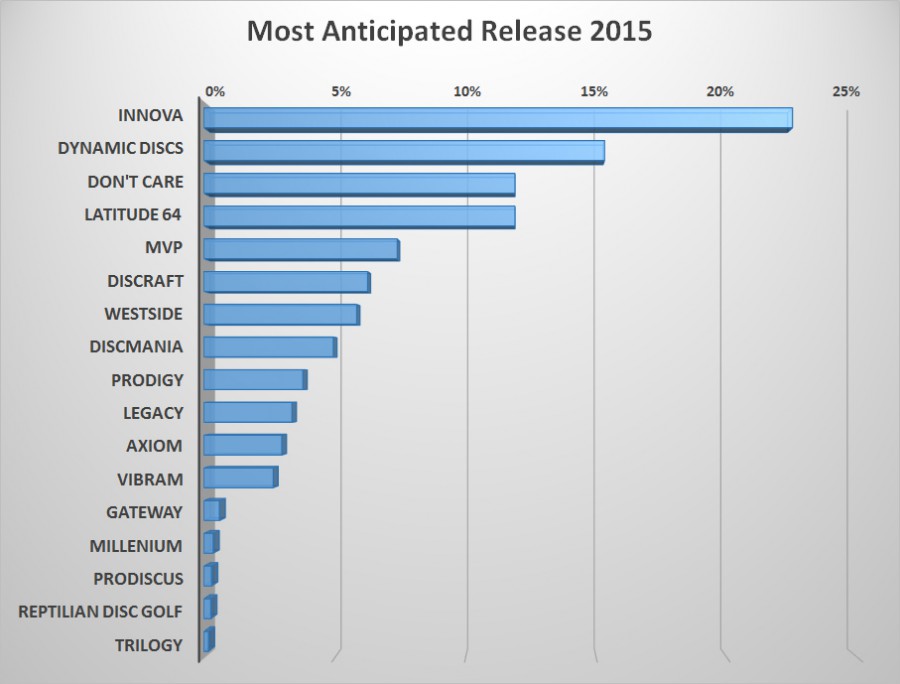 Innova-tion
Is Innova going to lead every poll category? Nope. For the question, "Which brand is the most innovative?" MVP edged out Innova for the lead spot, 23.2% to 22.6%. MVP gained in percentage about what Innova lost. The two companies have been trading positions for the last few years. The third and fourth positions were held by Dynamic Discs and Latitude 64.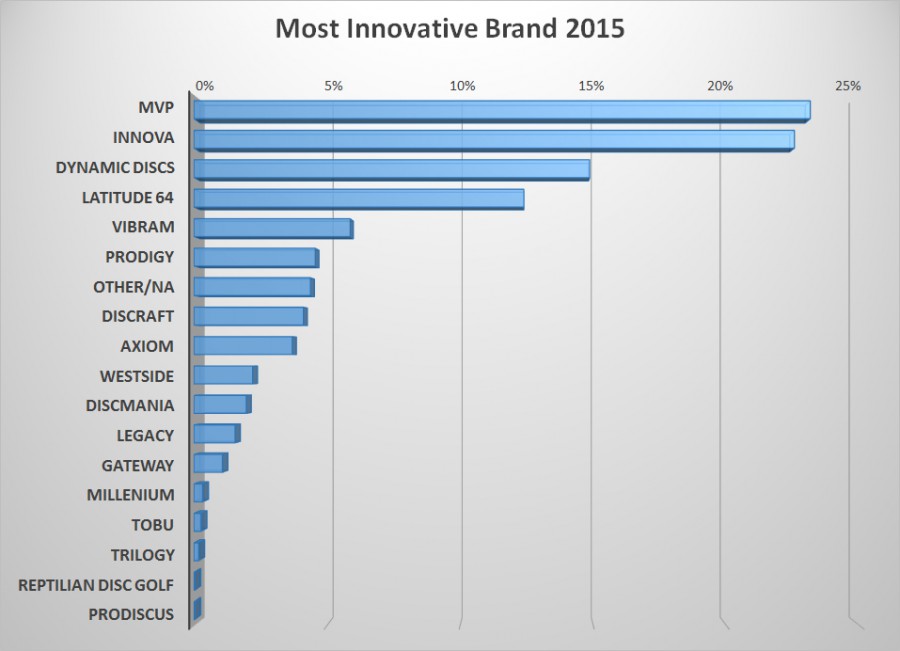 Respect
Innova isn't just dominating nearly every poll category, they are garnering respect from more than their die-hard fans. In the category asking which manufacturer has the best reputation, Innova took a huge lead over second place, getting 58.2% of the votes. The next closest was Dynamic at 12.9%. Perhaps people know how long Innova has been involved in the sport. Maybe it's their sponsorship of so many events. Maybe it is the fact that they sponsor the four-time world champion, and other world-class disc golfers. It could even be their thorough selection of discs. This does not seem to be the type of category that would be inflated because of Innova's wide and varied distribution channels. It just appears to be a nod to an old, established company. Whatever the reason, the number of respondents who voted for them far exceeds the number that chose Innova as their favorite brand. That's pretty impressive.
One-brand Warriors
Similar to last year, about 6% of us have only one brand in our bags. Most of us are happy to throw discs from a variety of manufacturers, but these loyalist only throw a single brand. Innova aficionados make up 54% of the single-brand supporters. Discraft devotees come in second at 14%, and Prodigy proponents come in third with 8%. The survey didn't ask for how many of each brand people had in their bags, so there could be a good percent of us who could be close to having a one-brand bag. However, most disc golfers love to experiment with brands, discs, and plastics (or rubber!).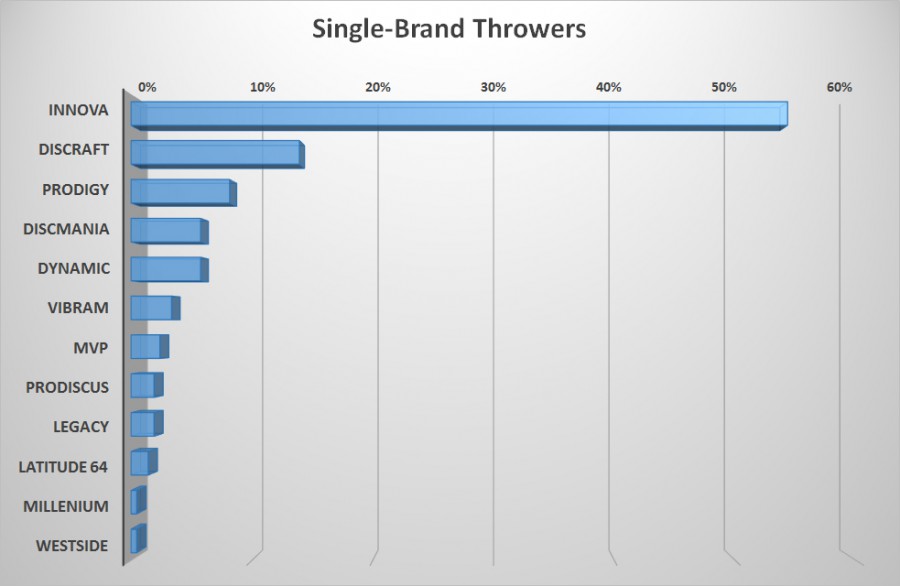 What are you throwin'?
Now it's time to turn away from how we feel about certain brands and turn to one of the most interesting and telling indicators of what manufacturers we like: what discs are in our bag. As I mentioned before, indicating which brand is our favorite, or which disc company is most revered, does not paint a clear picture of what we huck. So, let's take a peek inside the bags of the thousands of people who responded. Spoiler alert: Innova won this category, too.
It won't come as a shock to anyone that most of us have at least one Innova disc in our bag. Again, they are one of the oldest manufacturers, host the widest selection of discs, can be found in a bigger variety of stores, etc. Over 83% of us are carrying around at least one Innova. That number is down ever so slightly from 86.8% last year. That is not a huge decrease, but it will be interesting to see what the future holds for the disc giant.
The second-most common disc manufacturer in our bags is Discraft, with 62.8% of us toting around the brand. Last year 69.2% of us carried Discraft, which is a lot bigger year-to-year drop than Innova. Whose discs are poaching the bag space from these two giants? The members of the Trilogy are. Latitude 64, Dynamic Discs, and Westside, in that order. Latitude 64 went from 42.3% last year, to 49.6% this year. Dynamic Discs experienced a bigger gain, shooting from 35.3% to this year's 48.6%. Westside also experienced a large increase in fans, moving from seventh place at 26.1% last year, to fifth place at 36.5 in this year's survey.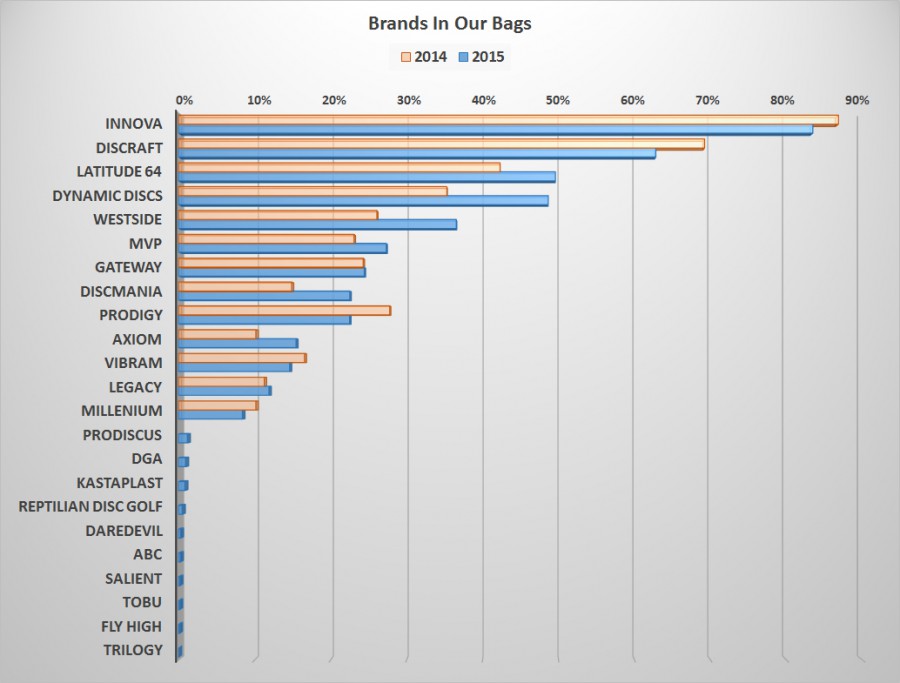 The Winner?
As we've seen in the past couple years of conducting the survey, the numbers among the top companies ebb and flow. The growth of the sport creates opportunities for smaller disc companies to stake out their position in the world, and try to create a few more chinks in the armor of the big boys. Newer golfers may be more willing to try different brands, perhaps even with an attitude of rebellion against the "establishment" of older companies. Although the market will prevent too many new competitors from emerging, several existing companies are making headway into what was formerly the domain of Innova and Discraft. Whether newer companies can overtake the top brands remains to be seen, there are a couple of factors that I assert will affect the chances of growth for smaller companies:
Becoming the discs that beginners start with. Most of us have a soft spot in our hearts for our first discs. I suspect they affected our buying habits for a long time. By actively introducing new players into the sport, manufacturers stand the chance of becoming their go-to brand.
Find the plastic/mold that becomes popular. Okay, it is a lot more difficult to find the next hot model than just releasing a bunch of new discs. But, by continuing to experiment with new materials and molds, the chances of hitting a popular disc goes up.
Sponsorship certainly helps keep their brand in people's minds. Especially if you get lucky and sponsor a world champion.
It is fun and interesting to look at how we view the companies in the disc golf world. Although we can only speculate as to what is driving some of the numbers, it is still interesting to look at data from the survey and see what is the most current snapshot of our preferences in brands. In the next few blogs we'll continue to look at who we are and what we like.