2017 Disc of the Week–Week 4–Gateway Wizard
Another week closer to disc golf season means another disc of the week! This one is another oldie but goodie–The Gateway Wizard.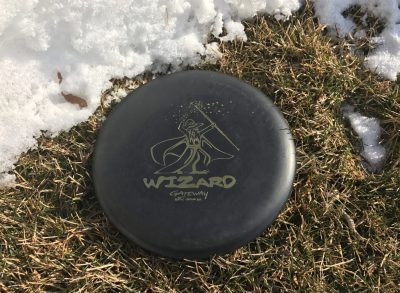 The Wizard is one of my personal favorites, and I know I am not alone! The Wizard is one of the best selling putters of all time. The Wizard is one of the deepest putters on the market and features a significant bead on the rim. Part of what makes the Wizard so popular is its versatility. With great glide and a predictable straight flight path with a slight overstable finish, the Wizard is one of the best driving putters on the market. Also with a nice comfortable fit in the hand, this disc is great for the short game as well. Adding to its versatility is the plethora of plastic blends it is available in. Gateway is notorious for making tons of putter plastic blends, and they are pretty much all available in the Wizard. Pretty much any disc golfer should be able to find a Wizard in a plastic blend that is perfect for them!
This week only, take 15% off the Gateway Wizard by using discount code: DWWIZARD18. If you are an avid Wizard thrower like me, or if you have been looking for a new putter to try out, now is the perfect time to grab one! Also, it is the off season! So stock up on your practice putters! And as always, make sure to checkout our Facebook page for a giveaway later today!