2017 Disc of the Week–Week 4–Latitude 64 River
Another week of Winter, another 2017 Disc of the Week! This week's disc is no stranger to cold temperatures, as it is manufactured in the furthest North (probably) disc golf factory in the world. We are happy to announce the Latitude 64 River as this week's disc of the week.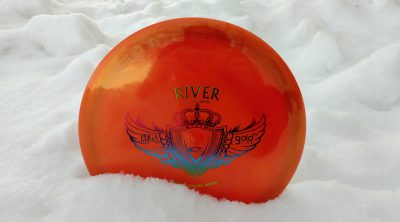 The Latitude 64 River is a versatile fairway driver. It is one of those rare drivers that both brand new disc golfers and top pros can utilize in their game play. The River is a stable to understable driver with a uniquely wide diameter and a small rim that fits easily in every size of hand. Though this is a slower driver, it flies sneaky far with an insane glide rating of "7." New disc golfers will love how easy it is to throw and get distance out of, while more experienced players will enjoy the easy controllable distance they can find in the River. So come, let's go down, down to the River to play…disc golf.
If you haven't tried the River before, this week is a great time to do it! This week only take advantage of 15% off all Latitude 64 Rivers in stock by using discount code: DWRIVER17. As always, check our Facebook page for a giveaway that we will post shortly for your chance to also win a River!