2018 Disc of the Week–Week 1–Innova Destroyer
It's that time of year again! Here at Infinite Discs at the start of every year we feature a different disc each week on our various social platforms. And this year we are kicking it off with the best selling disc of 2017–the one and only Innova Destroyer.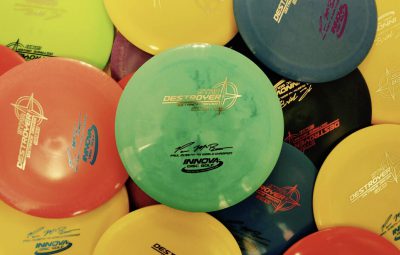 There are very few disc golfers in the world who haven't heard of the Innova Destroyer, let alone thrown it at least once. It has become the gold standard for high speed drivers. When you are describing the flight pattern of any new 11-13 speed disc, it is pretty easy to just use the Destroyer as a point of reference: "Oh, it's kind of like a Destroyer, but with a little more fade at the end," or "Oh, it's basically a more understable Destroyer."
2017 was a pretty great year for the Innova Destroyer, as it was featured in a lot of Tour Series Fundraiser discs. First there was the extremely popular Philo Brathwaite Swirled Star Destroyer, and then there was the Steve Brinster Splatter Star Destroyer. Both of these discs were beautiful for the collectors, but they also flew great for the throwers. And of course, you can't go wrong with a lovely stock run Star Destroyer featuring 4x World Champion Paul McBeth's signature.
So for this week only, take 15% off every Innova Destroyer that we have in our inventory by using discount code: DWDESTROYER18. The Destroyer is already an insanely popular disc, so check our inventory right away to make sure you get first pick! Also make sure to enter our Facebook giveaway that we will post later today!