2018 Disc of the Week–Week 2–Axiom Envy
Happy Martin Luther King Jr Day! We hope everyone who gets to take the day off from work are enjoying it! But if you do have to work today, here is a silver lining! It is time for this week's disc of the week, and this week we are featuring the Axiom Envy!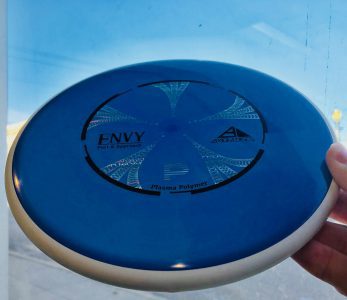 Ever since MVP added Axiom Discs to their family, the Envy has been one of their best sellers. This slightly overstable putt and approach disc is one of those awesome discs that is perfect for both driving from the tee and putting inside the circle. Also with Axiom Discs there is a neverending selection of color combinations to choose from between the flight plate and overmold.
We also saw a significant bump up in sales numbers for the Axiom Envy at the end of the year as they (finally) released the Envy in Electron and Electron Soft plastic, which is MVP/Axiom's base plastic blend that is perfect for gripping putters. So if you don't love your current putting putter or are having a hard time finding a driving putter that you feel confident in, give the Axiom Envy a try!
And this week is the perfect time to give this disc a try, because you can save 15% on all orders of the Axiom Envy by using the discount code: DWENVY18. The Gyro-heads love this disc, so find out what you have been missing out on by ordering your Axiom Envy today! Oh, and don't forget to enter our Facebook giveaway that we will post later today!