2018 Disc of the Week–Week 5–Dynamic Discs Sheriff
Time for another disc of the week from Infinite Discs! This week we are featuring one of the hottest new discs in the Trilogy lineup–the Dynamic Discs Sheriff.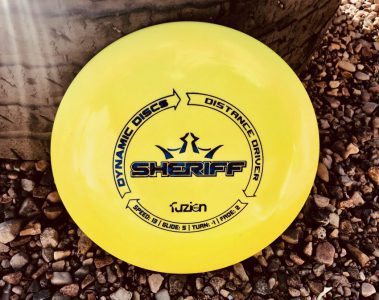 The Dynamic Discs Sheriff was released in January of 2017, and it has been a pretty big hit. In fact, it was the best selling driver from Dynamic Discs in 2017. The Sheriff is an understable distance driver that fills a key slot for a lot of disc golfers. While it is understable, it isn't so flippy that throwers with bigger arms can't use it. But also, it is understable enough that some newer players and smaller arms have been able to get distance that they couldn't get before. It has a large rim, but isn't uncomfortably large and should fit and feel comfortable in most players' hands. The Sheriff has been a consistent seller since its release, and it looks like that isn't going to change anytime soon!
If you have been thinking about giving the Dynamic Discs Sheriff a "shot" (get it?), now is the time to do it! And if you already love the Sheriff, here is your chance to stock up! All Dynamic Discs Sheriff discs are 15% off this week only when you use the discount code: DWSHERIFF18. Also make sure to enter our Facebook page giveaway that we will be posting later today!