2020 Update – First Completed PDGA Tournament Dave Feldberg Blog #5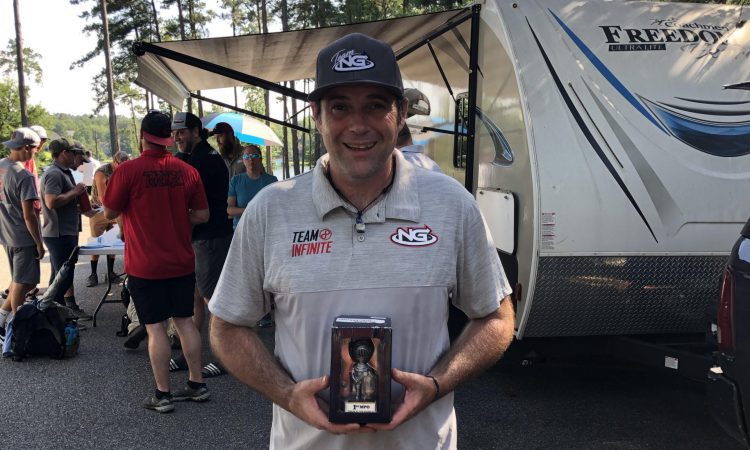 What a year we have had and we are only halfway through! Synthya, Leomax, and I have been laying low at our house hoping things get somewhat back to normal. We have been focusing on our family, house projects, and NADGT. We hope everyone stays safe during these uncertain times.
Throw at the Stone
This last weekend I played my first complete event of the season, a B tier called The Throw at the Stone in Macon, GA. I didn't know what to expect since I had not played since March where I had to DNF at The Memorial due to the flu.
Before the first round I was nervous like it was my first ever event. I did what I could to focus that energy into a positive energy. They had me teeing off in the last group at 2:00 p.m.. The first hole is a blind par four 495 foot turnover with a very difficult angle and very thick schule to lose your disc in. I walked up and ripped it on the inside and cut the distance of the turn and placed it 8 feet from the pin for an eagle. After that it all clicked and I went on to shoot -21 on the 27 holes. I had the lead by 7 throws over Matt Dollar and Bryan Gort.
The second day the course pins got a little harder, the wind blew a little stronger, and I had a little less game then the day before. I couldn't find a way to make any birdies and by the time I got to the 8th hole I only had a two stroke lead with 19 holes to go. I battled back and forth with Dollar over the next few holes and got it back up to 3 shots with just over half the round completed. Then I noticed on live scoring that not only was Dollar three back but Sean Goddard was on fire, -14 through 19 holes, and only two strokes back as well. So I focused in and birdied 5 of the next 7 tricky holes. Dollar lost focus and Goddard put on the breaks and my led grew to 7 strokes again. I ended up winning by 10 strokes over Goddard and Jamie Kiep, last years champion.
I really enjoyed playing with card mates and playing the course, it was fun. I wanted to thank James Luppino and the Macon Aces for putting together a great event, especially during these uncertain times. The Macon Aces are the closest Disc golf club to Synthya and I, and they are hard workers. I also wanted to thank Wes Campbell and Richie for their help.
I reached my goal and kept my streak 20 consecutive years with at least one B tier or higher MPO win alive. I wasn't sure I would get the chance to do so, but I did and I am grateful.
I want to thank all the competitors, event sponsors, volunteers , and my sponsors Infinite Discs and Propull Disc Golf as well as Synthya for pushing me to play this event and then giving me the time to do so. I love you.