Best Selling Disc Golf Discs – Top 50 – First Half of 2020

Top 50 Disc Golf Discs
It's been a while since we have posted a data article! It's the perfect time to reflect upon the best selling disc golf discs of 2020.
As many of you know, Disc Golf has experienced immense growth this year! With a pandemic on hand, many people are looking for ways to get out and recreate! A lot of new  people wanting to purchase all kinds of discs, starter sets, and baskets. This, mixed with the fact that some major manufacturers were required to shut down operations for many weeks, cause for a shortage in certain disc golf molds.
Many molds sold better than ever before while many molds sold out for weeks at a time, causing their sales numbers to drop. When you take in the data, remember that half the battle of these molds was simply staying in stock.
This data will show exactly which molds sold the most in the first half of 2020. Ready? (Unfortunately we cannot show exact sales figures, just relative data to show which discs sold better.)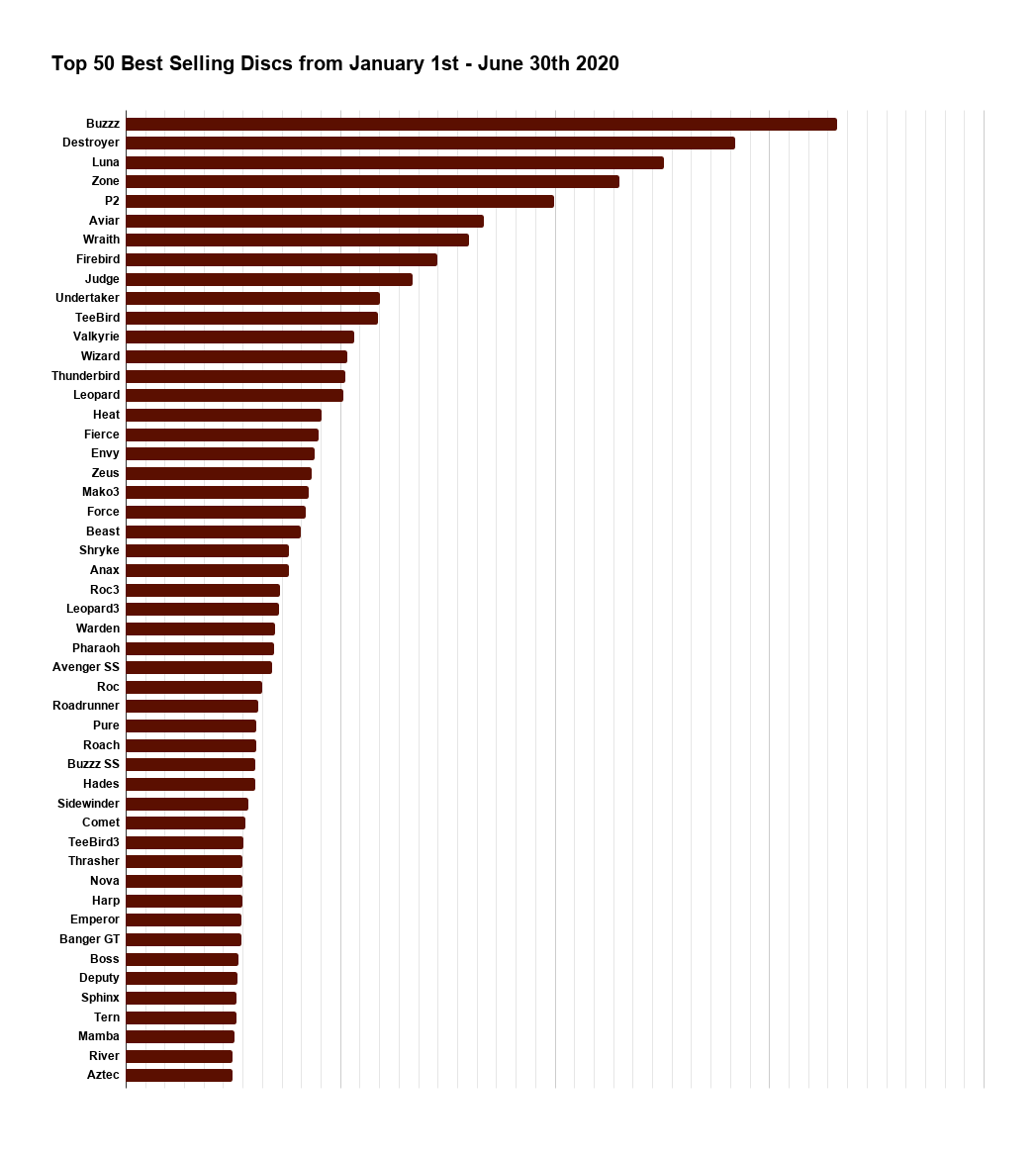 The Results
The Discraft Buzzz took first prize, while the Innova Destroyer and  Discraft Luna took second and third. We definitely struggled to keep these molds in stock, but their sheer popularity took them to the top 3.
The Judge, Hades, and Mako3 were just some of the molds that could have made it much higher on the list, but our low stock issues kept them further down. That's just how 2020 has played out!
---
Best Sellers by Disc Type
Let's take a quick look at which type of disc sold best: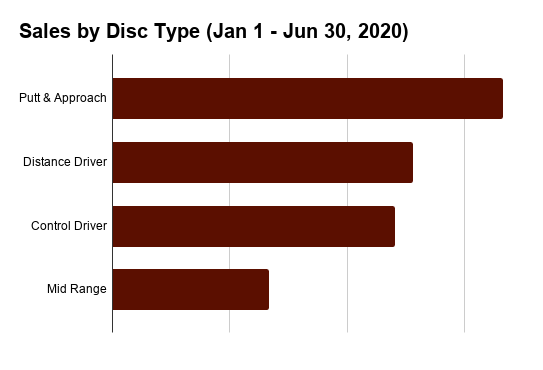 Yep, so far it has been the year of the putter! We saw a crazy run on putters during the early stages of the pandemic. Many people were staying at home and needed putters to practice putting with. For some people, it was the only way to enjoy the sport they love!
Distance Drivers took second, as always popular molds. Everybody wants to throw further! Control Drivers took third, while Mid-Ranges took last place– even though the Buzzz took first place in the overall Top 50.
---
What do you think? Did your favorite discs make the Top 50? Was there a disc that should have made it, but didn't? Let us know!