Black Friday Week/Cyber Monday Disc Golf Deals

BLACK FRIDAY 2023 CATALOG
Our BIGGEST sale of the year is HERE
Check out our extensive BF catalog to find which of your favorite brands and products will be on mega sale between November 23-30th! This includes Thanksgiving, Black Friday, Small Business Saturday, Cyber Monday, and beyond! Many major disc golf brands have their very own special day dedicated to offering the hottest deals on the disc golf market. Each day beginning at midnight EST, one or multiple brands will go on sale and/or will release some specialty disc for you to enjoy. Any price changes will go back to normal 24 hours later, so be sure to jump on these deals while they last!
For the full week of Nov. 23-30th, there will also be hundreds of products and many other disc golf brands on sale. This is THE time to stock up on your favorite disc golf products, get something new, or do some Christmas shopping for your friends and family. Check out our sales guide below to ensure you don't miss out on any of the hottest drops or doorbuster prices.
Because there will be so much traffic on our website during the week, especially immediately following new drops, our website may experience slowdowns or could even freeze up completely. Please be patient with us, we don't like it when this happens any more than you do. The best thing to do is close down the website, come back in 20 minutes and then try again. The worst thing you can do is attempt to keep reloading the website over and over.
The images and descriptions below will detail everything you need to know in order to prep for our biggest sale of the year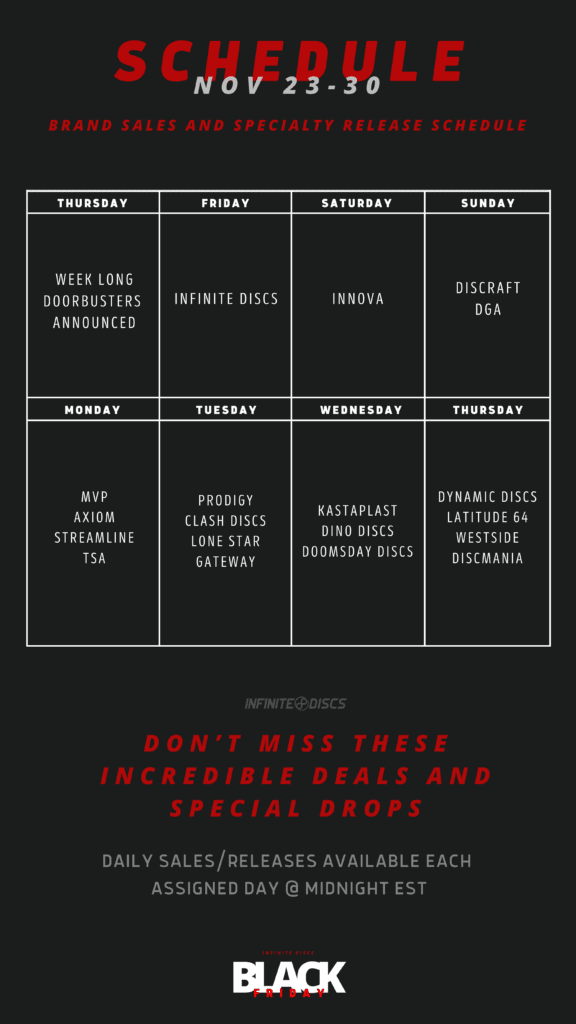 Doorbuster Deals and Discounted Accessories
We will have a large selection of disc golf bags, starter sets, and accessories on sale all week long.
This week we have a number of incredible doorbuster deals that are available while supplies last! Plus we have a huge selection of disc golf accessories that will be automatically discounted all week long!
Here is a list of discounted bags:
Disc Golf Starter Set Deals
If you're new to the sport or just looking to get a great disc golf set as a gift, we will have many disc golf sets on sale including sets from Axiom, Divergent Discs, Discraft, X-Com, Thought Space Athletics, Viking Discs, Yikun Discs and more.
Cheap Mystery Boxes
Not sure what to buy, but know you want to get it for cheap? A Mystery box is for you. During Black Friday week, all of our most popular deals boxes will be in stock and on sale. Plus, we've build a special edition Black Friday 7-disc box that includes 7 of the special stamped discs from the Black Friday week– limited quantity available!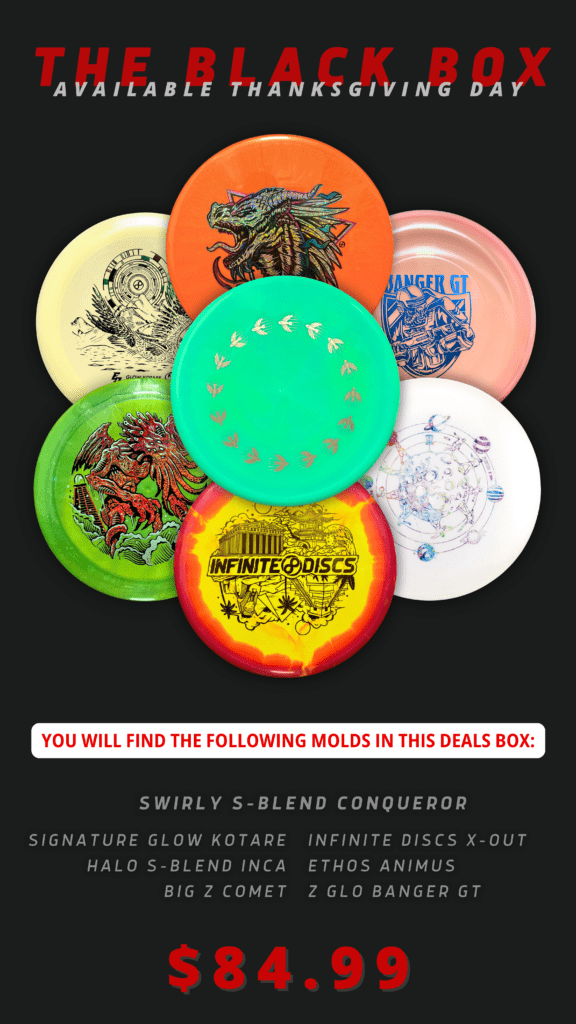 Disc Golf Racks
The MVP Disc Station will be on sale for $119.95 from Black Friday to Cyber Monday! This is an amazibg deal that you won't want to miss!
This week, MVP has also debuted their NEW Disc Stations: The MVP Disc Station II and the MVP Disc Station III
Other Accessories On Sale
Here is a list of all the other products you can find on AMAZING sales this week:
Disc Golf Brands on Sale All Week
As for individual disc golf discs, the brands below will be on sale from Thanksgiving all the way through the week to the following Thursday. That way you can add some good deals to your shopping cart on any day while you're shopping for some of the special drops!
In addition to discs in the Infinite Discs Line, the following links will take you to disc golf brands will be on sale all week long.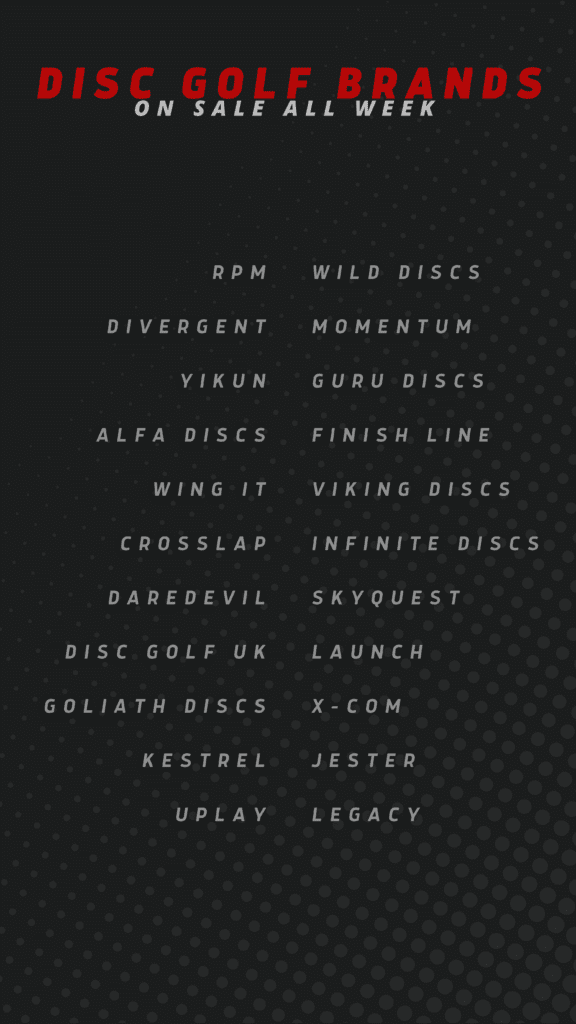 FINISH LINE DISCS will be on sale all week with these excllusive special edition stamps.
In addition to this, you will find the First Run DAYTONA available for purchase as it releases on Black Friday (November 24th).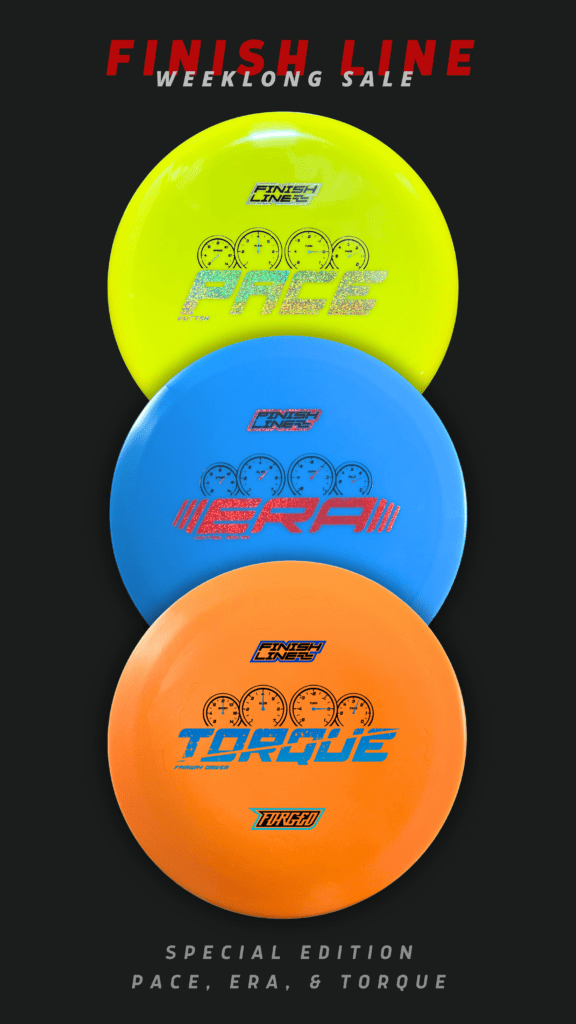 MEGA Disc Deals
If you're looking for cheap discs, you're not going to find cheaper prices than these anywhere. This year we will be having several BIG deals sections during our Black Friday Sales Event. This includes $4 discs, $5 discs, $6 discs, and so on. You won't find cheaper discs than these all year! See specifics below: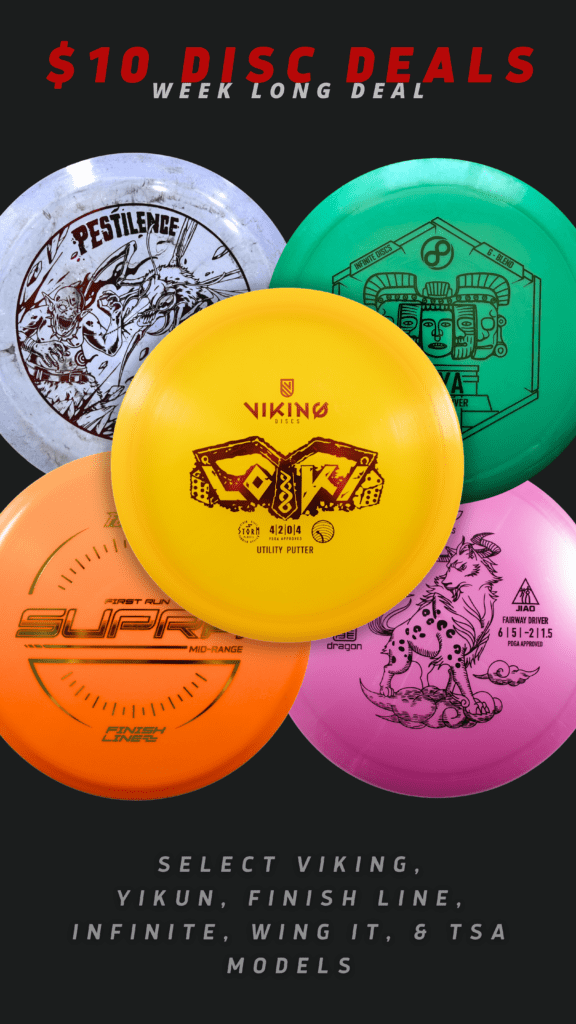 Daily Drop Sales Calendar
These new and unique stamps are as follows:
The following triple foil stamps are Infinite Discs Branded but have been stamped onto many other brands and molds, you will see these as you shop various brands: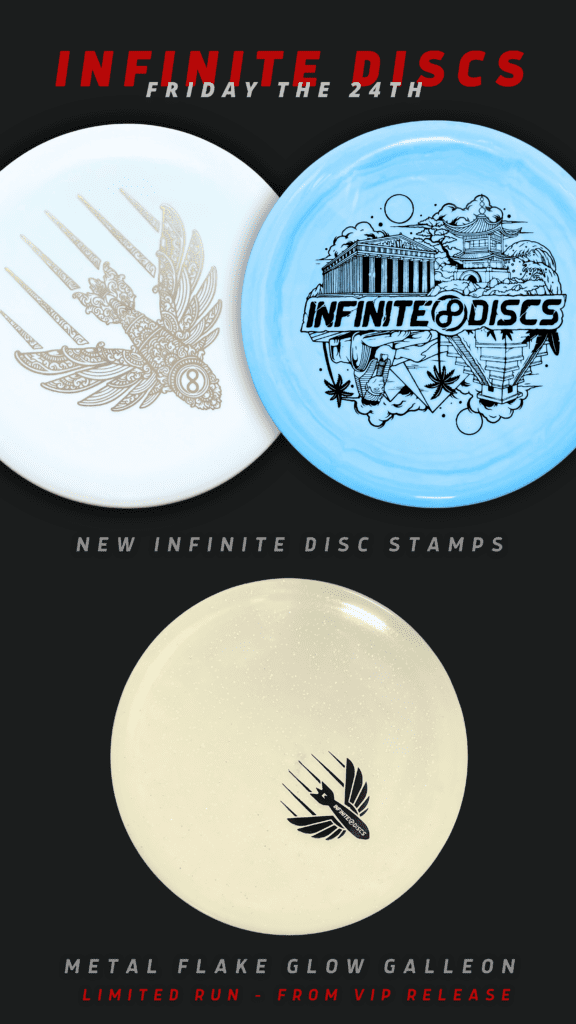 SATURDAY THE 25TH – INNOVA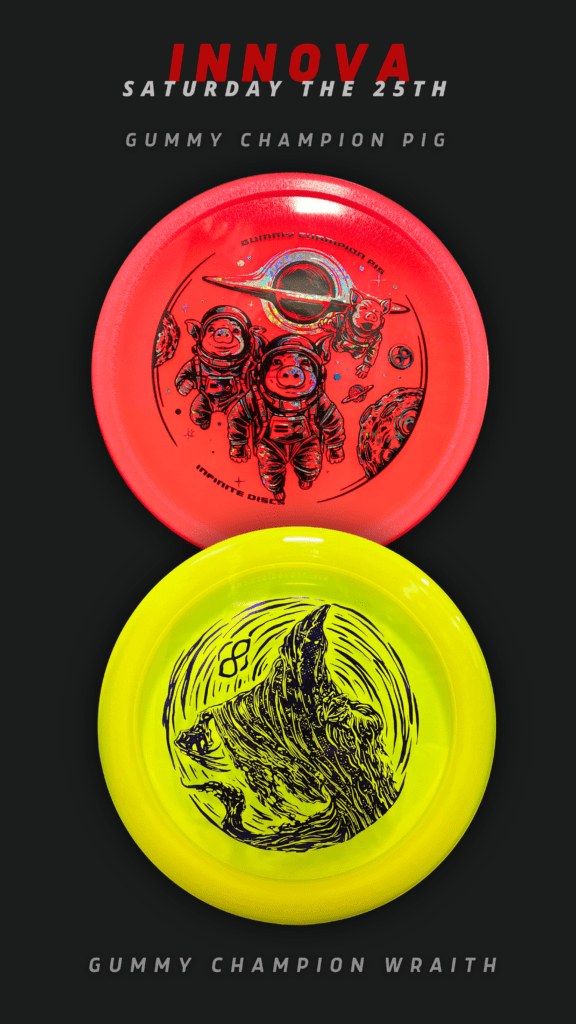 SUNDAY THE 26TH – DISCRAFT & DGA
On Sunday November 26th, you can find these two brands and an assortment of their molds with those specialty triple foil stamps mentioned above.
We also have new, exclusive runs of two discs in Z Swirl plastic.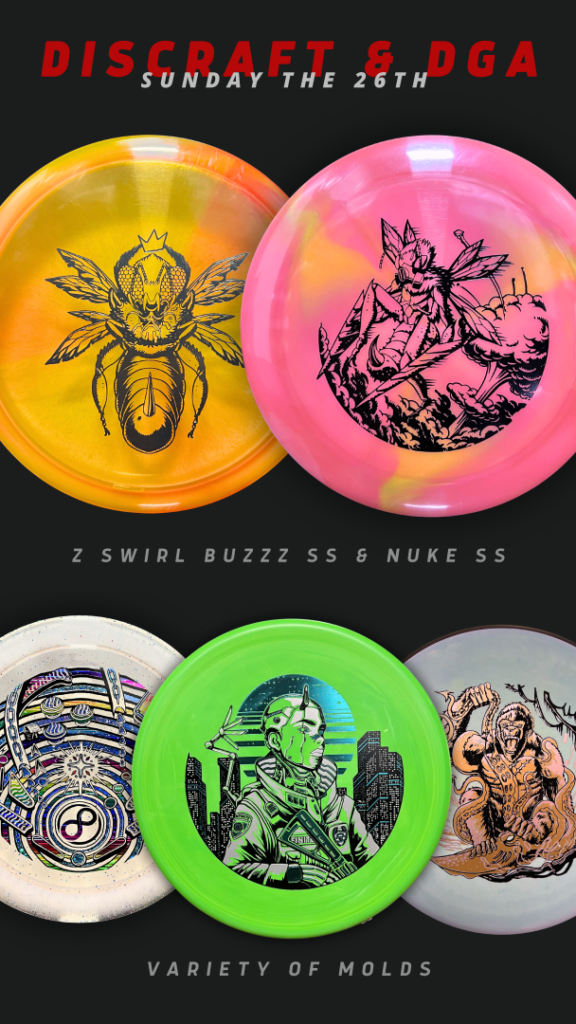 MONDAY THE 27TH – MVP, AXIOM, STREAMLINE, TSA, & MINT DISCS
On the hottest online shopping day of the year, you can find MVP, Axiom, and Streamline on major discount and with these specialty triple foil stamps put on a few fun molds.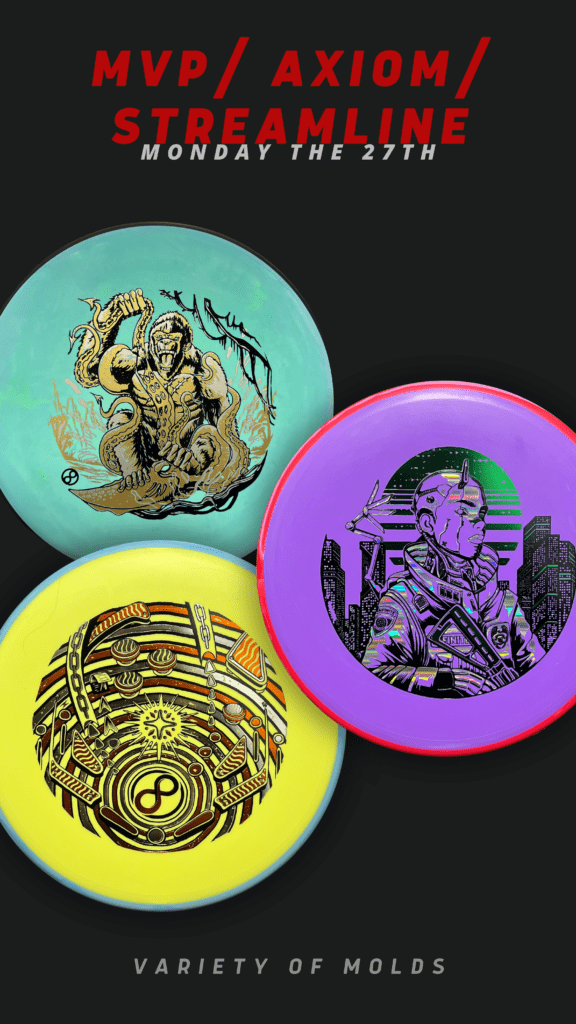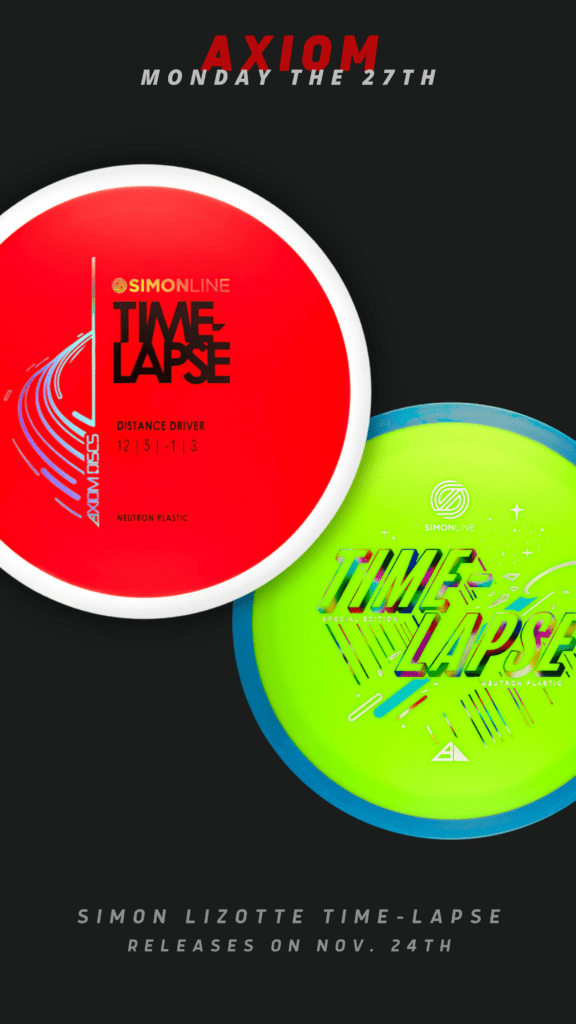 GYROpalooza 2023 Box will drop on November 24th, Black Friday!
Here's the breakdown:
Eclipse R2 Neutron Envy (Triple Foil Stamp, art by Green C Studios)
Eclipse R2 Neutron Hex (Triple Foil Stamp, art by Scott Oswalt)
Eclipse R2 Neutron Crave (Triple Foil Stamp, art by Skulboy)
Eclipse Glitch (Triple Foil Stamp, art by Mike Inscho)
Neutron Detour (NEW DISC, Triple Foil Stamp, art by DoubleRam Design)
4 Random Lab Second Discs
2 Random MVP Pro Shop discs (could be unique runs, various artist series, or Team Series MVP discs)
This totals 11 awesome discs that you will not want to miss out on!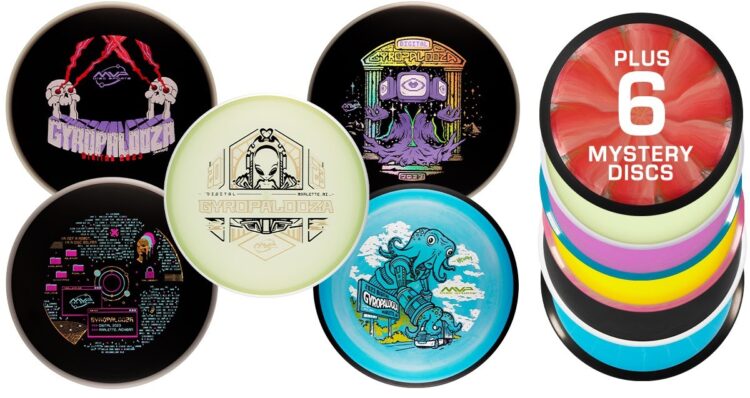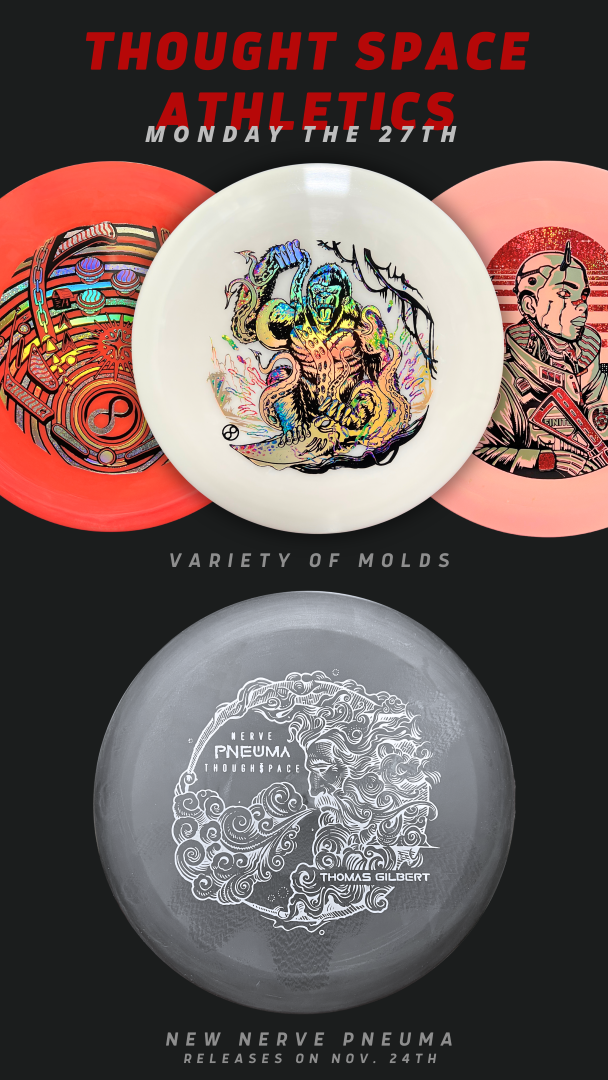 TUESDAY THE 28TH – PRODIGY, CLASH DISCS, LONE STAR, GATEWAY
While the sales end for most of the online shopping world on Cyber Monday, they keep going on at Infinite Discs for a few more days! On Tuesday we feature some of the top disc golf brands including Prodigy, Clash Discs, Lone Star Discs, and Gateway.
This is Clash's first foray into the overmold world. Double Steady discs are crafted from two distinct components, providing each mold with it's own unique appearance. They create a huge variety of different looks with fun results!
You can feel a slight seem where the two distinct plastics meet, it has about the same feel as running your thumb over a foil stamp.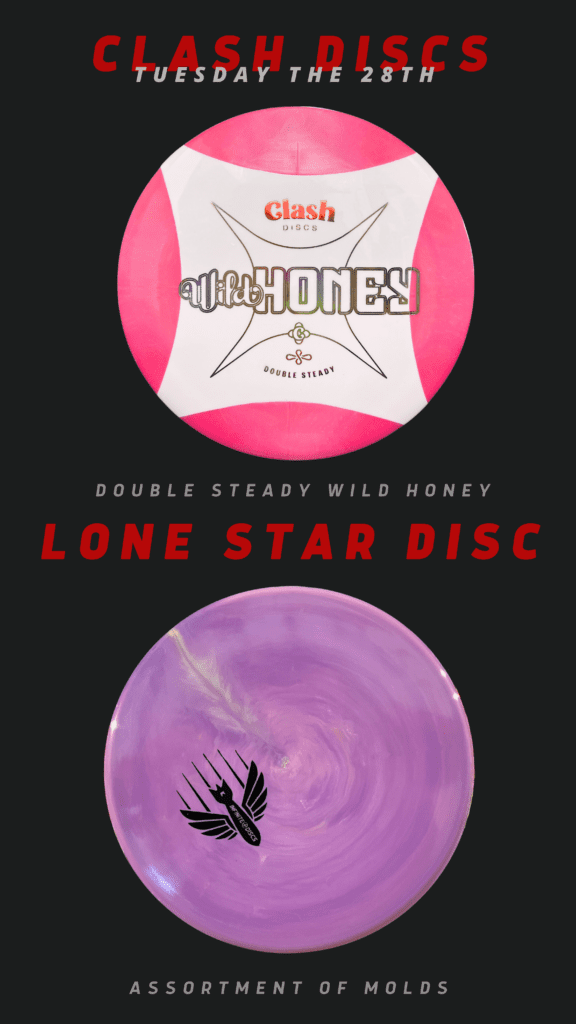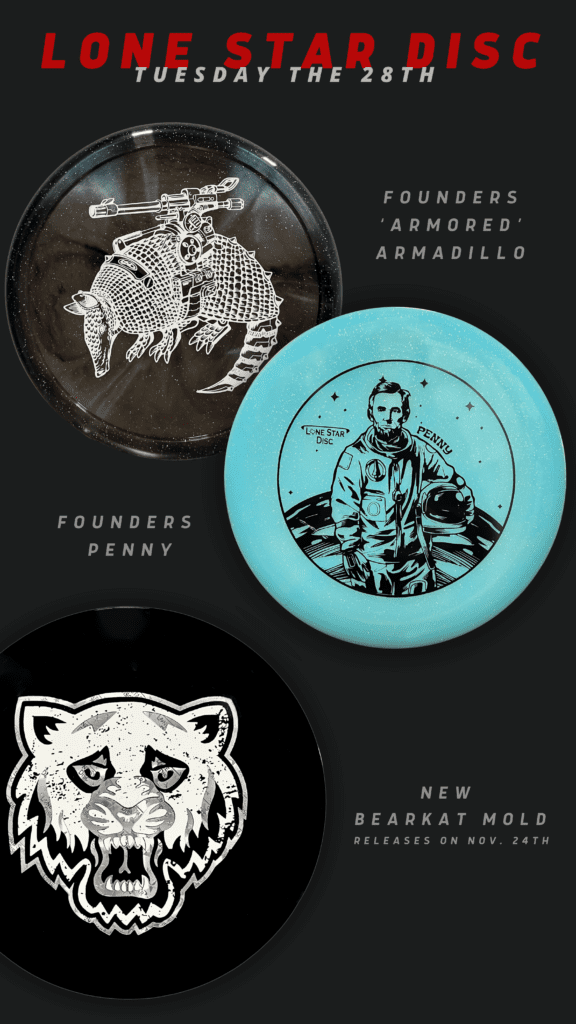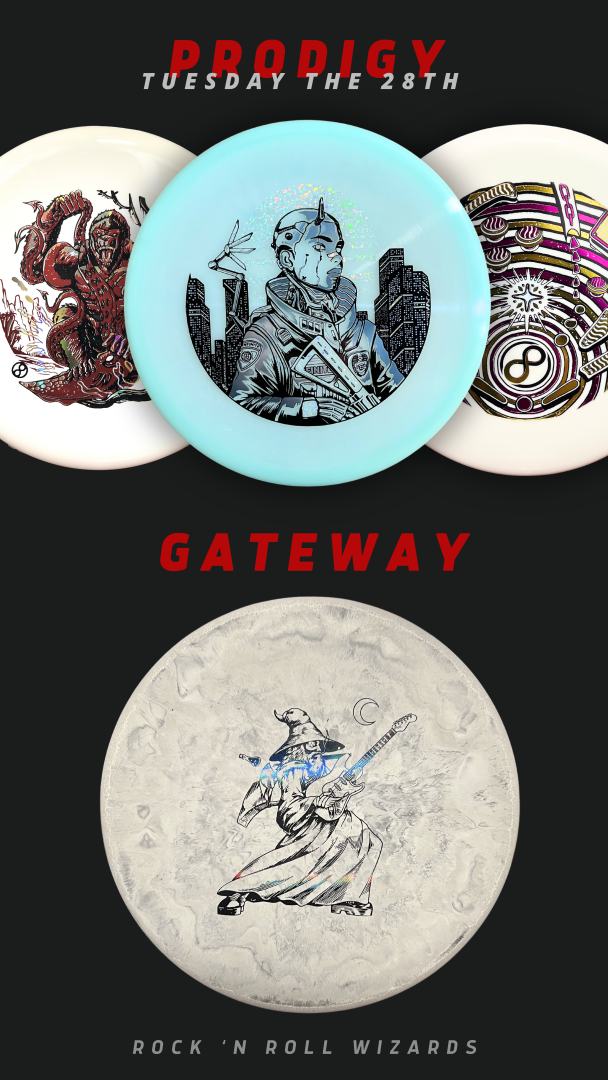 WEDNESDAY THE 29TH – KASTAPLAST, DINO DISCS, DOOMSDAY DISCS
We have some special drops coming to you from these three fun brands–  Kastaplast, Dino Discs, and Doomsday Discs.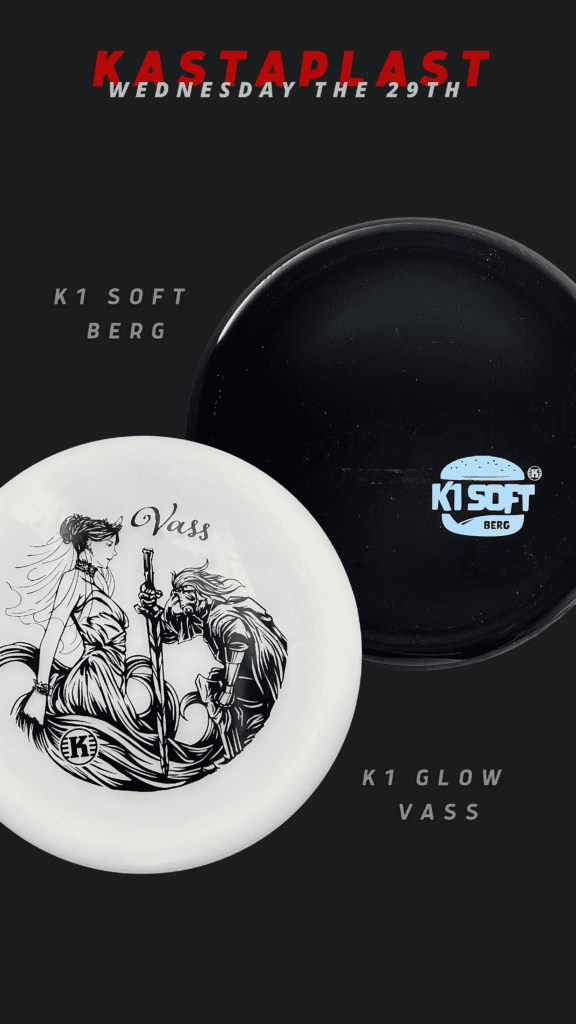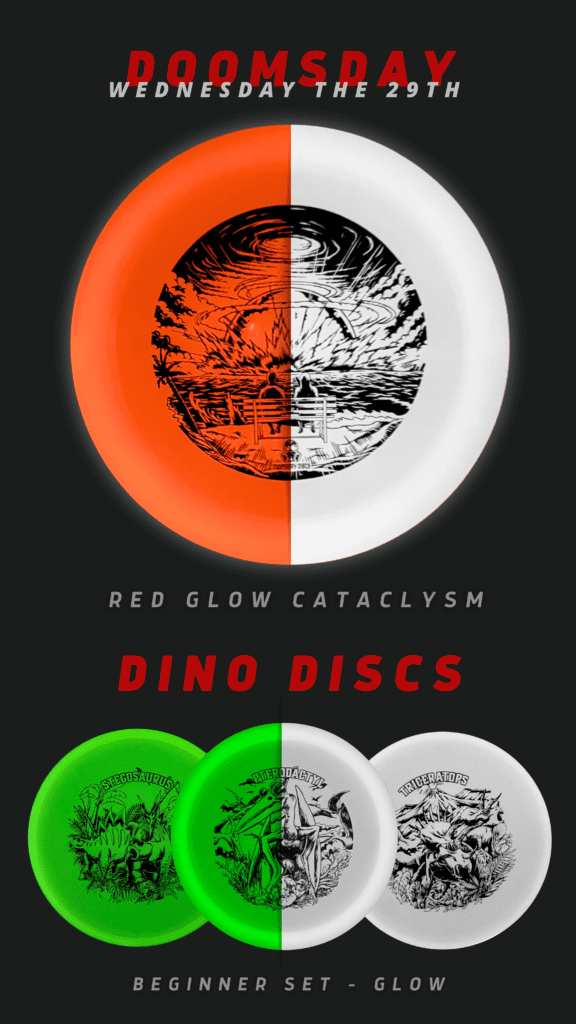 THURSDAY THE 30TH – DYNAMIC DISCS, WESTSIDE, LATITUDE 64, DISCMANIA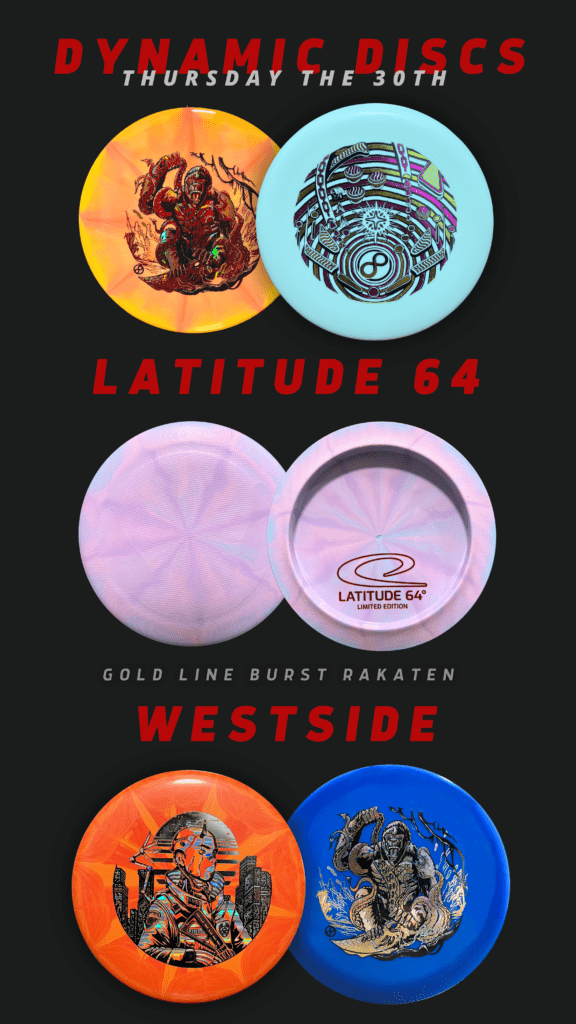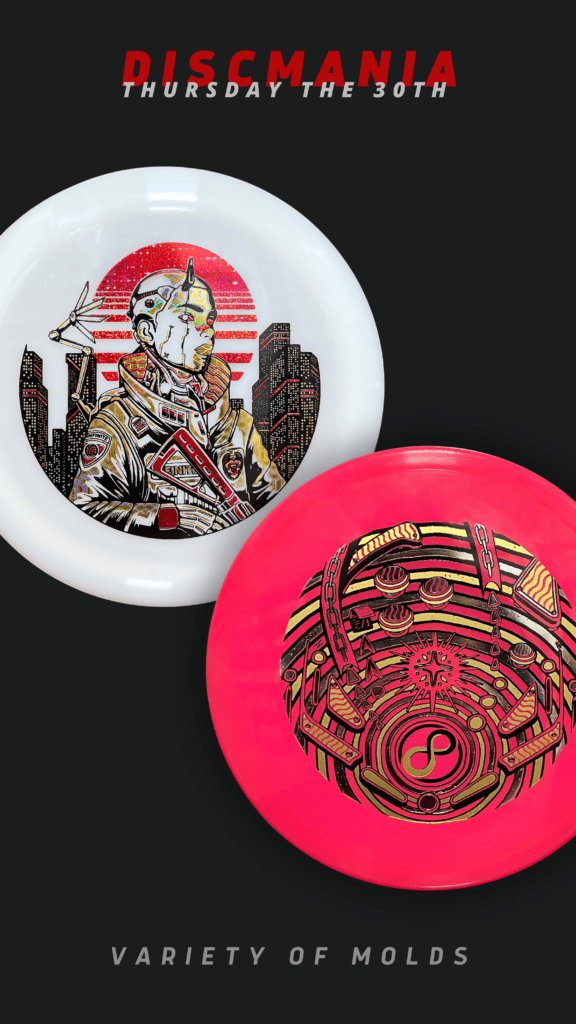 This is also the final day of the all week sale items and doorbuster deals. Be sure to check those out HERE
Black Friday FAQ's
Why does your Black Friday sales week spread out among so many days?
There are a few reasons that we need to structure are sales this way. The primary reason is to keep our website functioning. By spreading out the different special drops and sales among the hottest disc golf brands, we spread out our server load. In addition to our limited website capacity, this also helps our shipping crew not get too far behind.
How long will shipping take?
We will be having our shipping stations working extra hours on Friday and Saturday, and will do all we can to get your black Friday purchases shipped in a timely manner. Our shipping focus will be on expedited orders, and we will do our best to get shipping upgrades sent out the same  or next business day. As for other orders, we will do our best to pull, pack, and ship them out as soon as possible.
The major mail carriers also anticipate high shipping volume for the weekend, but with increased demand there is also more potential for errors and delayed packages. If you are really anxious to get your new Cyber week discs, then we recommend the expedited shipping upgrade during this busy time.
We will be unable to accommodate combined shipping requests for multiple orders at this time due to the high volume of sales. Please anticipate paying for shipping multiple times, or plan to make your order all at once.
What time do the new releases drop?
New releases drop at midnight Eastern time each night, so if you live in California, the next day's Black Friday releases are active at 9 PM.