Breaking Off The Rust – Dave Feldberg Blog Post #2

Jonesboro Open
So I decided to play in my first two singles events with my new mixed bag. The first event was the Jonesboro Open.
I felt ready. I showed up the day before the event to practice and the wind was blowing 30 mph. Not very good practice since it was going to not be 30 mph during the event. The fact is I know my discs, but I had not seen many of them fly in heavy wind. So when the first round rolled around and it was only a slight wind, I felt like instead of executing I was playing a guessing game of, "How much is that going to Hyzer?"
 I didn't make many mistakes, but I also didn't make anything worth mentioning and I found myself in 35th after the first round. But I was only a few strokes back of the top ten. I did putt 100% in Circle 1. The second round came, and the weather was looming. Everyone was getting ready for a doozy of a day. I usually play well in the conditions and I was prepared, and my caddy Steve was also highly prepared. 
At the start, I was playing better than the first round and by the time we got to hole 11 I was already in the top 20. Then after a great drive, they blew the stop horn. I still had seven holes to go and now we were to play at 7:30 am. I have never been much of a morning person. 
When I woke up on Sunday at 6 am it was literally freezing and raining. I barely had enough clothes to feel comfortable outside. I headed out and I took a par on all seven holes dropping me to around 25th. That I could handle, but now I had a 5 hour wait in the rain and cold before I had to play 18 more holes. I tried to distract myself, rest, and stay warm, but this was a task. I headed out for the third round and played the front nine well. But then I just ran out of gas and focus. I took a bogey on three of my last four holes, finishing with a sloppy par on the last hole. I dropped back down to 35th.
All in all, it was good weekend. It's just the older you get, even though you have the experience to play in the conditions, it is less enjoyable playing in the bad weather. But it was a good warm up and let me know what I need to work on for the rest the season.
Linton Park Open
I played in one more event, the Linton Park Open which was a B-tier in Sandersville, Georgia. I was able to pull out the win by two strokes over Matt Dollar. It paid $1100 for first!! I started off a little slow and gradually increased my play throughout the weekend. Jamie Brindell and his crew ran a fabulous tournament with all kinds of food, awesome trophies, and tons of added cash. It's nice be able to win over thousand dollars less than an hour from my house.
Over the next few weeks I have two more events planned. I will be playing in the Huk Central A -tier in South Carolina, followed up by the Trailblazer A-tier in Clermont, Florida. I'm hoping to be able to start playing my rating at those two events.
I got my first action with the Infinite Discs Emperor at these events and I must say I really like the disc. It is giving me a really fast over stable distance driver for my bag. My new tour Emperor in Splatter Star should be coming out very soon. If you like Destroyers, you'll love the Emperor.
Next Gen Tour
On a business level next generation tour is doing well. We just announced that we will have a $100,000 final event in Austin Texas. Synthya and I decided after lots of thought that the one thing that amateurs need to take that next step is cash.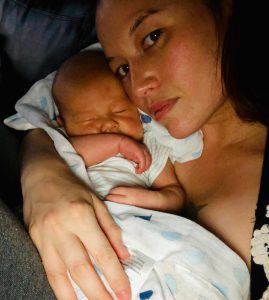 On a personal level, Synthya, Leomax, and I have been doing great. He is growing so fast, and Synthya has turned into a wonderful mother already. This week my brother is coming to town from Maryland to visit us and meet the baby. I think we'll all go up to the Atlanta aquarium and check it out.
Well that's my update for now hopefully I can start playing better Disc Golf, make sure people understand what NextGen is now, and enjoy being a father to this wonderful family that I have helped create. Until next time, see you in the fairways.