Get to Know Signature Team Member Chris Becker
Welcome Chris Becker to the Infinite Discs Signature Team. Chris lives in Eugene, Oregon, and is a Collegiate Disc Golf National Champion. Chris has been playing in tournaments since 2010. We're thankful he was able to chat with us a bit so we could get to know him a bit better!
How did you get started in disc golf?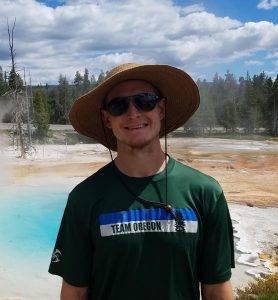 I started playing disc golf when I was in elementary school. Across the street was a 9 hole course called West Morland in Eugene, Oregon. I played with my friends there often and started to meet some locals.
Is there anyone in particular you look up to or admire in the game?
I look up to Dave Feldberg, being my old coach at the University of Oregon Disc Golf team. He was number 1 in the world at the time and I think that gave us all a boost of competitiveness.
What is your favorite type of shot to throw?
My favorite type of shot to throw is with a flippy putter or mid range. Throw it with some hyzer, let it flip up to flat, and ride straight. Maybe even tail a little right at the end. I like this shot because the discs I use for it are similar to how an Ultimate Frisbee flies. 
Which of your disc golf achievements are you most proud of?
I am most proud of winning Collegiate Nationals my freshman year in 2010 at the U of O. That was what catapulted my love to compete at tournaments. Also, having the opportunity to teach disc golf at a University for 5 years thanks to Nate Sexton! These are experiences I will never forget.
If you could play a round with only three discs, which would they be?
I would choose to throw a KC Pro Aviar, S line chariot, and a Star Destroyer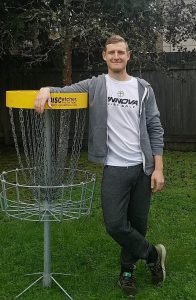 Other than disc golf, what else do you enjoy doing?
I enjoy running, swimming, hiking, music, reading, and hanging with friends.
What tips do you have for newer players or players looking to improve their game?
Start simple. Throw putters first. Once you can control those, move to mid range discs, and then drivers. Accuracy will always trump distance. If you want to play this game for a long time, don't over do it. Throw smooth and be mindful.
If people want to follow along on your journey, where can they best follow you?
You can follow me on Instagram.
Chris will have a signature disc this year, so be sure to keep your eyes open for that! Also, make sure to follow along on his disc golf journey. If you're competing in the Pacific Northwest, then there's a good chance you will see Chris out there. Good luck this season!