Disc Golf course design seems like an easy feat until you get started. There is quite a bit of planning involved. However, as the sport of disc golf continues to grow, so does the demand for more courses. If you need help in course design and don't know where to turn, Team Infinite has you covered. Our team has several members across the US with experience in designing disc golf courses.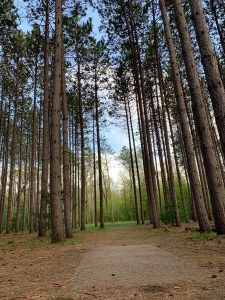 Here is a list of contacts and how far they're willing to travel to help design your course:
Jordan Infield
text/call at 865-323-2053
Jinfield Disc Golf Design
Located in Kentucky but willing to travel anywhere
Chad Eads
479-739-2266
Chris.eads11@outlook.com
Arkansas, Eastern Oklahoma or Southern Missouri
Tricia Lafferty
TriciaLafferty@yahoo.com
State College, PA
~150 Miles
Bobcat Buckley
Bucklerj01@mail.buffalostate.edu
315-246-9017
2-3 hours of Charlotte
Ryan Flahive
rsflahive@gmail.com
505.795.2201
Arizona, Colorado, New Mexico, Utah
 These are some extra disc golf course design resources provided by the Professional Disc Golf Association.
Additional Resources
Benefits of Disc Golf
Course Installation