Disc Brand Sales Comparison During The Summer of Covid-19
We thought it would be interesting to take a look at how the different major disc brands would stack up in terms of sales during the months of April 2020 through October 2020. This year was crazy in terms of the growth of disc golf despite the Covid-19 pandemic and it definitely took a toll on disc supply. Most major brands faced growing pains and struggled to keep up with the demand for discs. Here at Infinite Discs we had to deal with the challenge of keeping popular models in stock, and there were definitely dry spells with brands like Discraft that sold out almost every time we restocked.
NUMBER OF DISCS SOLD
To keep things simple, we tallied the number of discs sold each month from each brand. We combined Dynamic Discs with Latitude 64 and Westside since they are manufactured in the same factory and sold in partnership. We also combined sales of MVP, Axiom, and Streamline since they are technically the same company with three brand names. Keep in mind, this is based entirely on sales through Infinite Discs which only represents a piece of the entire market. Here are those sales charted against one another.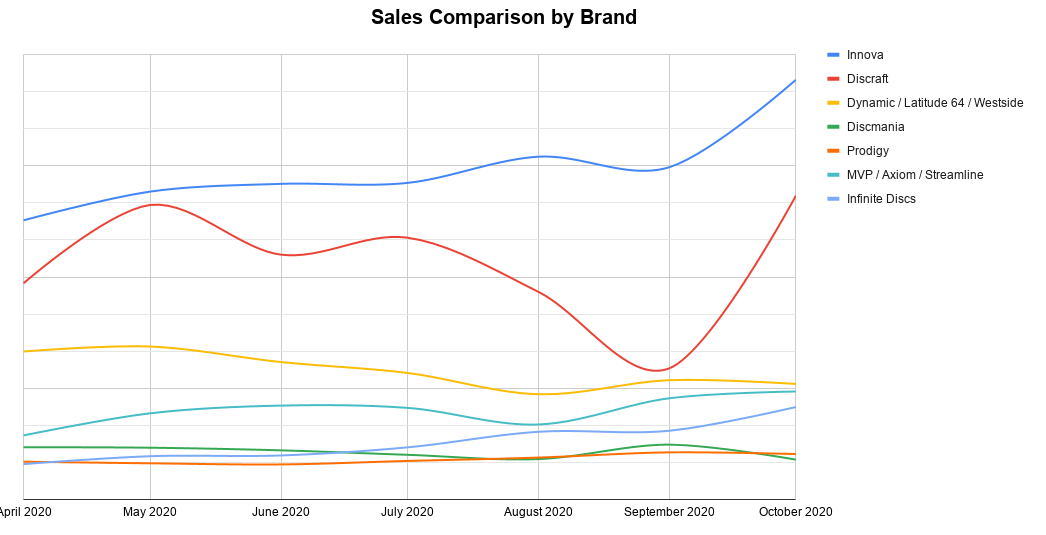 While Innova (blue line) kept a steady increase in number of discs sold through the focus period, you can see that Discraft took some dips as supply ran out, only getting another lift with the new releases in October. This could be an indication that Innova simply had a deeper supply of discs stored in their warehouse to help them meet demand. However, new disc production eventually needs to meet the demand while stored product eventually runs out.
The Trilogy brands (Dynamic, Latitude 64, and Westside) saw a slight decline in sales at Infinite Discs  during the period. A possible reason is that we saw some of the most popular molds, including hot selling putters, run out of stock and vanish from restock order forms. But we fully expect production to catch up and for sales to grow steadily with the surge in disc golf players.
Discmania, Prodigy, and MVP held surprisingly steady through the period, through Discmania has  started to decline more recently with the absence of staples like the P2, PD2, etc. and their move of some signature disc releases away from other retailers to exclusivity on their own website.
Here is a closer look at the five brands that fell beneath the much higher Innova and Discraft numbers: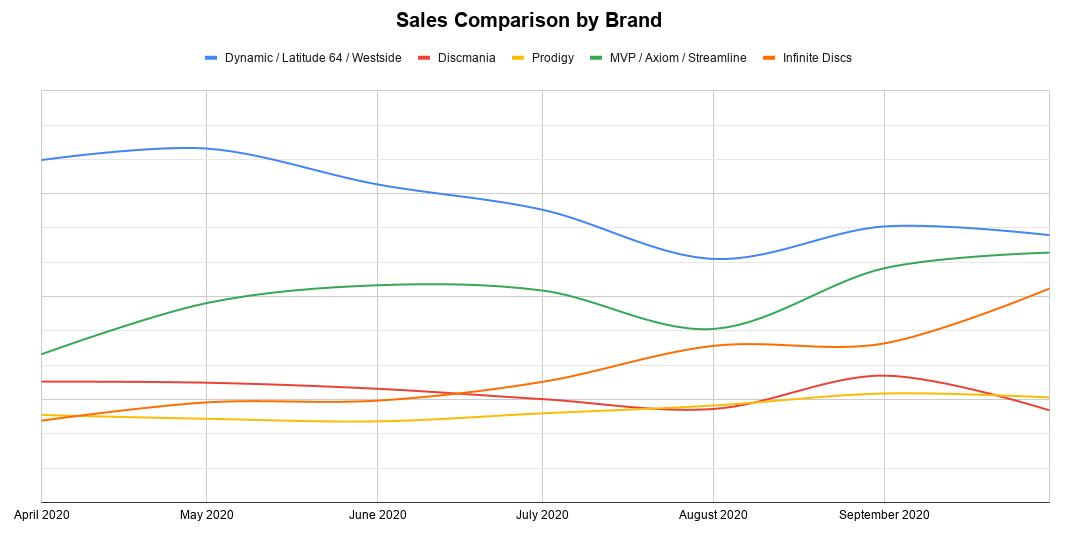 Note, the line colors changed on this focus chart. Blue is now showing the Trilogy pattern, with the green showing MVP and the orange showing Infinite Discs.  Discmania is he red line and yellow shows Prodigy holding fairly steady.
As the holidays approach it will be interesting to continue watching the battle of supply vs demand. It will also be very interesting heading into the 2021 season to see how manufacturers adapt. Will they get the change to catch up? Or will manufacturing approaches have to change and focus higher quantities on a smaller number of molds in order to at least keep the most popular discs in the hands of players? We will watch and see!
Feel free to share your thoughts in the comments below.