Discraft Top Selling Discs – September 2020 Edition

Top Selling Discraft Discs
It's time to look at the past year of Discraft Sales and see what the top selling Discraft discs are! We've included every mold that sold at least once over the past year (Sept 2019 – Sept 2020). We have also included a few other statistics on the chart. Let's take a look and then discuss!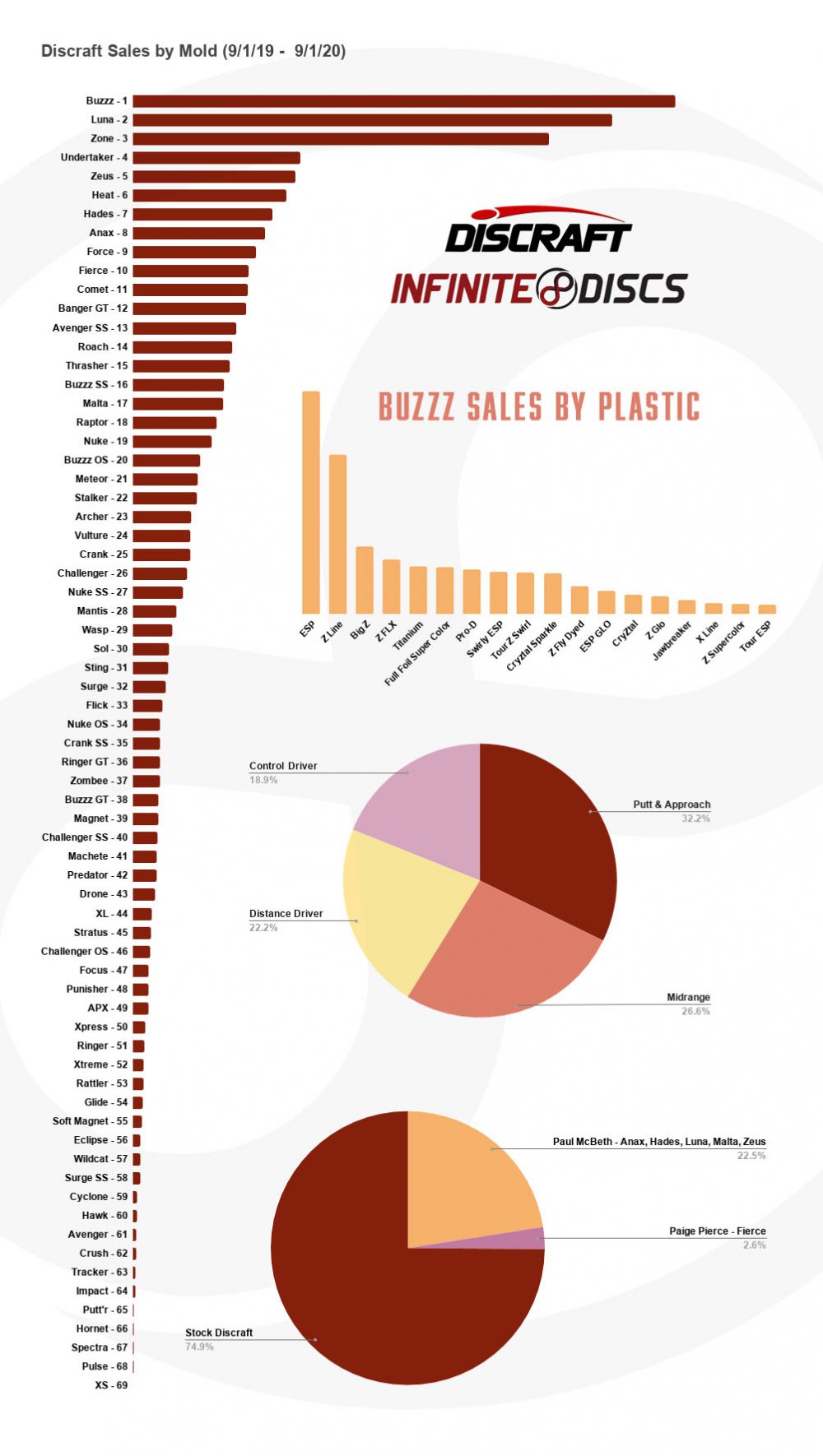 The Top Sellers
The top five molds are no surprise- the Buzzz takes first place as it usually does, while the Luna comes in at a close second. The Luna had some stock issues throughout the year, leaving us wondering if it could have taken the first place spot, had it been in stock more often. In third place, we find the Zone. In fourth and fifth place we find the Undertaker and Zeus respectively.
The Heat claimed the 6th place spot, as it has become a very popular choice for an understable driver over the past year. Do any of these positions surprise you? Let us know below in the comments!
Buzzz Sales by Plastic
We broke down the Buzzz sales by plastic type, to see which plastic sells the most. As you can see in the chart above, ESP took the cake with Z Line in close pursuit. These have always been the most widely available Discraft plastics, but ESP has been looking better and better every year, which may make it more appealing than Z Line.
Big Z, Z FLX, and Titanium plastic are other staple plastics in the Discraft quiver, and they claimed the next three spots.
Sales by Disc Type
The next pie graph down shows us the percentage of sales of each disc type (putter, control driver, distance driver, and midrange). Discraft is a little unique in this aspect, as most brands sell putters and/or distance drivers the best. Midrange discs usually come in last place, but not with Discraft.
Discraft starts off with Putt & Approach discs at 32.2% of sales – the Luna and Zone accounting for most of those sales. Midrange discs come in second place at 26.6%, followed by control and distance drivers.
Signature Discs vs Stock Discs
Finally, we compared the sales of the Paul McBeth and Paige Pierce signature molds against the rest of Discraft's molds. We only included the unique pro molds, not stock discs with a signature on them. This includes the Anax, Hades, Luna, Malta, and Zeus for McBeth, and just the Fierce for Pierce.
It turns out that 22.5% of all of our Discraft sales are attributed to Paul McBeth Molds, and 2.6% are Paige Pierce Fierces. Combining these, we find that just over a quarter of all Discraft sales are from these six Signature Molds.
Let us know what else you find interesting in the comments below!