Factors Influencing Disc Purchases

The State of Disc Golf 2021
Factors in Buying a Disc
Three weeks ago we looked at the number of discs that we bought in 2020. On average, we bought around 25 discs each. For the record, according to the survey, we bought over 157,000 discs last year! Of all the discs sold, what factors went into deciding which disc we would buy? This week we'll take a look at those factors and how heavily they influence our buying decisions. Let's look at the factors in the order they appeared in the survey. In the survey, we listed the factors, then gave participants the option to choose how much that factor affected our purchases. The options were:
Don't Care At All
Not Very Important
Semi Important
Very Important
Obviously, when it comes to buying discs, there are many things that each of us look for. Sometimes we have to sacrifice some of those preferences in order to get a disc. Or, we decide that the available discs don't check enough of our preference boxes, and we don't buy until we find a disc that meets more factors. Other times the stars align and we find exactly what we're looking for. Let's break it down to the different factors and see how we rate them.
Manufacturer
According to last year and this year's  survey, only about 5% of us only throw discs from only one manufacturer. An overwhelming majority of us have a mixed bag. That being said, most of us still care about which manufacturer's disc we will throw. Roughly 82% of us thought it was at least semi-important. That leaves about 18% of us who don't care much, or at all, about the manufacturer.
I suspect that much of the loyalty we exhibit is because of our familiarity with certain brands. We throw what we know. When it comes to quality discs, even the smaller brands sell discs that are high quality. That doesn't really matter though if we stick with brands we already know about. We know the flight numbers of the brands we like, and are familiar with the feel of their molds and plastics, so we stick with those. Here is the graph of the results: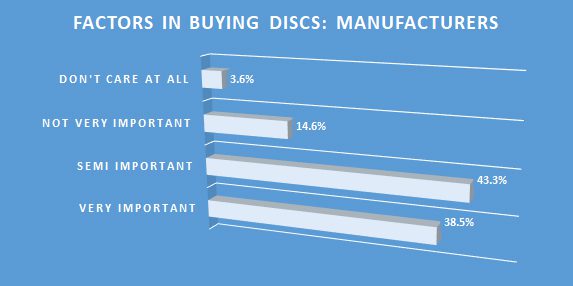 Plastic
For most of us, the feel of a disc ranks pretty high on our personal hierarchy of disc factors. Durability is also a reason people give for selecting certain plastics. Flight stability is another reason we gravitate toward one plastic or another. Some of us even change plastics we throw based on the season. Or, more specifically, the temperature we're playing in. All of the above are factors as to what plastic we throw. According to the survey, nearly all of us, 97% of us, rate plastic as at least semi-important. 65% said it is very important. Here are the numbers: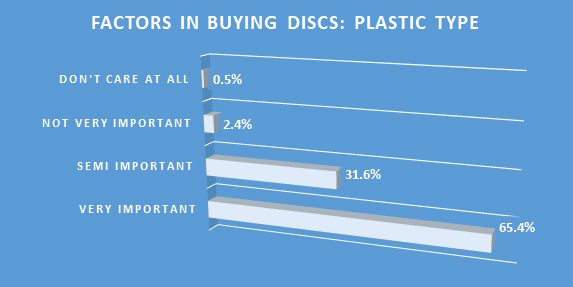 Flight numbers
When I first thought about the importance of flight numbers in selecting discs, I thought that nearly everyone would rank that factor highly in the factors that influence our disc buying. I mean, who doesn't care what the flight number are?! But, then I thought about it pragmatically and thought that it's really the flight of the disc that we are buying a mold for, not the numbers assigned to its flight. How many of us have multiples of the same mold and even plastic, with each one having a different flight. Whether it is wear, weight, or variations in the manufacturing making the difference, we all know that the flight numbers might not be an indication of the actual flight of the disc.
However, even knowing all that, I think most of us still look at the flight numbers to guide us to the general flight we are looking for. It's really all we have, short of testing each individual disc before we buy it. It shouldn't be surprising that the importance is so high.  According to the survey, over 89% of us indicated that it is semi-to-very important. Here is the graph: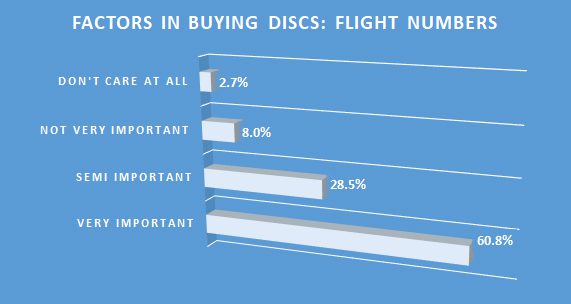 Color
It was when I threw my tie-dyed colored Firebird in the reeds at Blind Gulley disc golf course in Providence, UT that I started caring about the color of the discs I was throwing. I really liked how good my Firebird looked, but when I couldn't find the disc after 20 minutes of looking, I vowed to always choose bright colors to throw. Bright pink is my first choice. Blaze orange is my second choice. Orange can cause trouble in the fall, but most of the year it's a good color when you're looking for a lost disc.
I've even owned a jet-black disc that was simply beautiful. But I would never want to throw a black disc again. The first time they land in a bush, they disappear in the shadows. That's where a bright pink or orange disc really shines. Yeah, it's nice to get a variety of colors. But, I would rather save time hunting for discs by bagging easy to find colors. Here's how the question was answered in the survey: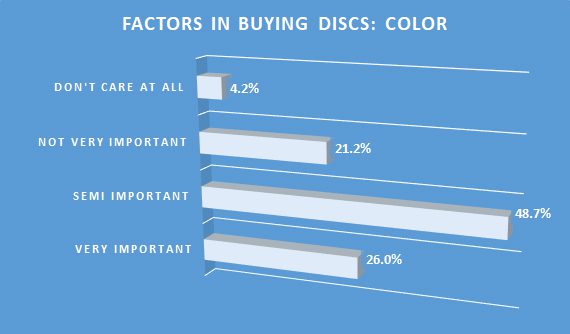 Weight
Most of my friends that are above a certain skill level like to throw max weight discs. It's easier for them to control the disc to get the flight they want for a given hole. Most of my friends above a certain age like to throw discs that are quite a bit less than max weight. Generating the arm speed is easier, and sometimes only possible, if the disc is lighter than max. Based on those and other scenarios (beginners, power throwers, injured players, etc.), it's easy to see the importance of weight in determining which discs we buy. The survey results indicate that weight is important to most of us. Over 93% of us rank weight as an important factor. Here are the numbers: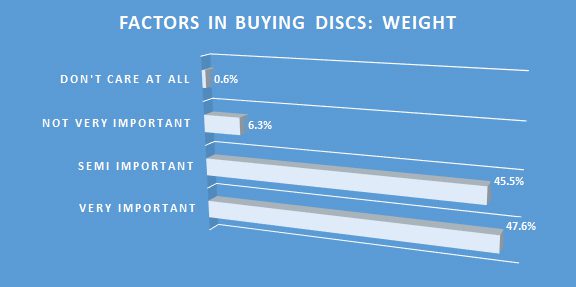 Stamp/Artwork
I like this factor for a couple reasons. First, I collect discs and have bought quite a few simply because of a cool or unusual stamp. Second, I see a lot of people interested in a particular disc because of the stamp. Yes, I would guess that good looking stamps and artwork, outside of collecting, is just a nice bonus for most people. But, a lot of us seek out cool stamps, so I figured a decent number of people would indicate that stamps are important.
It turns out that only 15.6% of us think the stamp or artwork is very important. However, more than 58% of us think it is semi or very important. I'm curious to see if the Collectability factor has similar numbers, but first, here are the results of the survey question: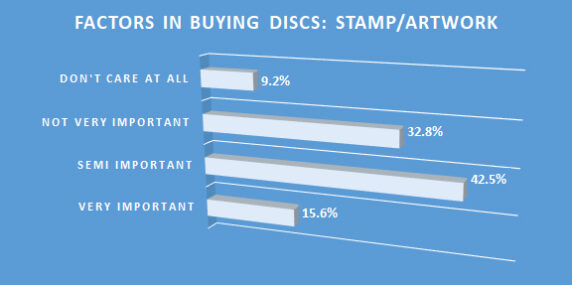 Collectability
It turns out that, even though most of us consider the stamp as something that would influence our decision to buy a disc, we are looking at the stamp from an aesthetic point of view, rather than a collector point of view. According to the survey, only 17% of us consider the collectability of a disc as an important factor. Nearly half of us don't care at all about a discs collectability. Here are the results:
Resale Value
The final factor we asked about was how much we consider the possible resale value when we're buying discs. It's no surprise that few of us buy a disc with the thought that we can flip it later for a profit. Only 8.5% of us consider resale value at least semi-important. Judging from the after-market sales web sites, quite a few of us will take advantage of opportunities to make a buck from discs that are hot at the moment (Sexton Firebirds, for example.) But, that is just a small part of the total number of disc golfers. Most of us just buy discs for utility. Here are the results of the Resale Value question: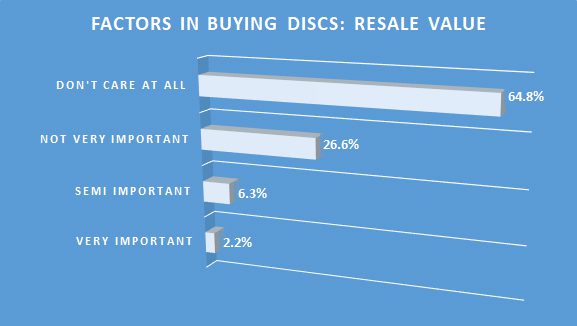 The factors that determine our disc purchases can be broken down to three groupings. First, the primary reasons we buy a disc. That would be the factors most important to the flight of the disc. Plastic type, weight and the flight numbers. The secondary factors would be those that are important, but less than so than the flight factors. Manufacturer, disc color, and the stamp/artwork on the disc. And the tertiary factors would be the discs collectability and resale value. Here is a list of the factors ranked by importance (Semi and very important):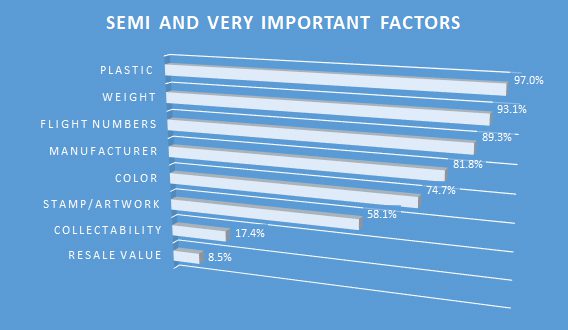 Check back next week for another look at the 2021 State of Disc Golf