Get to Know Signature Team Member Scott Zimmerman

Meet Scott Zimmerman! Scott is a new member to our Signature Team this year. He resides in Fort Worth, Texas. Scott joined the PDGA in 1977 and is PDGA #168! He even has his own book published. Thankfully Scott was able to answer some questions for us to get to know him better!
 How did you get started in disc golf?
Several events conspired to get me started in disc golf. At age 14, I randomly saw two professional Frisbee shows and that increased my interest to play after school everyday. When my father saw that, he bought me Stancil Johnson's classic Frisbee book and I learned about disc golf. So I created a couple of courses around my house and played two rounds everyday after school. When I turned 15, I was lucky to find out about the first Virginia State Championships. I went there and won golf competing against grown men. It hooked me.
Is there anyone in particular you look up to or admire in the game?
Yes, too many to list. I admired Don Wilchek's thumb roller, Sam Ferrans long arms in distance and extreme putting accuracy, Joe Ursino's laser sidearms, Crazy John Brooks powerful pivot, and Gregg Hosfeld's unmatched dedication to the entire sport.
What is your favorite type of shot to throw?
That would be a backhand roller, because sometimes I can land them just right and achieve awe-inspiring distances.
Which of your disc golf achievements are you most proud of?
Though I won the World Frisbee Golf Championship in 1982, my greatest achievement ever was leading the entire field by 7 strokes after the first 18 holes at the St. Louis National Series tournament in 1982. If we had rated rounds then, a margin like that in such a large national tournament would have been rated well over 1100.
If you could play a round with only three discs, which would they be?
Hydrogen by Loft Discs for putting and up shots; Centurion by Infinite Discs for straight fairway drives and backhand rollers; and the Aztec by Infinite Discs for long straight drives. You might notice a pattern there–I love really straight flights.
Other than disc golf, what else do you enjoy doing?
Nature hikes with my dog; and anticipating the day when I'm done rebuilding the master bathroom shower that I already tore apart.
What tips do you have for newer players or players looking to improve their game?
Get in lots and lots of field work because you get more "throws per minute" (TPM) than playing a course. You must have a higher TPM if you want to improve rapidly.
If people want to follow along on your journey, where can they best follow you?
Be sure to follow me on Instgram or on my Youtube channel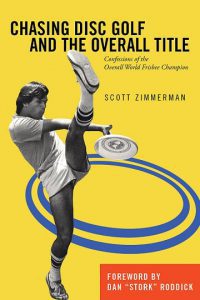 Get his book signed book Scott will have a signature disc release with us, so be on the lookout for that! If you want to learn how to become a putting ninja, check out Scott's Youtube channel. Having the opportunity to chat with Scott was incredible. He has an incredible knowledge of disc sports and their history. Good luck this season!