How Do We Like To Play Casual Rounds
2021 State of Disc Golf

Casual Rounds
It's a sunny day with a perfect temperature. You grab your bag and head out for a casual round of disc golf. What is your round going to look like? Will you play with some buddies? Will you play a solo round? Will you meet up with your brother, who rarely plays, and when he does he plays with only two discs, and one of them is even cracked, yet he still manages to beat you more often than not, even though you play year 'round and several times per week? (True story)
This week's blog will look at how we like to play casual rounds, and how we interact with other disc golfers who are playing or getting ready to play. We will also look at who we prefer to play with and how we feel playing with strangers.
Personal Preferences
The first survey question we asked you to check all of the boxes that applied to you regarding casual rounds. We offered the following choices:
I play disc golf whenever I want, whether anybody wants to play with me or not
I prefer to play disc golf alone
I prefer to play disc golf with other players
To me, disc golf is a social sport and it isn't the same when played alone
To me, disc golf is a personal challenge, and other players are not important in my rounds
Playing disc golf has been a great way for me to make new friends
Here are the results: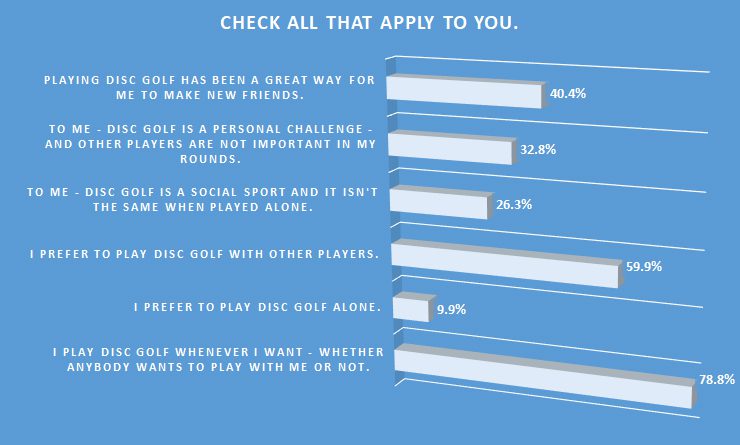 It's nice to see that most of us (78.8%) just like to get out and play, regardless of who we are with. Even if that means playing a solo round. Other people are fine playing with someone or not (32.8%), as long as they are playing. I would have thought that most of us would pick at least two of the choices. However, the survey results indicated something different. Over a fifth of us just gave one answer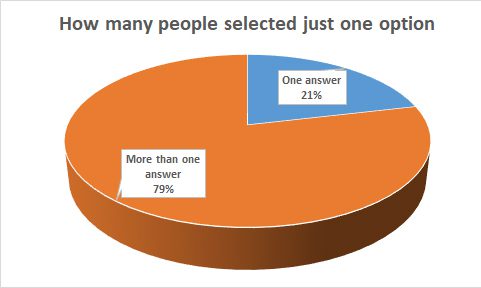 Challenging Ourselves
Of those people who indicated they view disc golf as a personal challenge, they attend tournaments and events at a nearly identical rate as everyone who took the survey. I would have thought that the drive to push oneself would translate into more of a desire to compete against other players. But, the numbers indicate that they are satisfied just to push themselves. Here is a graph we posted last week showing the overall percentage of us you played in tournaments or events last year: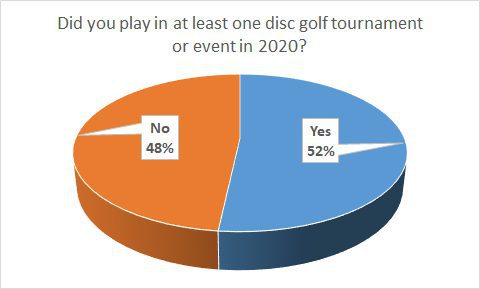 Joining a Group
The next survey question asked how we felt about people asking to join the group we are on in the middle of a casual round. It is not surprising to see that nearly 3/4 of us either don't care or actually like it when people join us. I've seen that a lot in disc golf, and I like it. A few of us, about 18%, either don't like it or are really bothered by someone jumping in the group. I suspect that with many of those who are bothered are just concerned about the group size. Socializing is fun, but slowing the game down because you picked up a couple more people can be frustrating. Most of us only have so much time to play and it's nice to get as many holes in as we can. Here is the chart: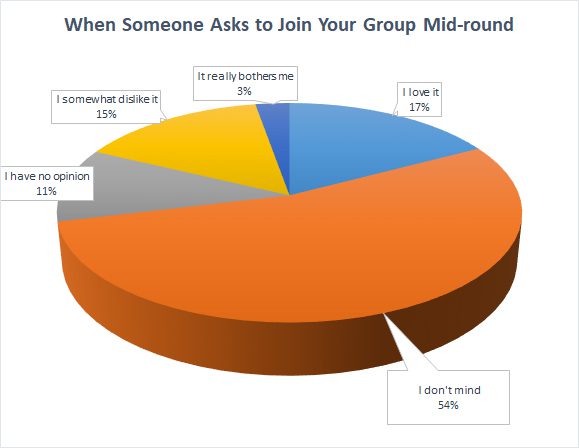 The next scenario involves us showing up to play, and getting invited to join another group. A little over 3/4 of us either like or love when we're invited to play with an existing group. About 9% of us don't like it or hate it. That is similar to the number of us who prefer to play alone (see the first chart, above). Here is the graph about being asked to join a group:
A Round in Progress
For the next couple questions, we asked how likely it was that we would ask to join someone who is playing. The first question asked if we would be comfortable asking to join if we know them. An overwhelming majority of us would be comfortable with, or at least neutral, asking to join someone if they were already playing.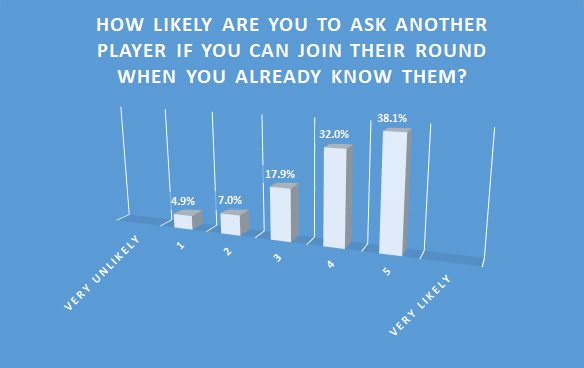 I wondered if there may be a correlation between the numbers of disc golfers in an area and the comfort level in asking to join a person or group. In the county that I live, there is a core group of regular disc golfers and we all pretty much know each other. Nearly all of us would be comfortable asking to join any other of us, unless we wanted to play alone. I can see in more populated areas where people might not know the people in a group, and would not feel comfortable asking to join. The next question addressed that very scenario, and it appears that my theory may be correct. The results were nearly reversed from the last question, with over 90% of us feeling neutral to very unlikely to ask to join strangers in a round of golf. Here are the totals:
Who Do We Want To Play With?
The last few questions concerning playing with people revolved around who we would prefer to play with. We asked people to pick on a sliding scale if we like playing with certain groups. The first chose was asking if we like playing with friends and family. Over 99% of us indicated that we would be at the very least neutral when it came to playing with them. Most of us like to play with family and friends. Here are the results: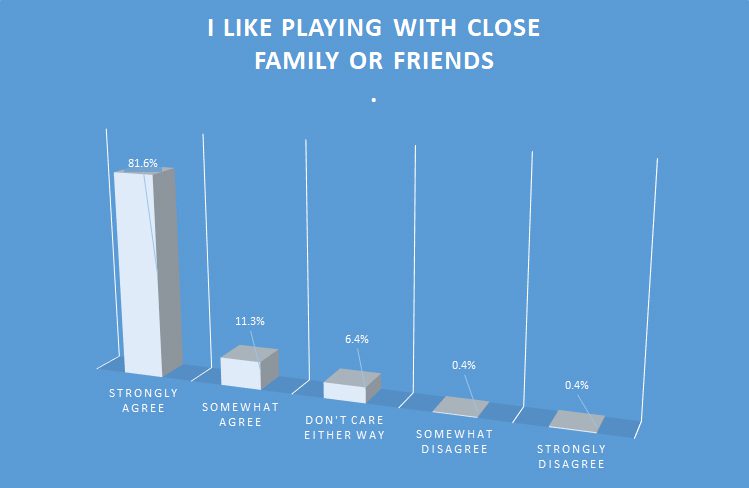 Next we asked how people felt about playing with casual acquaintances. As you might suspect, the numbers weren't quite a favorable as playing with friends and family. Still, nearly 80% of us are perfectly fine playing with people that we don't know so well. And the number of people who aren't so happy to play with casual acquaintances was a bit higher than the last question. Check out the numbers:
Finally, we asked how we felt about playing with strangers. I'm guessing that the wording of the question affected the results. If you are playing with people you know, and prefer it that way, you may be much more likely to let a stranger join the group. Some people may not feel comfortable striking up a conversation with someone they don't know, if it's a one-on-one situation. But, in a group they would be perfectly fine adding someone else to the conversation. Still, a third of us are happy to play with a stranger. And a third of would prefer to play with people we know. That leaves a third of us who are neutral. Here are the numbers.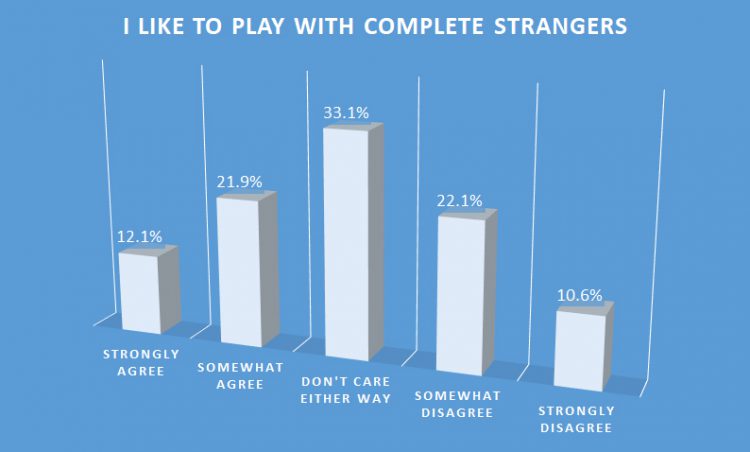 Do These Seem Correct?
When I see the numbers from the survey my first thought is always, "Do these numbers seem accurate based on my experiences?" Most of the results of these questions pretty much do look like what I see. If not in my local club, at least what I see in the great northern Utah/southern Idaho disc golf scene. Which leads me to believe that the disc golf experience I'm having is similar to what many of you are having. Which is cool to me. It makes me feel like I'm part of the disc golf family.
Check back next week for more survey results.