Latitude 64 Best Sellers – Sept 2019 Edition
Latitude 64 Best Selling Discs
With Latitude 64 now releasing their own list of seven retired discs, we decided we'd take a look at the sales for the last year. We are going to jump right into the chart to see which discs come out on top, and which discs got cut from production.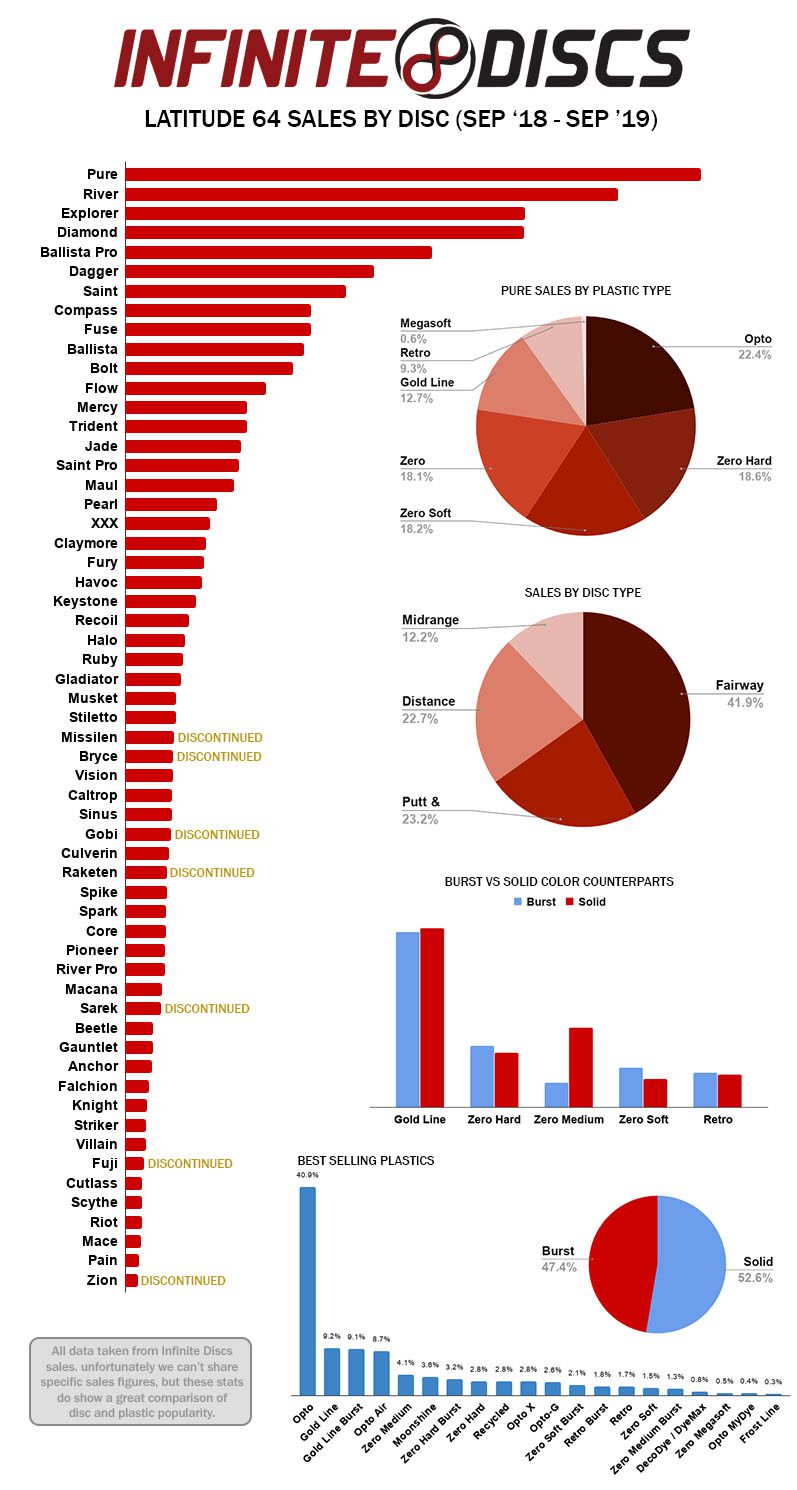 ---
The Best Sellers
These stats are taken from our sales over the last year (Sep '18 – Sep '19). The #1 Latitude 64 selling disc was the Pure. This is not a big surprise, as the Pure has been an awesome seller for years. The Pure sells best in Opto, which means people do enjoy it as a driving putter. However, since there are so many softer "putter" plastics, the sales are divided among them. The base plastics combined do outsell the Opto plastic.
The second place disc is the River, also not surprising since the River is a long-standing best seller. Third is the Explorer, only a couple of years old, but has already made the podium of Lat 64 sales.
The Diamond took a close fourth place, which is a very popular lightweight driver, soon to be released in higher weights as well.
---
The Discontinued
This time around, Latitude 64 cut all of their overmold discs from production. These include the Gobi, Sarek, Bryce, Zion, and Fuji. They also cut the Raketen and Missilen, their two discs with a golf-ball-like hex pattern. These discs haven't always been great sellers, plus they take more effort to make, according to Latitude 64's article. These are two great reasons to discontinue these molds, and we don't think too many people are shedding tears over their loss.
---
The Plastics
We decided to break down some stats on plastic types as well. We looked at all of our sales by plastic and saw the Opto is the biggest hitter– by far. Opto claims 41% of all Latitude 64 sales, with Gold Line, Gold Line Burst, and Opto Air each snagging a mere 9% in Opto's wake. The rest of the plastics take no more than 5% of sales, each.
When it comes to Burst vs Solid Color Discs, it was fairly equal. We looked at only the plastics that have Burst option, and matched them against each other. It turns out that 52.6% goes to the Solid Color Discs, which gives it the slight edge over Burst.
Availability was also a big issue in the Burst vs Solid Color Debate. Many discs were not available in solid colors after Burst took over the market… but in the last year, the solid colors have been coming back in stock and taking back over. Which do you prefer?
---
The Disc Types
When it comes to the type of Latitude 64 Discs we sell, fairway/control drivers were the big winner. Nearly 42% of all Lat sales come from fairway drivers. Putt & Approach Discs come in next with about 23%. Distance drivers are third, and midrange discs are last with only 12%.
---
Well that's it for this break down! Leave a comment with your thoughts or the things that surprised you most!