Prodigy Best Sellers – September 2019 Edition

Prodigy Best Sellers
It's time to take a look at Prodigy Disc's best sellers! We pulled these stats from the last year of sales (Sept to Sept). Let's jump in and take a look!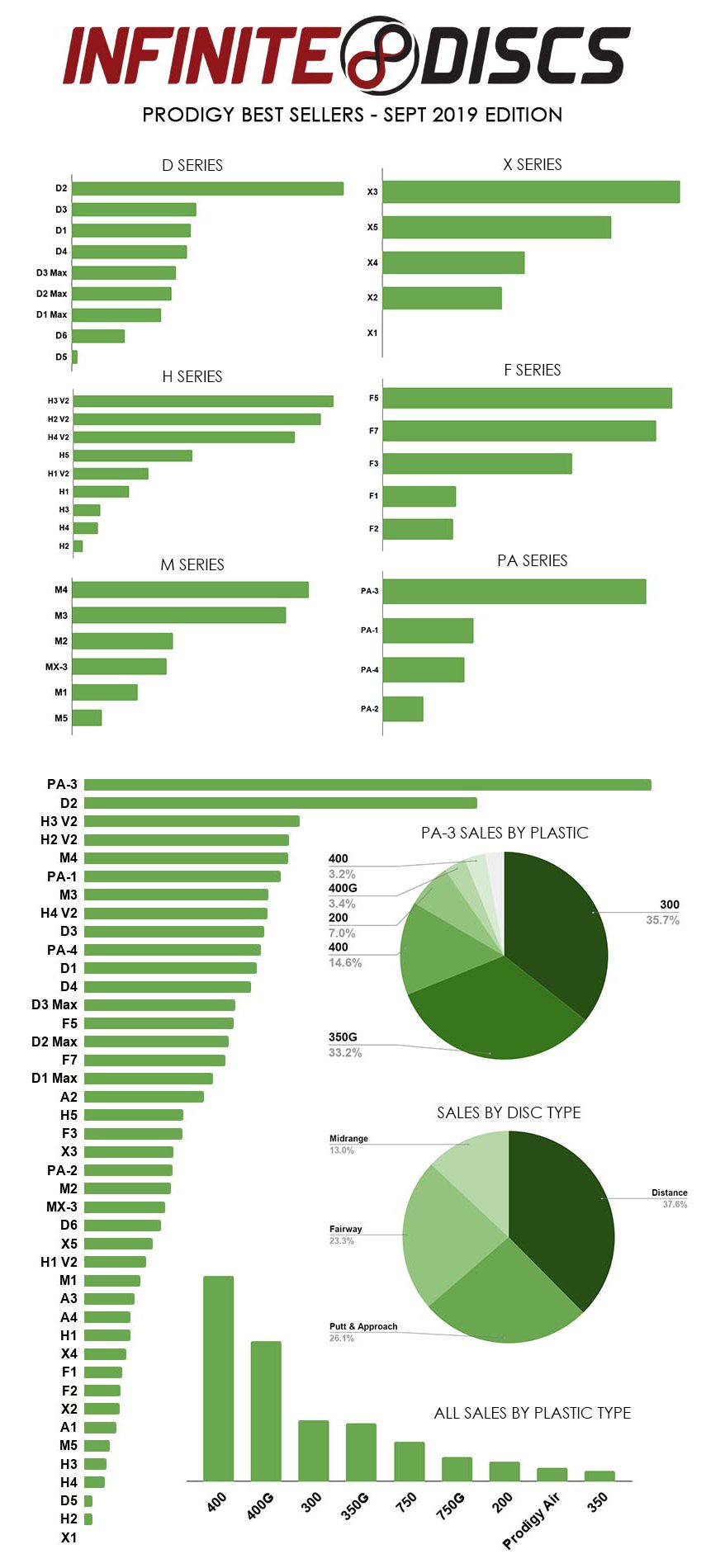 ---
Best Sellers Overall
This time we broke the chart down by the entire catalog, but also by series type. In the overall category, there was one clear winner: the Pa-3. This putter has been a popular seller for a long time! It has the perfect stability for putting, but still can handle a drive in the more premium plastics.
In second place, we find the D2. This is Prodigy's most popular distance driver. The D1 is the most overstable, moving to the D6 at the most undestable. The D2 comes in at the sweet spot of not too overstable, but perfectly overstable for most amateur players.
The H3 V2 took third place. This is a newer mold that people are absolutely loving. It offers distance for the masses, being a speed 11 straight to overstable flyer.
---
Best Sellers by Series
At the top of the chart, we broke down the best sellers by series. We already talked about the Pa-3, D2, and H3 V2 — these also were the highest in their series. The other winners are the X3, M4, and F5.
We seem to notice a common trend; the highest selling disc in each series isn't the most overstable or the most understable, they're always in the middle. We find this trend is common for sales, people don't buy the absolute most overstable or understable discs, but something in the middle.
---
Pa-3 Sales
Jumping back to the Pa-3, we included a chart showing the plastics that sell the best for this mold. 300 and 350 plastics took the cake by far, taking 68.9% of the Pa-3 sales. This makes sense, since these are perfect plastics for putting. The rest of the sales are made up of the premium plastics, typically used for driving rather than putting.
---
Sales by Disc Type
Distance drivers made up nearly 38% of our Prodigy sales over the last year. Even though the best seller was a putter, the putter category came in second with 26% of sales. Fairways came in third with 23%, and mids come in last with only 13%.
---
That's all for now! What did you find surprising? Leave us your thoughts in the comments!