State of Disc Golf – Disc Golf News

Where do disc golfers get their disc golf related news?
That is the question we'll be answering today! The data is pretty straight forward! In the 2019 State of Disc Golf Survey we asked people "Where do you get disc golf news/updates?" They then could pick from a list of choices, checking as many as applied to them. So, we took those answers and compiled the data! We took the top 11 answers, as anything left hardly made a blip on the graph.
First we'll break it down by all respondents, then we'll take a look by age. Without further ado: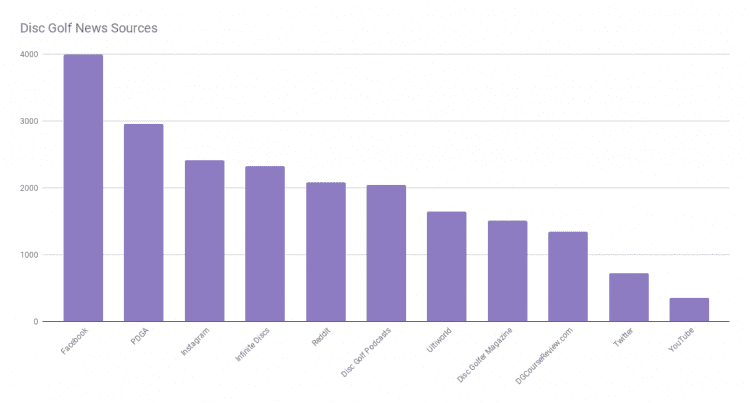 So- Facebook took first place as the news source for disc golf, which is understandable. Facebook serves as news and community for many disc golfers. There are many, many disc golf groups on Facebook for brands, players, and teams. News gets spread around Facebook with ease, so it's apparent that Facebook is where we get our disc golf news.
The PDGA was the second highest. They send out a weekly newsletter that keeps everyone up to date on disc golf happenings. All PDGA members receive this newsletter, so it's no surprise that a lot of us get our news direct from the Professional Disc Golf Association.
Instagram was next in line, followed by Infinite Discs. Then Reddit, Disc Golf Podcasts, Ultiworld, and Disc Golfer Magazine. Finally, the last three were DGCourseReview.com, Twitter, and YouTube.
Disc Golf News Source by Age
Now we'll take a look at the same data, but broken down by age. The age ranges are general and large, but, they do still share some interesting data. Let's take a look!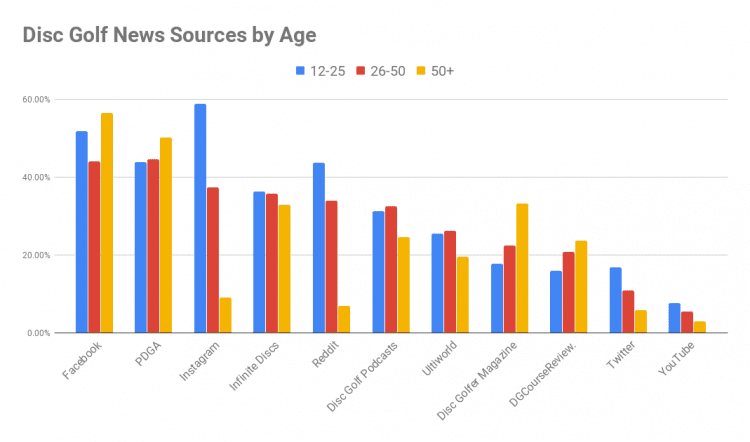 This time, we had to break it down by percentage of respondents within each age group, yielding some fun results. Facebook is still the #1 source for all age groups, but the 50+ year old category comes out on top for using Facebook as their news source the most.
At the #3 spot we have Instagram, but this one was fun to look at. 58% of the 12-25 age group used Instagram, while only 9% of the 50+ age group used Instagram. This was the biggest gap by far, but understandable if you know about social media trends. Far more young people use Instagram daily.
Reddit and Twitter also see a similar breakdown by age. Then, we see that Disc Golfer Magazine has the inverse trend– 33% of the 50+ group use Disc Golfer Magazine as their news source, and that stat trends down the younger you get.
This goes to show that the newer social media platforms are far more dominated by the younger crowd, and magazines are mainly used by the older crowd. This stat likely goes beyond Disc Golf Media, but it's still fun to see within our sport.
Thanks for joining us today! Let us know in the comments what your favorite news source is!