State of Disc Golf: How Many Discs We Own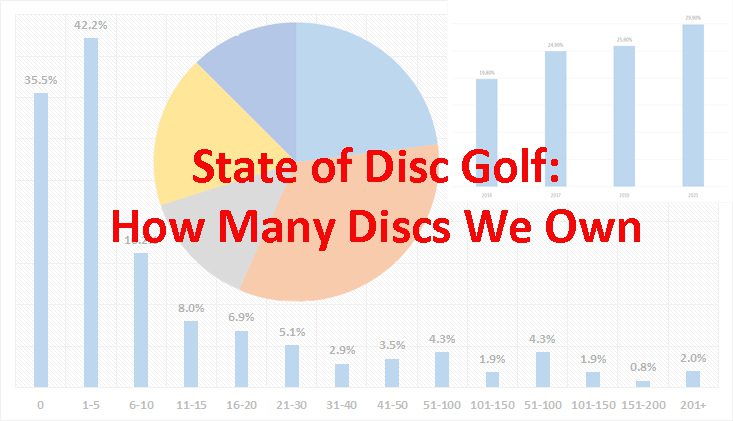 When people are new to the sport of disc golf, they tend to experiment with a variety of discs to find ones that they like and that fly well for them. I think most of us go through that experience. Hopefully we have friends that can guide our disc selections so we don't end up buying discs based on the name, description, or marketing, when we have no business throwing that disc yet. How many of us bought a "Super-Long Distance High-Speed Driver" as a newbie?
Our Growing Disc Collection
Once we learn about flight numbers, we manage our buying a bit, but are still left experimenting with discs because of the inconsistencies of the flight numbers. Plus, most of us are still attracted to the latest, greatest molds and plastics being released today. What we end up with is a lot of discs. Throw leagues and tournaments in the mix and our collection is continually growing through player's packs, CTP prizes, and found discs. It doesn't take long before our throng of discs numbers in the hundreds.
In addition to all of those means of acquiring discs, add some disc dying and collecting and we can end up with a small disc store worth of discs. That leads us to today's State of Disc Golf survey results examining how many discs we own and our disc buying habits.
The sizes of our disc golf collections is something that I look forward to finding out about every year for the survey. As someone who is guilty of being in the '200+' club since my early days in the sport, I like to see how many fellow disc golfers are in the same category. We'll start with the question, "How many discs do you own?"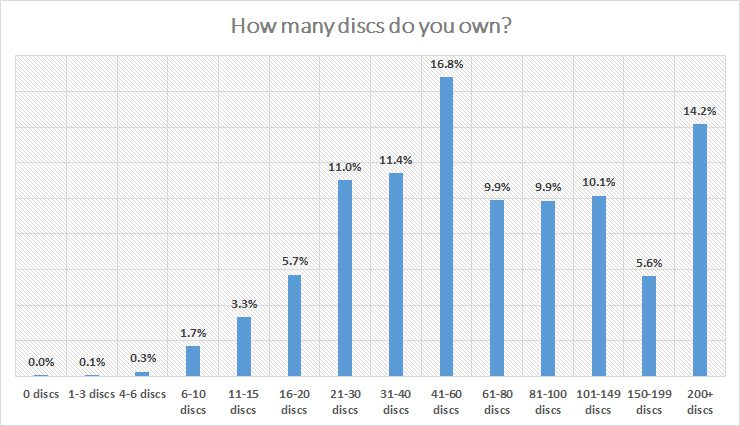 The results show that the largest category, which is also the average, is the 41-60 group. If we think about it, that number is pretty much a bag full of discs, several backups, a few practice putters, an ace disc or three, and maybe a handful of discs that we've either outgrown but haven't given away or sold, or that we can't throw well yet. It's a good number of discs.
Mega-Collections
At the low end of the scale are those people who have a bare minimum of discs. Well under 200 people own 10 or fewer discs. At the other end of the ownership graph are the people like me who have 200 or more discs. (Next year in the survey I would like to explore that last category to get a clearer picture about that number. How many have 500+ or 1000+!)
There are nearly 1100 of us that own 200+ discs. If I'm going to categorize the disc golfer who own that many discs, I tend to think they are either collectors or hoarders. But maybe they are just people who buy a lot of discs to try. Let's look at what the survey said about the number of collector discs we own.
Wall-Hangers
For the survey question, we asked how many discs we own that we won't throw. That could include discs we are collecting, ace discs, or sentimental discs. Let's look at those numbers.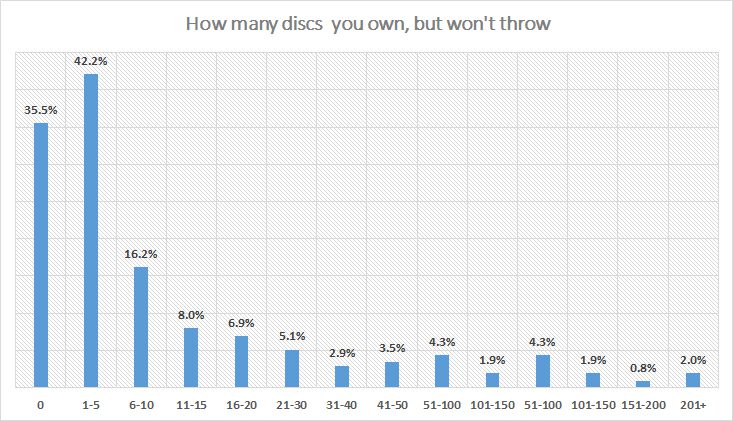 Over a third of us believe in the mantra that discs are made to be thrown. Combine that number with the number of people who have between 1-5 discs that they won't throw and you have three-fourths of us who don't collect a lot of discs. Looking at the graph we see a diminishing number of people have discs we won't throw with each category of increasing numbers of discs, with a couple of minor exceptions. At the other extreme, we see about 5% of us that have 100 or more discs that we won't throw.
Adding To Our Stash
In addition to seeing how many of us have discs we won't throw, we wanted to see how many discs we acquired for collecting purposes just last year. Let's see how much our collections grew in 2021.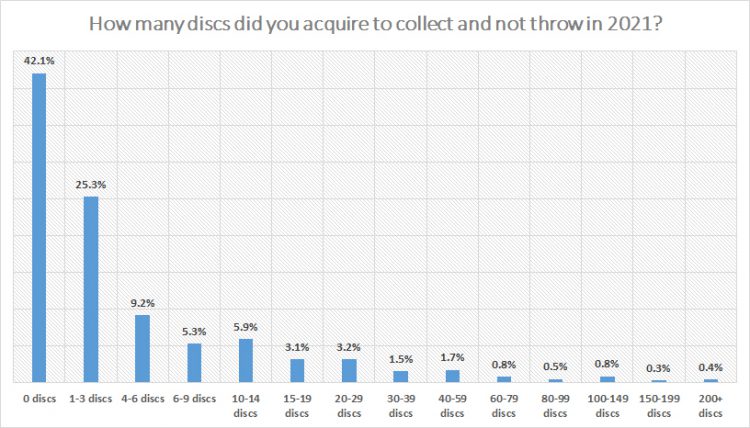 An overwhelming number of us bought 14 or fewer discs for collecting last year. That seems like a reasonable number of discs for most of us to slowly grow our collections. But there are still around 4.5% of us who picked up 40 or more discs that we don't have any intention of throwing. And .4% of us, 32 survey participants, who added 200 or more discs to their stash last year alone. That's a lot of discs!
Disc Buying During Shortages
Let's see how many of those people, and all of us, bought more discs last year than the prior year.
In the survey we asked how our disc purchases last year compared in number to 2020. We wanted to see how the rising costs of discs, or other circumstances, affected our buying habits. Only a small percentage of us bought fewer discs because of the increased costs.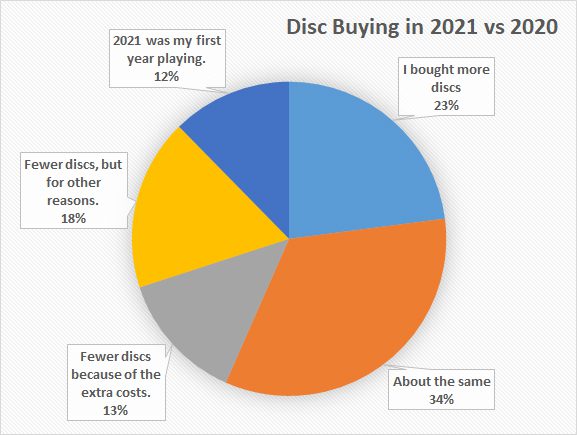 One of the benefits of our sport is that, for the most part, it is relatively inexpensive to play. I know it CAN be expensive to play, depending on how much we get into the sport. But, it really can be an inexpensive hobby. Compare the cost of a premium-plastic driver to a premium golf club. Because of the price point of most discs, even a sizeable increase in price puts the disc well within most of our budgets.
Historical Collecting
Although we haven't asked about how price increases affected our buying habits in previous surveys, we have asked how many discs we own. Let's look at this year's results compared to previous years, to see we own more discs than previous years. Since the number of people who take the survey varies from year to year, we'll look at the percentage of people in each category.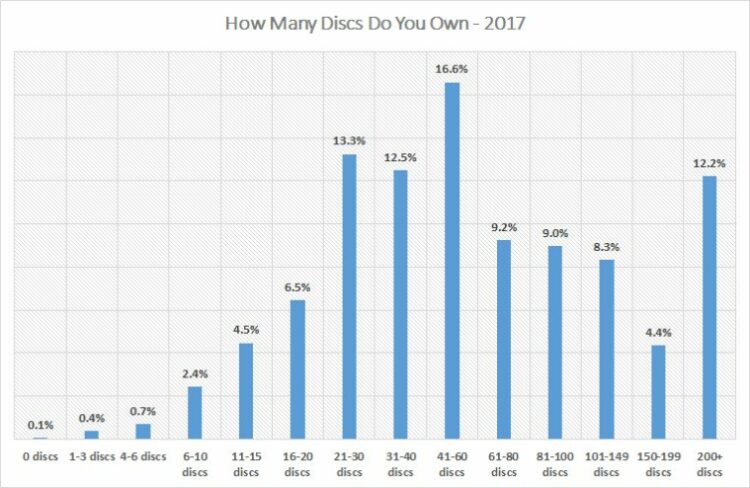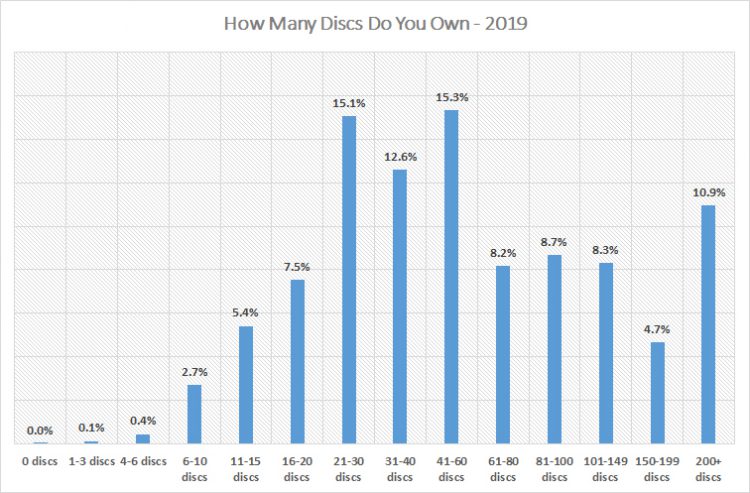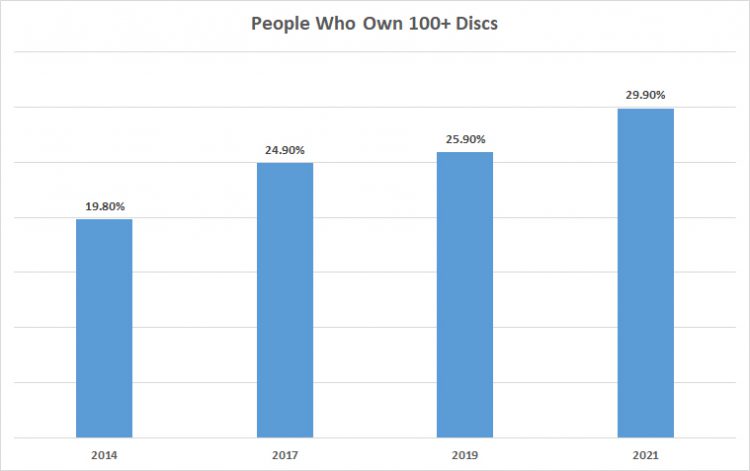 From the first State of Disc Golf survey to the most recent, the percentage of us who have a hundred discs or more in our collection has be slowly rising. If that trend continues, it will be interesting to see how much people are willing to pay for the discs that they want to own. We are already seeing high prices for good-looking, rare discs. But, that is the subject for another blog.
Comment below and let us know how many discs you own. And if you're comfortable disclosing the information, let us know the most you've paid for a disc!
Check back next week for more survey results.