State of Disc Golf Results: Tournaments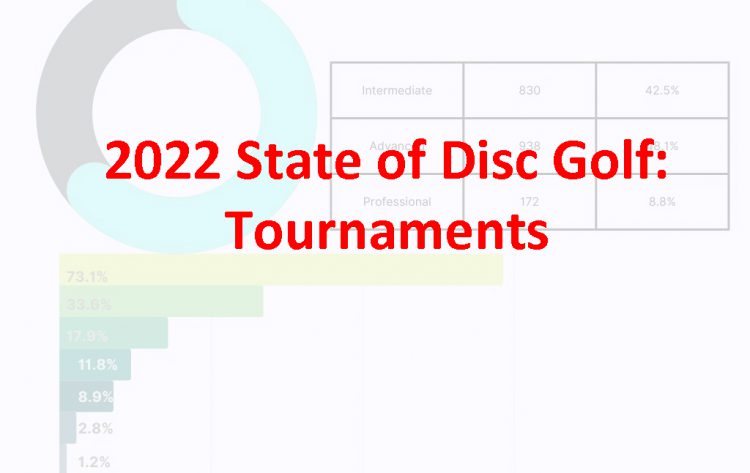 Once again, tournament season is upon us. We've already seen the top pros battle it out on some of the first big events of the year. For those of us that love to watch the pros compete, this is a great time. We have video of the tournaments that have already taken place, and the anticipation of our favorite locations yet to come. We'll explore the State of Disc Golf survey results revealing our interest in watching and cheering for professional disc golfers in a future blog. For this week's blog, let's take a look at OUR participation in tournaments.
Playing Tournaments
Along with the pros returning to the tournament scene, those of us who enjoy participating in tournaments are also getting busy checking out the local and regional competitions. Not only have I signed up for several upcoming tournaments, I've also scheduled dates for when registrations open, to make sure I can sign up before they fill up. (I would like to explore how many tournaments reach capacity and how fast in future surveys.)
I'm somewhat hooked on tournaments and try really hard to make sure I attend my favorites. Not everyone feels the same about competing, which is why we asked questions about tournaments in our State of Disc Golf survey. We asked WHY you attended tournaments, if you did, and which kind you attended. We also asked what keeps you from playing in tournaments, and what it would take to make you start.
There are a variety of reasons why we play disc golf, and regardless of the reason, many of us enjoy the competitive side of the sport. There is something about our nature that makes us want to compete. I've noticed that for many of us, participating in an event fills that need, even if we don't think we can win. Others DO want to win and will take steps to make that happen. Still others are completely fine playing casual rounds alone, just competing to beat their own records. Let's see what the survey reveals.
Tournaments: Yes or No
Let's look at the first tournament-related question, "Did you play in at least one disc golf tournament or event in 2021?"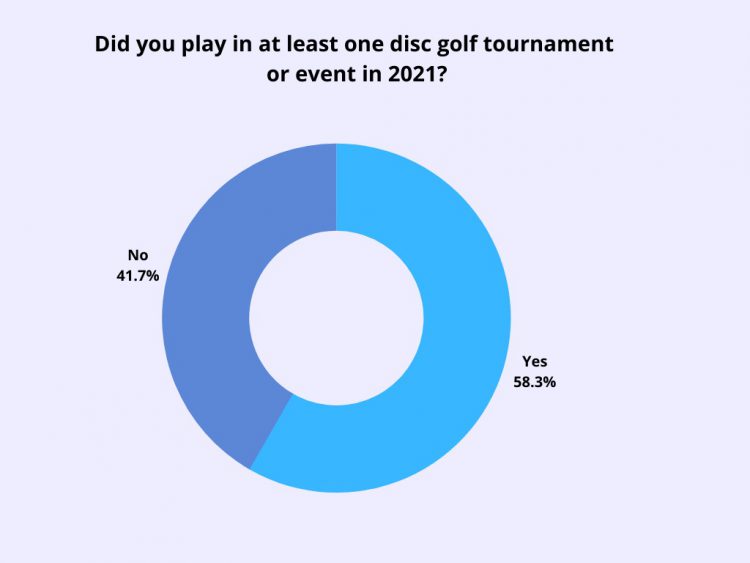 Although over half of us say we played in a tournament, I expected that number to be higher. Since there are so many casual tournaments and events, which bring out people who ordinarily wouldn't play in more serious tournaments, it just seems like there would be more of us competing. We'll look at why people don't compete later, but for now let's look at the types of tournaments we attend.
What Kinds of Tournaments?
Of those who indicated that they did play in a tournament in 2021, we asked which type of tournaments they played: sanctioned or non-sanctioned. Of the 4,476 people who played a tournament last year, 75% played in a non-sanctioned tournament, and 81% played in a sanctioned tournament.  Here are some graphs showing how many of each type of tournaments we attended.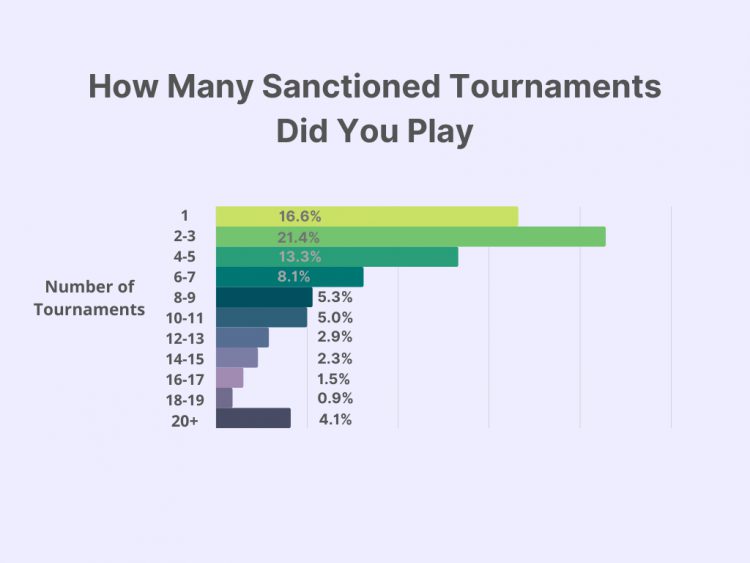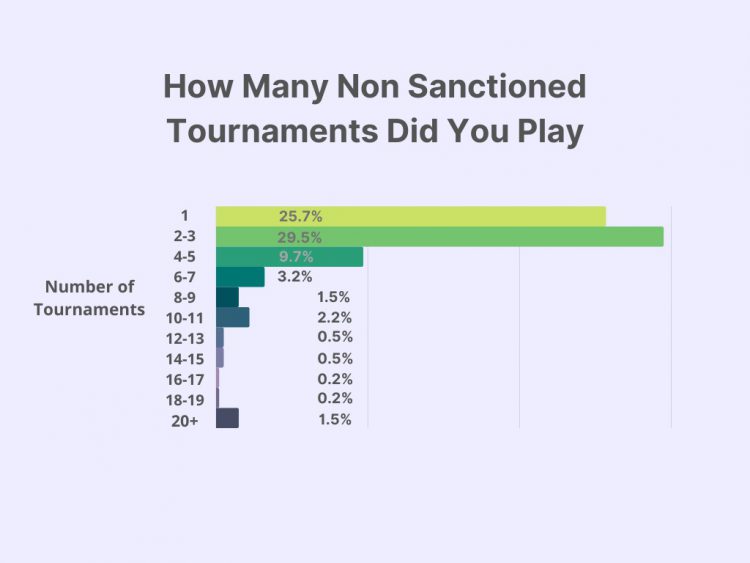 Why We Compete
Personally, I like the social aspect of competing. There are a lot of people in other areas that I only see at tournaments. It's great to reconnect with them. And to compete against them. Most of us have a few reasons for playing tournaments. Let's look at the survey results to see what some of those reasons are.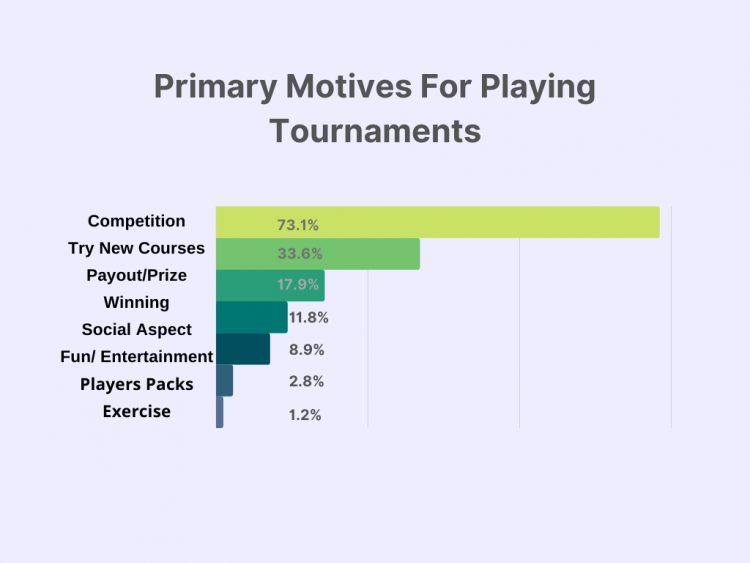 About 3/4ths of us enter a tournament for the competition. Seems kind of obvious, but that still leaves about 27% of us who don't care about competing. The second most popular response is to try new courses. A third of use listed that as a reason for competing. Although I agree with the response, and it is definitely on my list, It surprises me that the percent is that high. Most of the tournaments that I play in are at courses I've already played. It's kind of rare that I compete on a course I've never played before.
I like the third most popular reason people list for playing in a tournament, which is for the prizes or payout. Over 73% of us want to compete, but only a fraction of that number are doing it for the winnings. It makes me think that these same people would be competing with their buddies in a casual round if they weren't playing at a tournament. Our species likes to compete!
No Thanks!
When I talk to people about tournaments, the number one reason people give for not competing is because of their skill level. They assume that everyone else at a tournament will be better and/or more experienced. I expected that to be a top reason selected in the survey. It turns out that it was the second most popular. The number one reason is because of time, or the lack of free time. Most sanctioned tournaments are at least two rounds, which is a big time commitment. We asked the people who said they don't play tournaments what reasons they have for not playing. Here are the survey responses.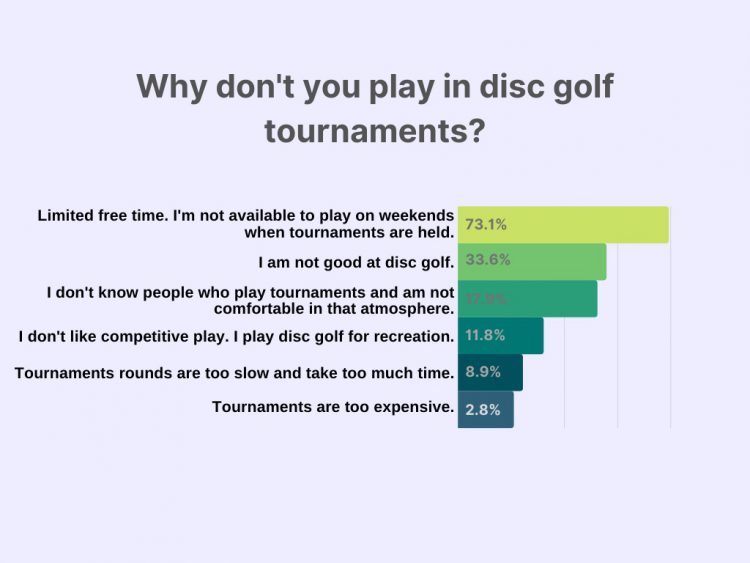 This Year VS The Past
As I mentioned near the beginning of the blog, the data showing the number of people who did and didn't play tournaments in 2021 surprised me. I see tournaments filling incredibly fast and I see newer players getting into the tournament scene, so the ratio seemed odd. To confirm my suspicion, I pulled up the results of prior surveys to see how they compare to the most recent survey. Here are the results of the question about tournament play for the years 2015 and 2019: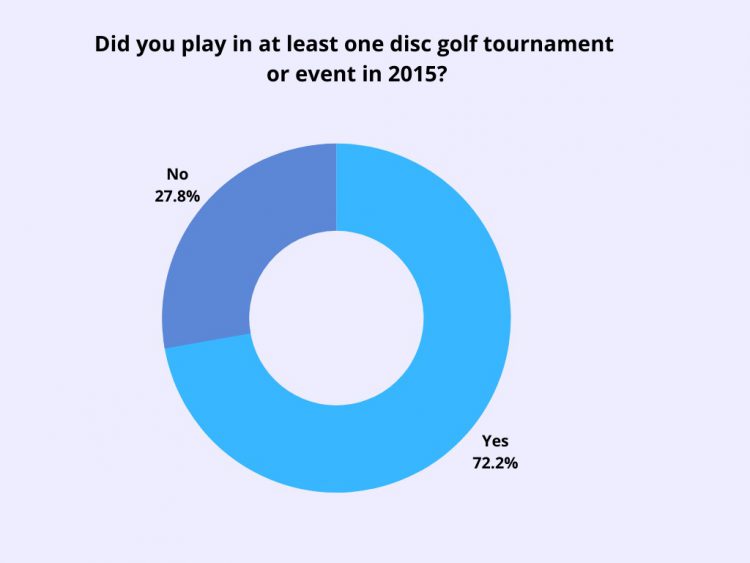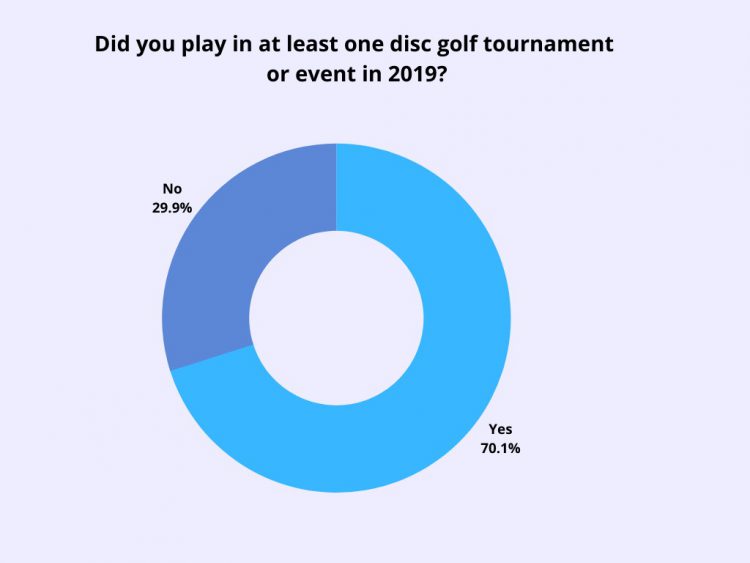 Clearly, we've seen more interest in playing tournaments in the past. The pandemic undoubtedly played a part in the lower numbers. It also contributed the larger number of newer players.  We know from the survey results that a good number of people didn't play because they don't feel like they are good enough. However, if you look at how fast many tournaments fill up, it is evident that there is a large number of people that want to compete, despite the percentage of people who don't want that experience.
It is the fact that we do fill so many tournaments that I don't worry about people who don't want to play them. Not only are tournaments not in danger of going away, the bigger problem might be that there aren't enough to go around. Whether or not future TDs need to consider some of the reasons people have given for not attending tournaments remains to be seen.
We would love to hear about YOUR tournament experiences and what you see tournaments looking like five years from now. Post below and let us know your thoughts.