A lot of people in the disc golf market have called 2020 "The Year of the Putter." The Covid-19 outbreak gave an unexpected boost to putter sales because of the surge in backyard putting. Plus there was additional interest in disc golf as an ideal sport for outdoor, socially distant play.
With that in mind, we thought it would be interesting to track three of the top-selling putters from April 2019 (typically when the spring season lures players back onto the courses) through August 12th, 2020.  We don't only want to see how the sales compare putter against putter, but also how the supply-and-demand issues in the market have caused sales to fluctuate.
Here is a chart showing those sales as tallied by Infinite Discs.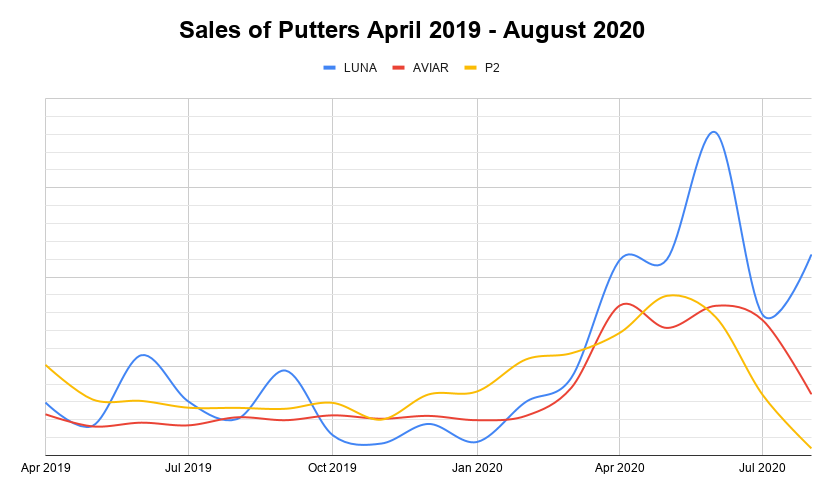 The LUNA by Discraft (blue line) has seen the biggest swings and spikes. As the signature putter by professional player, Paul McBeth, it gets plenty of time in the spotlight. Availability is always an issue– the putter sells well when it is in stock, but then drops sharply whenever the supply diminishes.
The AVIAR by Innova (red line) has the most steady trend as the supply has typically followed the demand without too many dips. It also followed the sharp spike that coincides with the pandemic outbreak.
The P2 by Discmania (yellow line) also saw growth during the pandemic but saw a sharp decline in the summer months as the supply of the putters completely dried up.
We'll continue to watch the sales on these popular putters and other discs and will continue to report on this blog from time to time. We hope that you find this data interesting. There's no doubt that the pandemic has made an impact on the sport and on disc sales, possibly more on putters than other discs.
Let us know your thoughts and perceptions in the comments below.