Team Infinite Announcement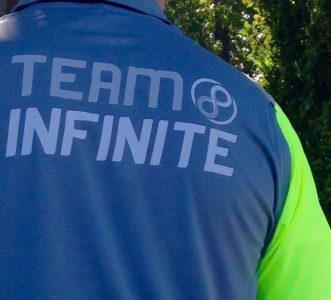 This summer we opened up applications for Team Infinite, and we couldn't believe the response we got!
We have spent hours sorting through all of the many applications we received. Thank you everyone who applied!
Now, the time has finally come to announce the members of Team Infinite! So without further ado, here is our current team roster! Click on the names of the team members to see their profiles and learn a little bit more about them!
Current Team Infinite Roster
We are so excited to have these disc golfers representing our brand and this sport across the country. We look forward to getting to know these players more and to share with everyone what they're doing to help grow the sport in their parts of the country.
For example, here is a picture we received just this week from team member Markus Mika (left) at a PDGA Sanctioned league he is running out of La Crosse, WI. This is a travelling league, and this picture was taken at North Valley DGC in Inver Grove Heights, MN. Markus is a great example of a selfless disc golfer that goes above and beyond to grow the sport and we are proud to have him on the team.
I applied, but I wasn't selected. Now what?
You're still awesome! We had so many great applicants that made it very hard to make our selections. Also, we are not completely shutting down the selection process, and will continue to add additional highly qualified team members. Here are a few things that you can do to better your chances of being selected for the team in the future.
Use InfiniteDiscs.com. This may be obvious, but we want to see people are actively using all facets of our site, and this doesn't just mean buy discs from us. We have put in a lot of work to develop Infinite Courses and Infinite Profiles. Keep your profile up to date. You can enter your scores in the system, record course scores, keep track of your stats, write disc and course reviews, and much more on our site.
Interact with us on social media. We don't expect everyone to share every little thing we share on every social media format, but we do notice when you are actively engaged with us. Liking, commenting on, or sharing our posts helps us to share our message with the people within your sphere of influence.
 Be active within your disc golf community. We want team members who are actively involved on a local level who want to grow the sport and disc golf experience in their part of the country. Play in as many disc golf events as you can. Even better, step up and run a league or tournament in your area.
And even if you aren't interested in being a part of Infinite Discs, we hope you will still do the things we listed above. We hope everyone will actively enjoy the many ways that disc golfers can take advantage of the resources we are working to provide for disc golf.
A note for our Utah Golfers who were not accepted.
With Infinite Discs operating out of Utah, we had a lot of applications come in from our home state. We love Utah and Utah disc golfers, and there are so many folks who applied who if they had lived in a different state, we would have easily accepted them to the team. We really are so grateful for the homegrown support, and we hope you all know that just because you weren't accepted to the team doesn't mean we don't appreciate you and your support!