Top 10 Tournament Moments of 2015 Disc Golf Season

The 2016 disc golf tournament season is right around the corner! With the 2016 Memorial Championship in beautiful Scottsdale, Arizona just one day away, we decided to take a look back on last season and some of the top moments from a very memorable year of disc golf.
10. PDGA World Championships–McBeth Dynasty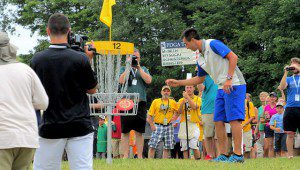 2015 was Paul McBeth's year in many regards. Taking home his fourth consecutive world title played a big part in that. While the final nine wasn't nearly as dramatic as 2014, Paul still had to fight for this championship. McBeth was eight strokes off the lead after two rounds, but bounced back with two lights out rounds to take a commanding eight stroke lead going into the final day of play. Some say we are witnessing the establishment of a new Dynasty in the sport of disc golf. Whatever your feelings, McBeth clearly is once again the man to beat as we enter the 2016 season.
9. Johansen wins first NT in playoff–Hall of Fame Classic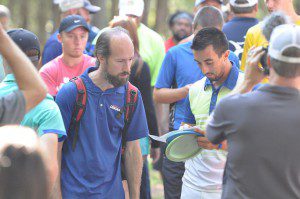 Closing out the 2015 National Tour was the Hall of Fame Classic down in the woods of Georgia. This tournament featured tough courses that tested the top pros and made for close match-ups throughout the event. Both Michael Johansen and Paul McBeth carded Birdies on their final hole to push them one stroke ahead of JohnE McCray and force (another) NT playoff. Both players fought hard and played evenly for the first three holes of the event, but Hole 4 proved to be the difference maker. After finding some trees on his second shot, McBeth had to run a long 70 foot uphill putt to try and extend the playoff. The shot was on target, but just too high. It bounced off the top of the basket, leaving Johansen with a twenty footer that he made good on to claim his first ever NT title.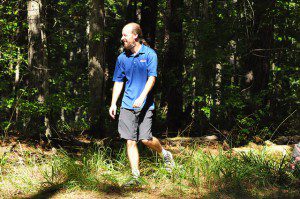 8. Lizotte wins first NT–Largest purse in disc golf history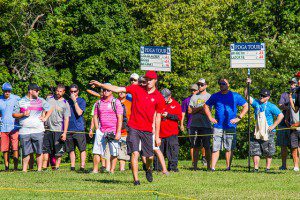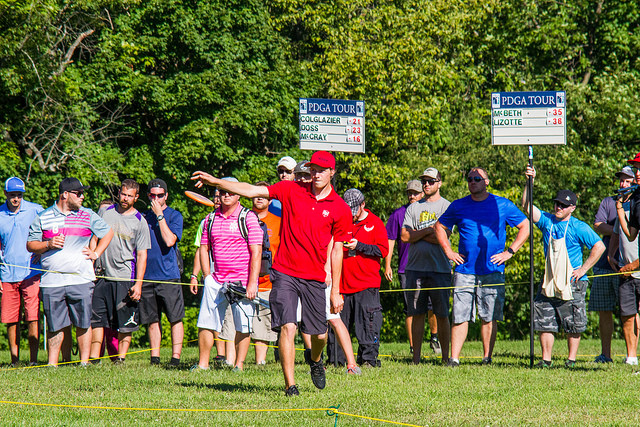 The 2015 Ledgestone Insurance Open was already slated to be an historic event. Tournament Director Nate Heinold worked hard to provide players with the largest purse in the history of disc golf (with a little help from sponsors like Infinite Discs…). Also, he and the entire LIO team put in a lot of hours to set up difficult layouts on courses that made this one of the most difficult and unforgiving events in disc golf. World Distance Record holder Simon Lizotte came into the final nine two strokes behind Paul McBeth. Throughout those final holes, Simon looked as calm and focused as he may have ever looked playing the game. The Lake Eureka temp course was a fierce course that cost a lot of pros a lot of stokes throughout the week, and even some of the fellow competitors in that final nine. But Simon stayed strong. He played smart, conservative, and consistent golf to walk away with a giant check and his first ever National Tour title. This also was the first National Tour event ever won by a European disc golfer.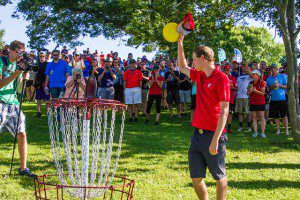 7. Ricky gets revenge at Maple Hill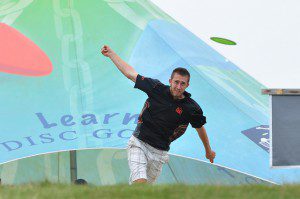 Do you remember the heartbreaking ending to the Maple Hill Open in 2014? Ricky Wysocki does, and he had every intention of making the 2015 Maple Hill Open a better memory. He came into the final round two strokes behind Paul McBeth and four strokes in front of Gregg Barsby. After a long day of battling the fierce competition as well as the rainy and windy conditions, Wysocki stepped onto Hole 18's tee pad with a two stroke lead. In 2014 he stood on that same tee pad with a one stroke lead that was lost by an unlucky rollaway on his approach shot that landed his disc just out of bounds. But that wouldn't be the case this year. Ricky held strong to the last stroke, and was crowned with his first win at Maple Hill.
6. PDGA Amateur World Championships–Final 9.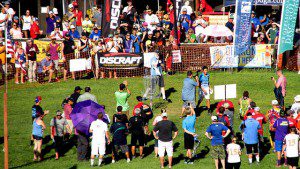 Hey, let's not forget the Ams! This year's Amateur World Championships had maybe the most dramatic finish in Am Worlds history. 15 year old Anthony Barela and 14 year old Izak McDonald went into the final 9 holes tied for the lead. Those final holes saw seven lead changes, including one on the final hole. McDonald took back a one stroke lead after Hole 7 with an insane 100+ foot putt for an eagle. Barela still trailed as they made their way to the long downhill final hole. McDonald teed off first, and unfortunately turned his disc over to the right where it carried out of bounds. AB seized the moment, by parking his drive just 20 feet from the pin. Maybe this was the first chapter of a big-stage rivalry between these two young guns, and if it was, then we are all excited to watch the rest of the story unfold over the next few years.
5. Another Dramatic finish at the USDGC–Winthrop Gold Hole 17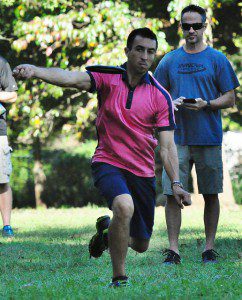 Hole 17 at Winthrop Gold is proving itself as one of the most infamous holes in disc golf. After spoiling JohnE McCray's 4 stroke lead in 2014, we all were well aware of what this short island hole was capable of as Ricky Wysocki and Paul McBeth made their way to the tee in 2015 tied for the lead. Paul had just hit a fifty foot par save on Hole 16 to stop Ricky from taking the lead with his birdie. Ricky was the first to throw. His first drive carried just too long, bouncing out of bounds. Drive number two came up just short of the boundary, leaving the door wide open for McBeth. He stepped up, and threw a near perfect drive landing about 20 feet from the basket. This moment tugged on our hearts in many ways. We saw another mishap stop Ricky from picking up a big win, but we also saw the doors open for Paul to get the one tournament that has always escaped him.
4. Nate Doss SCTop10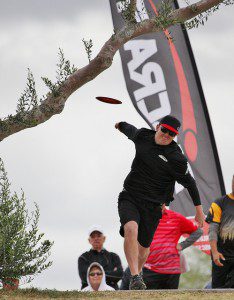 Here is a moment that some may argue was the most important for disc golf as a whole. On the first hole of his final round in the 2015 Memorial Championship, Nate Doss canned a beautiful Ace at the gorgeous Fountain Hills Park Disc Golf Course. The shot was caught on camera, and for the first time ever, disc golf appeared on national television, making Sports Center's Top 10 plays. This turned out to be just the start, with aces throughout the year from Bobby Engle, Nate Doss, Philo Brathwaite, Dave Feldberg, and Paige Pierce (who even earned the #1 spot on the Top 10) all receiving attention from ESPN. Many hope that this was an important first step toward national television coverage for disc golf, and we are all excited to see what the future holds for disc golf coverage.
3. 2015 Memorial Championship–Final Round Hole 18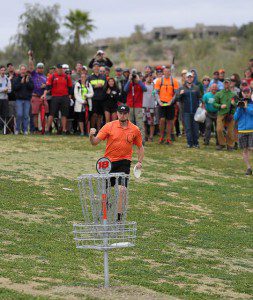 I'll be honest, as a fan of the sport, this is probably my personal favorite moment ever. There was a lot of–for lack of a better term–sports drama playing out throughout the event. It was the first big tournament of the year, the scores were close all week long, and the defending champion Paul McBeth had his bag and all the discs in that bag stolen halfway through the tournament. After a handful of lead changes, Jeremy Koling and Paul McBeth walked to the 18th tee tied for the lead. Koling teed off first with a drive that came up about 70 feet short of the pin. Paul's drive wasn't a lot better, but it put the pressure on Big Jerm. I'll never forget where I was when I saw what happened next. Jeremy lined up his putt, and after what felt like an eternity, he drained it. Now the pressure was on McBeth, who still had about 30-40 feet to force a playoff. But of course, with ice in his veins he stepped up to the challenge, and answered. The playoff would only last one hole with McBeth driving out of bounds and Big Jerm parking it. But from an objective perspective, it didn't really matter who came out on top after Hole 18. The dramatic finish on Hole 18 was more than any disc golf fan could have asked for. With the 28th Memorial Championship teeing off in just a few days, I'm sure I'm not the only one who is craving to see what this year's event will offer us.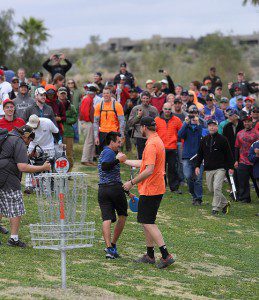 2. McGrand Slam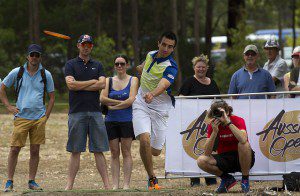 Again, 2015 was definitely the year of the McBeast. We knew it had been that kind of year no matter how the 2015 United States Disc Golf Championship would finish out, but that would never be enough for Paul McBeth. He wanted this tournament, and he has wanted it for a very long time. The stage couldn't have been set more perfectly either, with disc golf's first Grand Slam on the line. The USDGC had been called his Kryptonite, and early in the tournament it became clear that he would have to fight back to get this win. But I also don't think anyone ever counted him out of it. If anyone has proven his tenacity and capacity in coming back from behind, Paul McBeth has. As we watched him finish out the final hole at Winthrop, we knew we had just witnessed something special. Paul McBeth had clinched all five PDGA majors of 2015: Aussie Open, Scandinavian Open, European Open, World Championships, and USDGC.
1. Women's PDGA World Championships

Unlike the other moments on this list, I think this is one that we all can agree that we wish it never happened.
On her way to the fifth round of the PDGA Women's World Championships in Pittsburgh, leader Sarah Hokom was rear ended at a stoplight, pushing her car into oncoming traffic. Her car was totaled, but thankfully she escaped without any major injuries. Naturally, Hokom was late to her tee time. She joined up with her group after they had already played two holes. As per PDGA rules, she was given a score of par plus 4 for each hole missed. This turned her 5 stroke lead into a 4 stroke deficit.
Sarah would battle throughout the rest of the tournament, and entered the final nine tied for the lead with Paige Pierce. Watching the final 9 was almost a somber event. It was impossible to ignore the emotions on Paige Pierce's face as she played a fantastic final round. Pierce entered the final hole with a one stroke lead, and after Hokom missed a putt to force a playoff, the pain of the moment was evident as Pierce stepped up to sink the putt that would crown her the World Champion.
Later that evening at the trophy ceremony, Paige Pierce showed one of the greatest expressions of sportsmanship that the sport has ever seen. After being announced as the winner, she graciously called Sarah up and gave her the first place trophy.
With a few new tours announced for this season and hundreds of new players and courses every year, it is hard to say for certain where our sport is heading, but if this number one moment is any indication, then I'd say we are heading in the right direction.
All pictures courtesy the PDGA: https://www.flickr.com/photos/pdga/sets/