Top Selling Discs–Q4 of 2017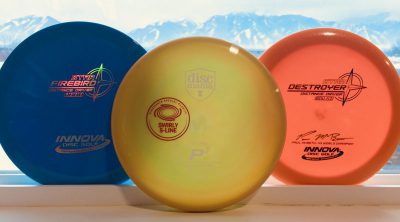 Happy New Year! It's hard to believe that it is already 2018! 2017 was a fantastic year at Infinite Discs as we continued to grow alongside this fantastic sport! Thank you everyone! We are always blown away by the fantastic support we receive from the disc golf community. We have some pretty big plans for 2018, and we can't wait to see what the future holds. But first, let's take a look back at the best selling discs over the final 3 months of 2017.
Top 10 Overall
Well, it looks like we are starting this off with a historic moment at Infinite Discs. For the first time ever, the Innova Destroyer was not the top selling disc of the quarter! The Discmania P2 is now the reigning "best selling disc" at Infinite Discs. It is safe to say that promotions helped–specifically the Glow D-Line P2 that released around Halloween and our special edition "Angels and Demons" P2 that we ran for Black Friday. So I am very curious to see what will happen this next quarter. We can also see two other discs that we don't usually see in the top 10 overall that got some help. The black and white Innova Nova that we ran for Black Friday was a huge success, and the Axiom Envy was released in Electron and Electron Soft plastics earlier this quarter.
Top Distance Drivers
When compared to last quarter, the Distance Driver chart looks nearly identical. Innova claimed the top 8 spots again with a few discs moving up and down within that range. Once again the Dynamic Discs Trespass claimed the 9th spot on the chart. I commented last quarter that we hadn't seen the Trespass in the top 10 for a while, and it is impressive to see that it was able to hold its ground. But at number 10 we see another old familiar name that we haven't seen for quite a while on this list. The Vibram Lace was a hot seller as Vibram was able to hook us up with some very unique discs throughout this quarter and specifically at Black Friday.
Top Control/Fairway Drivers

Similar to the Distance Drivers, we don't see any big shifts in the Control Drivers. The Innova Teebird was able to jump back into the top slot as the Innova TeeBird3 dropped down to number 4. At the bottom of the chart, the MVP Volt was able to jump back into the top 10 by finishing just barely ahead of the Innova Sidewinder in sales. This is a category that was for the most part untouched by holiday promotions and new releases, so it is no surprise to see much of the same here.
Top Midrange Discs

There are a couple new names in the Midrange category. The Innova Gator coming in at number 6 has made this list before, but it has been a little while. But the Hyzerbomb Mortar is the first Hyzerbomb disc to ever make it into this report finishing at number 4. This is mostly due to the current run of the Mortar being the microbead Big Jerm fundraiser edition. Also of note, the Discraft Buzzz was able to maintain its position as the top selling midrange. The Halloween Glo Buzzz likely helped, but maybe not a ton as it does look like we still have some in stock. But overall, it does seem that the Buzzz is regaining popularity in the disc golf world.
Top Putt and Approach Discs

This quarter was a hot one for putters. The top 10 putters finished inside the top 22 selling discs overall. As I mentioned in the overall top 10, the Axiom Envy sold a lot in the newly released Electron and Electron Soft plastic. And the Dynamic Discs Deputy which was one of the Trilogy Challenge discs this summer was a big hit when it was released this fall. It also has benefited from a special Paige Pierce stamped edition as well as being released in the new and beautiful "burst" plastics from Trilogy.
So there it is! The final quarterly sales report of 2017. What can we take away from it? I have two thoughts that might be no-brainers, but it is interesting to see them in action. First–holiday sales promotions work. We can see that from the moves up the charts from discs like the Discmania P2, Innova Nova, and Vibram Lace. Second–new plastic release promotions still work. The discs most influenced this quarter were the Axiom Envy, Dynamic Discs Deputy, and Hyzerbomb Mortar. And I guess you could throw the Vibram Lace in this category as well, as its holiday promotion was a new color pattern. But of course, that would be considered a new rubber release rather than a plastic…but you get my point.
Any other points or takeaways I missed? I'd love to hear your thoughts! Please leave a comment below. Thank you so much and I hope you all have a very happy 2018!