TOP TWENTY TUESDAY – APRIL 27TH 2021

Welcome to the Top 20 Tuesday chart! Every week we take a look at the twenty top-selling discs on the Infinite Discs website, broken down by plastic type as well. So these are the top sellers for the last seven days in order.
Top Twenty Tuesday for April 27th 2021
#1 – Z Midnight ZONE
#2 – D-Blend ALPACA
#3 – Star DESTROYER
#4 – Signature D-Blend ALPACA
#5 – Star WRAITH
#6 –  Signature Swirly EMPEROR
#7 – Exo Hard LINK
#8 – Prime Burst JUDGE
#9 –Star MAKO3
#10 – DX AVIAR
#11 – Super Stupid Soft WIZARD
#12 –ESP AVENGER SS
#13 – Star LEOPARD3
#14 – Ground Plastic RUNE
#15 – S-Blend SPHINX
#16 – OG GLO Jawbreaker BUZZZ
#17 – Classic Blend EMAC JUDGE
#18 – Neutron CRAVE
#19 – Champion FIREBIRD
#20 – Star TEEBIRD

For the second week in a row, the Z Midnight ZONE took the #1 spot on the chart. The D-Blend ALPACA came in 2nd place with a strong showing as we silently restocked them. The Star DESTROYER made a comeback at #3 with several other popular INNOVA disc models hitting the charts with a much needed restock. The RUNE by Viking Discs also hit the charts as a putter that is growing in popularity.
Here is a look at how many times the different brands hit the chart this week.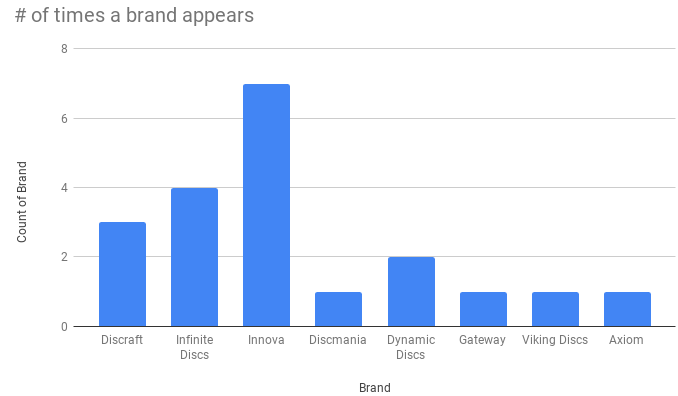 –> Each week we'll invite you to leave a prediction for a certain chart position on next week's TOP TWENTY TUESDAY report. The person to predict that chart position correctly in the comments will win a $10 gift card for the Infinite Discs website.
WINNER – This week the #9 spot was taken by the Star MAKO3 which got a restock this week. It looks like Kevin was the winner this week. Good job!
NEXT WEEK: Guess the #10 spot for next week. The first person to get it right (include the disc model and plastic type) will win!
THANKS FOR READING AND WATCHING EACH WEEK!