TOP TWENTY TUESDAY – AUGUST 13TH 2019

Welcome to another Top 20 Tuesday sales chart. We break these charts down by plastics as well so you can see which plastic types are most popular for each disc. New discs will often spike in the chart as other top sellers shuffle position. The chart is created by sales figures that are pulled from all Infinite Discs sales for the previous week — our customers decide the results with their purchases.
Top Twenty Tuesday for August 13th, 2019
#1 – ESP ZEUS
#2 – Star DESTROYER
#3 – Metallic Opto TRIDENT
#4 – D-Line P2
#5 – ESP ANAX
#6 – Retro KEYSTONE
#7 – I-Blend PHARAOH
#8 – S-Line DD3
#9 – S-Line FD
#10 – DX AVIAR
#11 – XT NOVA
#12 – Star ORC
#13 – Swirly S-Blend PHARAOH
#14 – Champion MAKO3
#15 – K3 REKO
#16 – Discraft Special Blend LUNA
#17 – Tour Series KC PRO AVIAR
#18 – Star WRAITH
#19 – Neutron RELAY
#20 – Signature Swirly S-Line FD3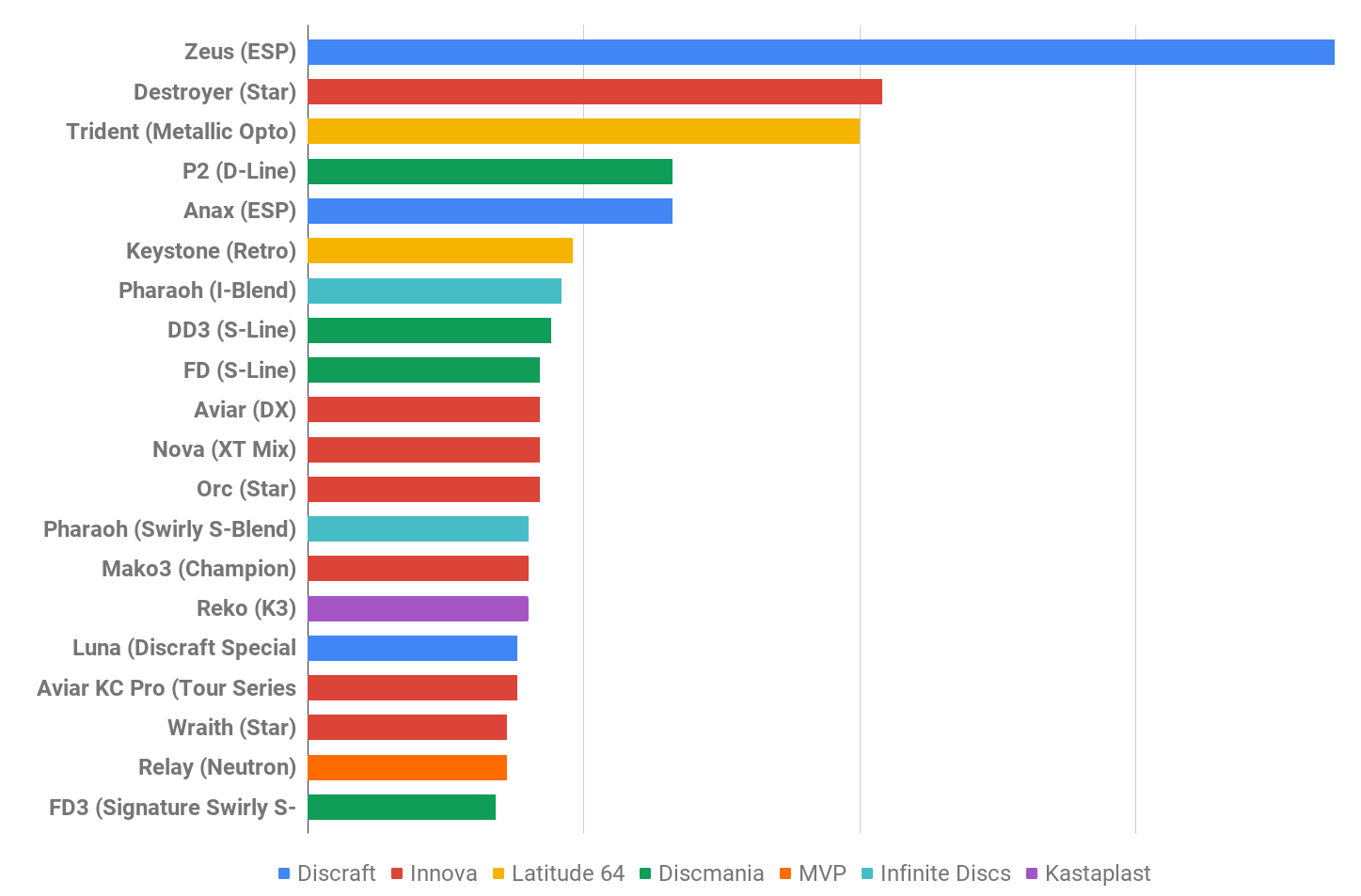 The ESP ZEUS took a commanding lead this last week for the #1 spot, followed by the Star DESTROYER which keeps hanging in there as a consistent best-seller. The Metallic Opto TRIDENT (special run) jumped to #3 with the release of the "Trident Toothpaste" stamp. The D-Line P2 took #4 as another of the discs that has taken up a permanent residence on the Top 20 Tuesday chart.
The ESP ANAX isn't quite getting the same love as the ZEUS, perhaps because it is more overstable, but it is also still selling strong. Other regular favorites are back on the chart this week with the likes of the FD, Mako3, Nova, Pharaoh, etc. Here is a look at how many times different brands appeared in the Top 20 this week: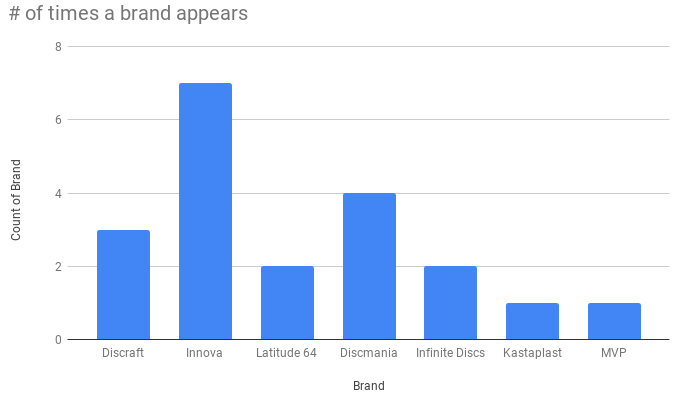 –> Each week we'll invite you to leave a prediction for a certain chart position on next week's TOP TWENTY TUESDAY report. The person to predict that chart position correctly in the comments will win a $10 gift card for the Infinite Discs website.
WINNER – We did our first #1 guess this week and it was definitely one of the easiest ones to guess, given the recent history of the chart. So, we were looking for the 1st person to get it right. Both Joshua and Rob guessed at the exact same minute for the ESP Zeus, so both are winners this week!
GIFT CARD PREDICTION FOR NEXT WEEK:  Leave your comment below to guess the #10 spot for next week. It will go to the FIRST person to get it right. Good luck!