TOP TWENTY TUESDAY – DECEMBER 17TH 2019

Welcome to the Top 20 Tuesday chart! We take this opportunity to publish the top 20 best-selling discs from the previous week so you can see what is selling the most at Infinite Discs. We list the top selling discs by disc model and plastic type. This chart is entirely decided by the purchases made by the customers that shop from the website:
Top Twenty Tuesday for December 17th, 2019
#1 – Star FOXBAT
#2 – D-Line P2
#3 – Star DESTROYER
#4 – Prism Plasma PYRO
#5 – ESP BUZZZ
#6 – Discraft Special Blend LUNA
#7 – ESP BANGER GT
#8 – ESP BUZZZ GT
#9 – R-Pro PIG
#10 – XT Mix NOVA
#11 – XT Mix X-Out NOVA
#12 – Champion FIREBIRD
#13 – Star WRAITH
#14 – Metal Flake C-Line FD
#15 – DX AVIAR
#16 – Base Grip P MODEL S
#17 – Metal Flake Glow C-Blend AZTEC
#18 – I-Blend SPHINX
#19 – P-Line Stiff P2
#20 – ESP ZEUS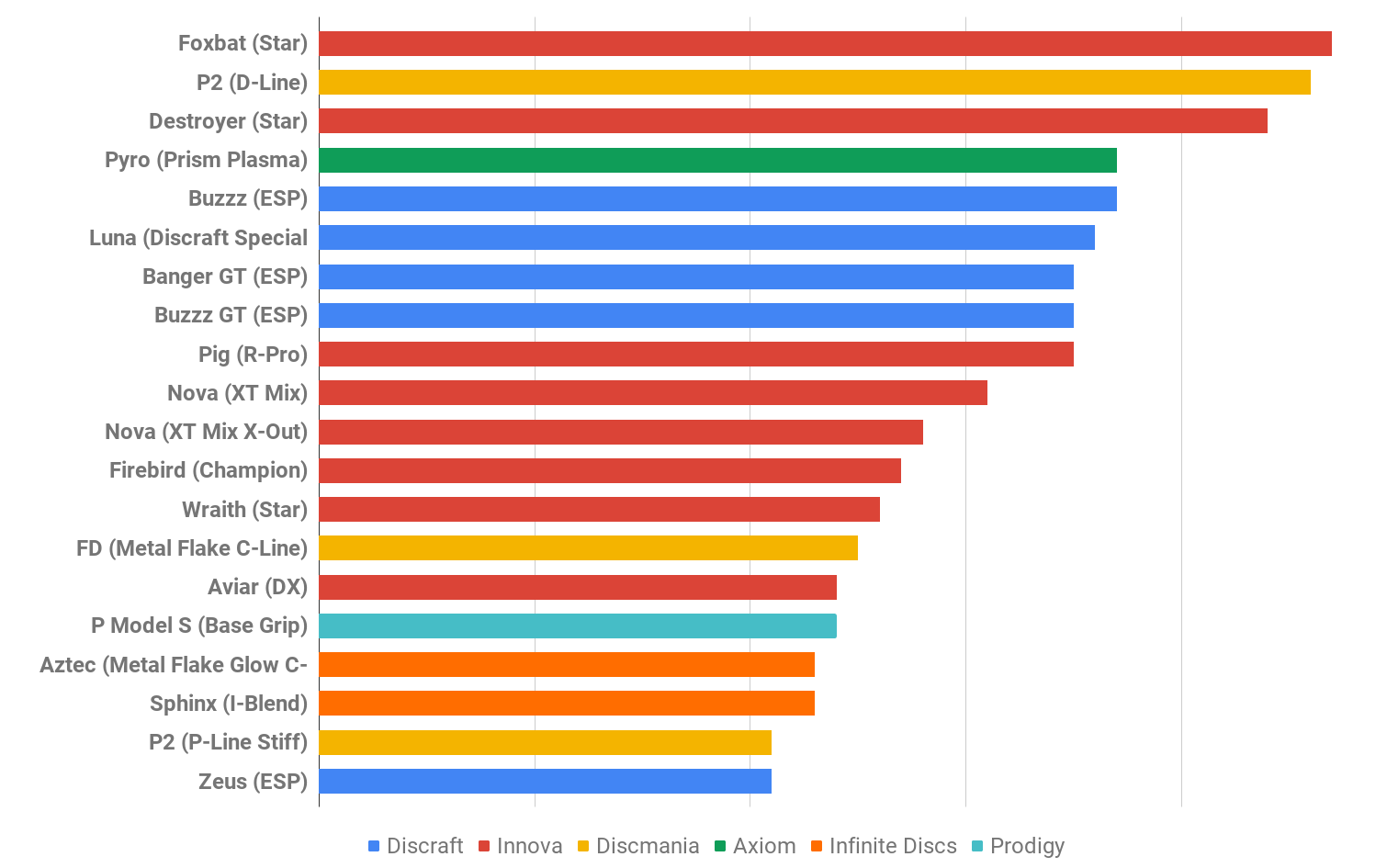 In a spike of interest due to the Focus Friday discount, the Star FOXBAT jumped to the #1 spot for the last week. Other mainstay discs began moving back to their usual positions with the D-Line P2 taking the #2 spot and the Star DESTROYER taking #3. The new Plasma Prism PYRO took the #4 spot as a new release last week. A couple of the special edition releases from the holidays are still lingering on the chart, like the Banger GT and Buzzz GT, or the Metal Flake FD, etc.
Here is a look at how many times the different brands appeared on this week's chart: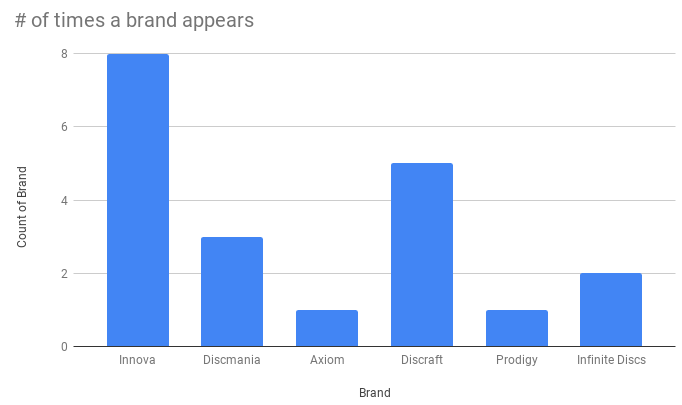 –> Each week we'll invite you to leave a prediction for a certain chart position on next week's TOP TWENTY TUESDAY report. The person to predict that chart position correctly in the comments will win a $10 gift card for the Infinite Discs website.
WINNER – The #3 spot was taken by the Star DESTROYER, a long-time chart-dweller.  We had a tie with two people (the first two guesses) choosing the Star Destroyer at the exact same moment, so congratulations to both Chris and Dustin for winning the $10 gift card this week!
GIFT CARD PREDICTION FOR NEXT WEEK:  Leave your comment below to guess the #5 spot for next chart, which will likely be posted AFTER Christmas. It will go to the FIRST person to get it right. Good luck!