TOP TWENTY TUESDAY – DECEMBER 22ND 2020

It is time once again for our look back at the last week of sales. This weekly chart is generated from the sales figures at Infinite Discs – the purchases made by our customers are the only contributing factor to the statistics. We break the results down by disc model and plastic type so you can see which plastic types are selling the most. Here we go…
Top Twenty Tuesday for December 22nd 2020
#1 – Egg Shell PTERODACTYLUS
#2 – Cosmic Neutron TRACE
#3 – Neutron CRAVE
#4 – Star DESTROYER
#5 – Star MAKO3
#6 – Discraft Prototype Putter Blend FIERCE
#7 – Opto COMPASS
#8 – I-Blend ALPACA
#9 – DX LEOPARD
#10 – ESP HEAT
#11 – Champion FIREBIRD
#12 – Star WRAITH
#13 – Pro YETI AVIAR
#14 – Prime Burst JUDGE
#15 – Swirly S-Blend PHARAOH
#16 – DX ROC
#17 – Signature Swirly S-Blend SPHINX
#18 – Star FIREBIRD
#19 – Champion MAKO3
#20 – Metal Flake C-Blend SPHINX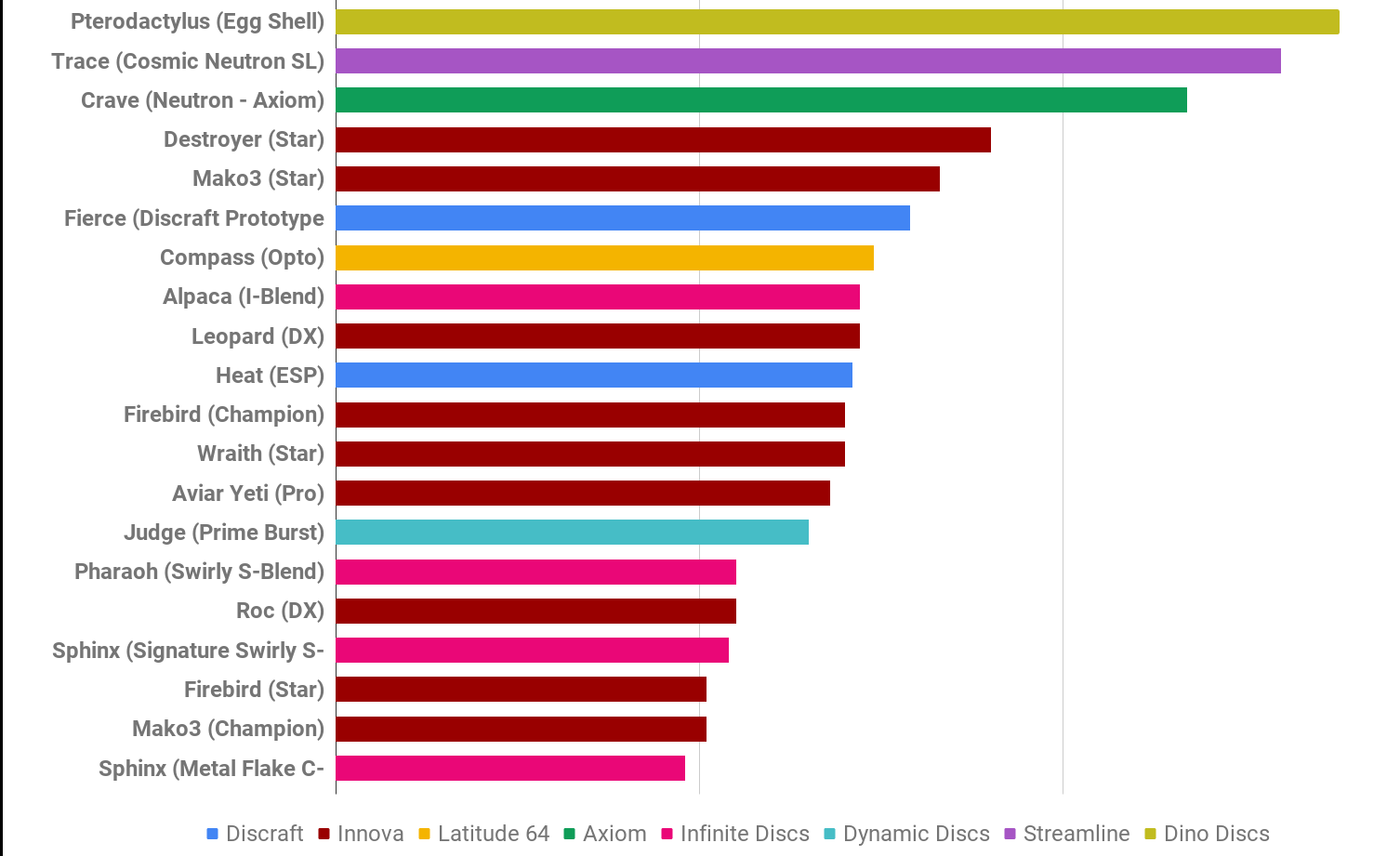 It was an odd week as many of the most popular disc molds sold out heading into the holidays. Restock has also been light as manufacturers wind-down for the year and take a much needed break. The top-selling disc for the last week was the Pterodactylus by Dino Discs, an ultra light-weight driver for kids, followed by the Cosmic Neutron TRACE and the Neutron CRAVE. Other familiar discs hit the charts, but nothing in huge  numbers.
This is the final Top 20 of the 2020 year, which has been a very interesting one in terms of disc supply and demand. It has been very interesting to watch the weekly charges twist and turn based on whatever we managed to get in stock. Maybe in 2021 we will see some normalcy as popular molds settle into somewhat regular positions? We don't know yet, but we plan to keep an eye on things for you!
Since there will be no Top 20 Tuesday post until sometime in January, there will be no guessing this week.
The winner for this final guessing was Carson who nailed it on the very first guess of Star Mako3 for the #5 spot. Congratulations! 
Well be back in 2021 with more sales data for you. Thanks for your support!