TOP TWENTY TUESDAY – DECEMBER 31ST 2019

It's time for the last TOP 20 TUESDAY post of the 2019 year. Thanks for a great year, and we hope you've enjoyed seeing which discs sell the most at Infinite Discs week-to-week. We love sharing the data with you. Once again, it is our customers that decide these rankings through their purchases– we do not alter the results for any reason. This chart covers a two-week period from December 18th to the end of the year. THANKS!
Top Twenty Tuesday for December 31st, 2019
#1 – Discraft Special Blend LUNA
#2 – ESP ZEUS
#3 – D-Line P2
#4 – Star DESTROYER
#5 – Star WRAITH
#6 – R-Pro PIG
#7 – Star ORC
#8 – Star CROC
#9 – Star FL
#10 – DX ROC
#11 – ESP BUZZZ
#12 – C-Blend X-Out RUIN
#13 – DX X-Out AVIAR
#14 – Star TEEBIRD
#15 – Swirly S-Line FD
#16 – Jawbreaker ROACH
#17 – Champion THUNDERBIRD
#18 – ESP BANGER GT
#19 – Star FIREBIRD
#20 – Star LEOPARD3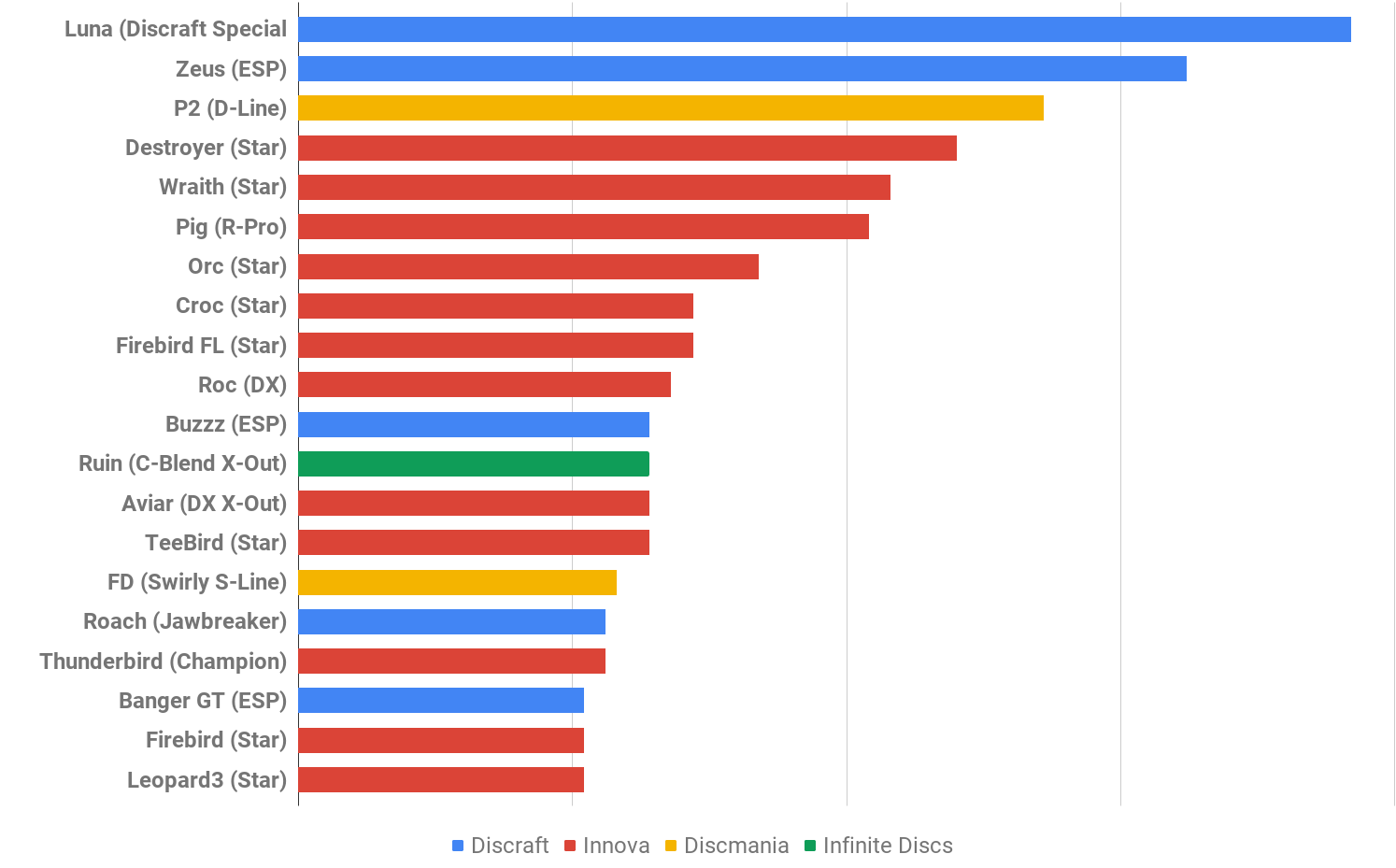 The chart seems to reflect a more common lineup of standard favorites, pretty heavy on the Innova brand, but with a couple Discraft / Paul McBeth models taking the top 2 spots. The factory 2nd C-Blend RUIN jumped in at #12 from people wanting to test it early, before the official release. Once again we see the Star FL hitting the chart as a couple of collectors seem to be stock-piling.
–> Each week we'll invite you to leave a prediction for a certain chart position on next week's TOP TWENTY TUESDAY report. The person to predict that chart position correctly in the comments will win a $10 gift card for the Infinite Discs website.
WINNER – The #5 spot was taken by the Star WRAITH which has become a standard on the charts.  Congratulations to Andrew who guessed it right this time!
GIFT CARD PREDICTION FOR NEXT WEEK:  Leave your comment below to guess the #10 spot for next chart.  It will go to the FIRST person to get it right. Good luck!