TOP TWENTY TUESDAY – DECEMBER 8TH 2020

It is time to continue our look back at the disc sales totals to see which ones rise to the top. We usually have a weekly chart, but this Top 20 Tuesday chart looks back over the last 2 weeks, which includes the discs sold during the Black Friday "Deals Week" promotional period. So it is a great snapshot of which discs were the hottest items during the sale.
Here we go…
Top Twenty Tuesday for December 8th 2020
#1 – CryZtal FLX BUZZZ
#2 – Eclipse 2.0 REACTOR
#3 – Metal Flake Glow C-Blend ALPACA
#4 – Prime Burst JUDGE
#5 – Metal Flake C-Blend SPHINX
#6 – K1 FALK
#7 – K3 REKO
#8 – I-Blend ALPACA
#9 – Cosmic Neutron RELAY
#10 – K1 LOTS
#11 – RFF Glow WIZARD
#12 – K1 SVEA
#13 – Star DESTROYER
#14 – Nylon Blend WIZARD
#15 – D-Blend ALPACA
#16 – DX AVIAR
#17 – Discraft Prototype Putter Blend FIERCE
#18 – Signature Cryztal FLX ZONE
#19 – K1 REKO
#20 – Star WRAITH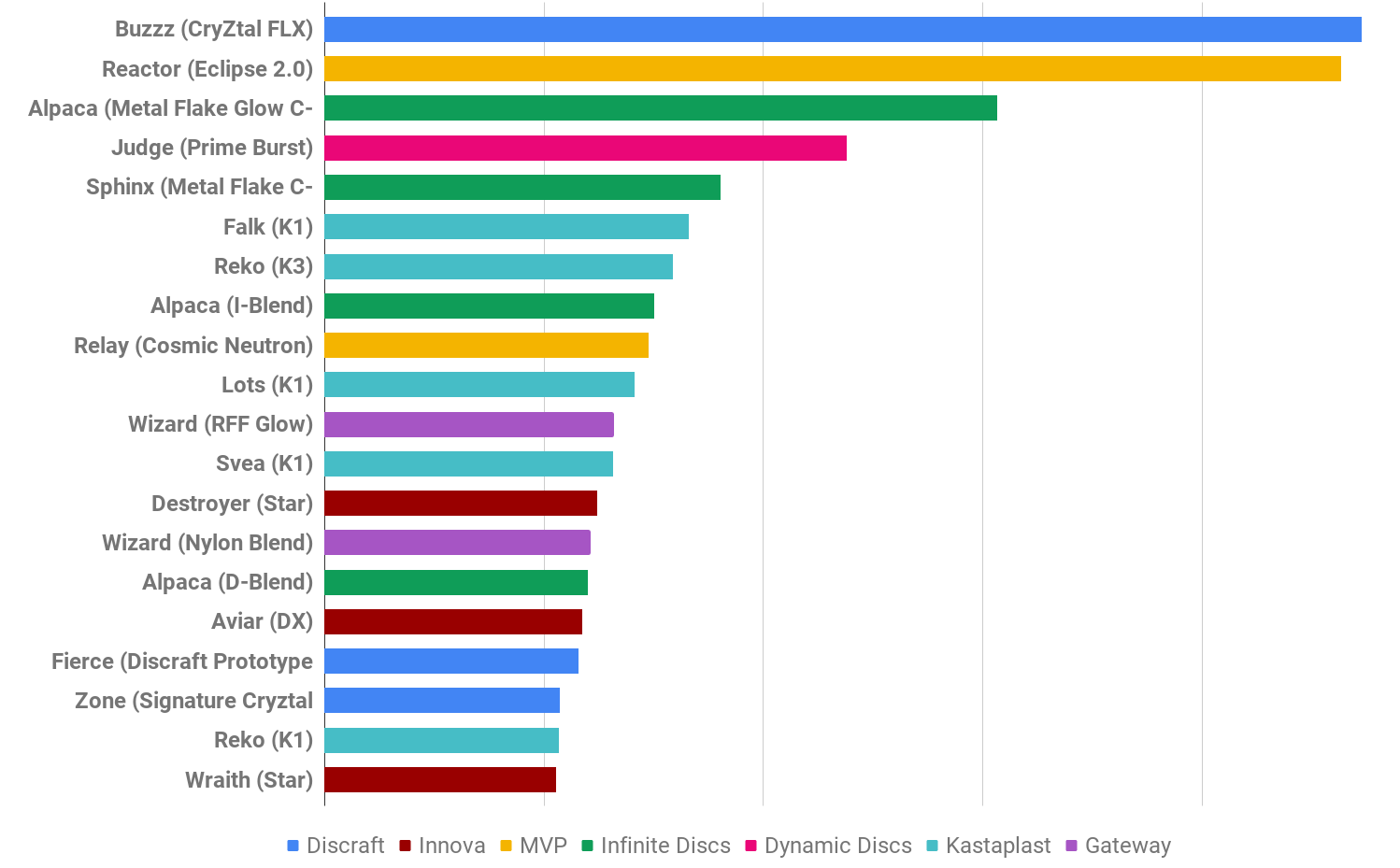 The Cryztal FLX Buzzz run from Discraft took the top spot, barely beating out the Eclipse 2.0 (glow) REACTOR from MVP which took a close second. The Metal Flake Glow C-Blend ALPACA putter from Infinite Discs took the #3 spot, with both the I-Blend and D-Blend Alpaca taking other spots on the chart. One of the biggest movers was the Kastaplast special stamp releases which hoisted the brand to 5 total spots on the chart– the highest number claimed by a single brand.
Here is a look at how many times the different brands appeared on the chart for the 2-week sales period: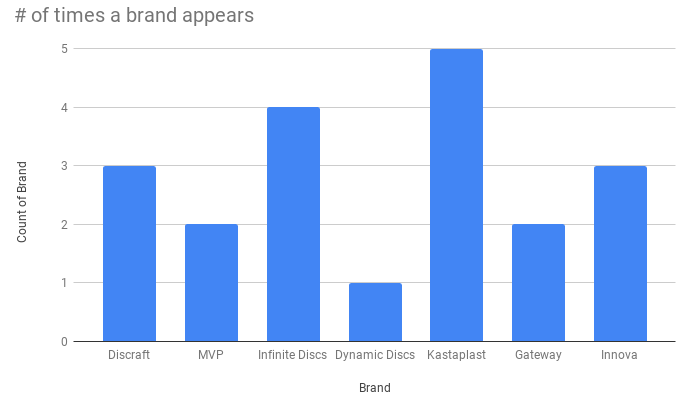 –> Each week we'll invite you to leave a prediction for a certain chart position on next week's TOP TWENTY TUESDAY report. The person to predict that chart position correctly in the comments will win a $10 gift card for the Infinite Discs website.
WINNER – There was no guessing for this special Black Friday chart, since we knew it would be all over the pace with the special edition releases, but we'll continue the guessing game for next week.
NOTE: Guess the #20 spot for next week. The first person to get it right (include the disc model and plastic type) will win!
THANKS FOR READING AND WATCHING EACH WEEK!