TOP TWENTY TUESDAY – FEBRUARY 16TH 2021

Welcome to the Top 20 Tuesday chart! Every week we take a look at the twenty top-selling discs on the Infinite Discs website, broken down by plastic type as well. So these are the top sellers for the last seven days in order:
(NOTE: This chart is for the last 2 weeks this time, since we missed a week)
Top Twenty Tuesday for February 16th 2021
#1 – Crazy Tuff ZONE
#2 – ESP REAPER
#3 – Rubber Blend ZONE
#4 – Royal Soft BOBCAT
#5 – Royal BOBCAT
#6 –Signature I-Blend EMPEROR
#7 – Z-Line ZONE
#8 – Z Line BUZZZ
#9 – ESP NUKE
#10 – D-Blend ALPACA
#11 – ESP UNDERTAKER
#12 – Metal Flake Glow C-Blend CENTURION
#13 – Star X-Out DESTROYER
#14 – Basic JOKERI
#15 – Star DESTROYER
#16 – Star X-Out WRAITH
#17 – Feather ALLOSAURUS
#18 – Z Line HEAT
#19 – ESP RAPTOR
#20 – S-Line DD3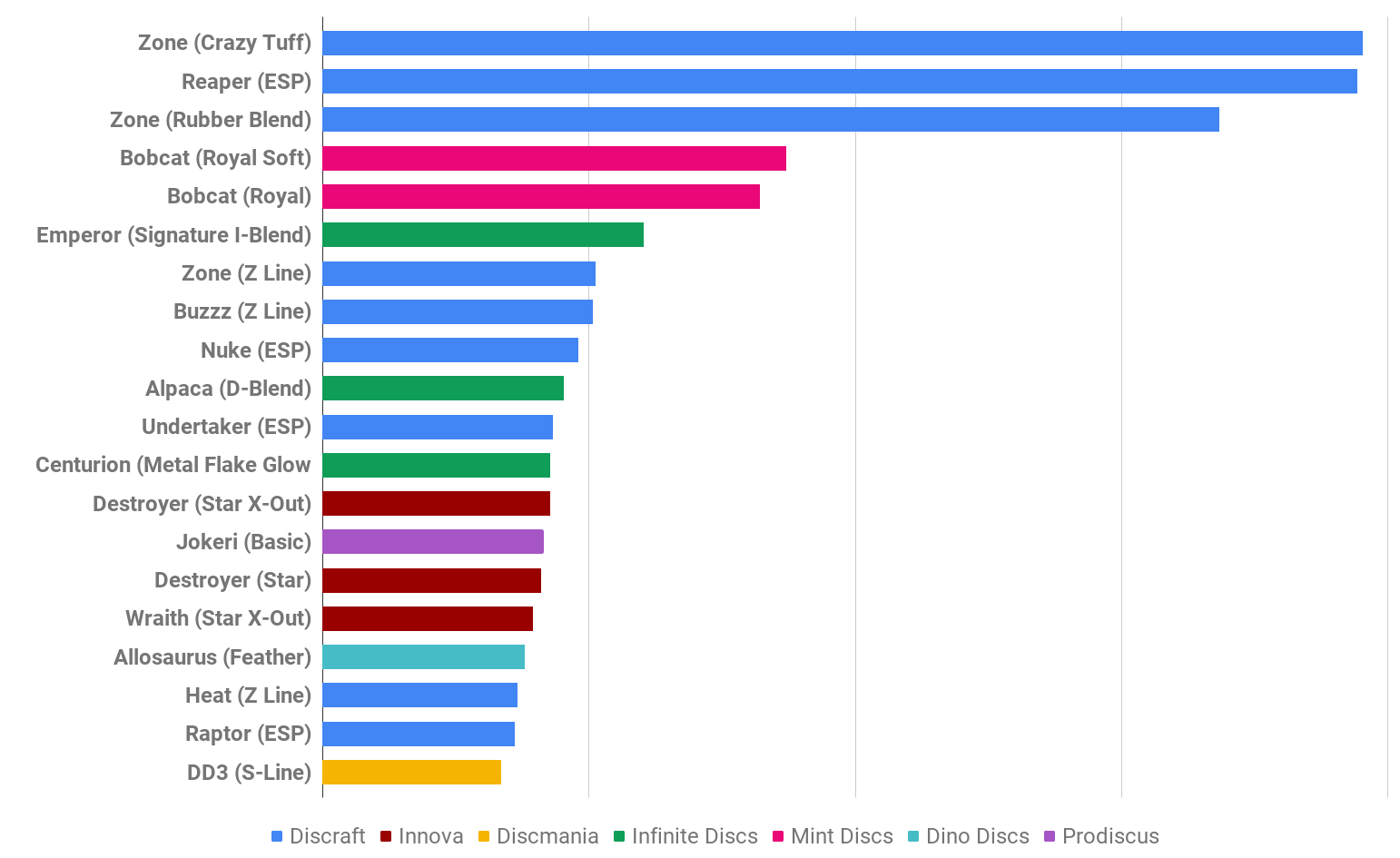 This week we have a chart that reflects the last two weeks of sales because of a vacation (sorry about that). Discraft dominated the sales chart with six of the top nine spots, with three of those been Zones in different plastics. The Royal and Royal Soft BOBCAT from Mint Discs took the #4 and #5 spots with a limited edition stamp release at Infinite Discs. The JOKERI made it onto the chart with a cool 10th Anniversary release in their original, grippy Basic plastic blend. With Innova, a couple of X-Outs made the chart since stock discs have been lacking, but we are restocking a lot of Innova right now and expect to see them on the chart in multiple spots.
Here is a look at how many times the different brands hit the chart: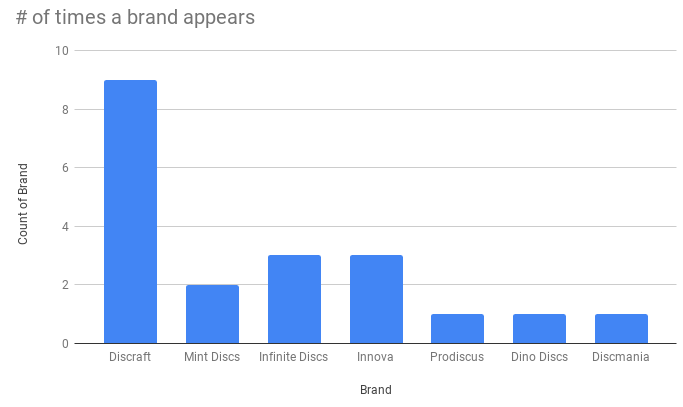 –> Each week we'll invite you to leave a prediction for a certain chart position on next week's TOP TWENTY TUESDAY report. The person to predict that chart position correctly in the comments will win a $10 gift card for the Infinite Discs website.
WINNER – The number 9 spot was the ESP NUKE by Discraft. Nobody picked the Nuke, so we don't have a winner this time. But please keep the guesses coming!
NEXT WEEK: Guess the #10 spot for next week. The first person to get it right (include the disc model and plastic type) will win!
THANKS FOR READING AND WATCHING EACH WEEK!