TOP TWENTY TUESDAY – FEBRUARY 23RD 2021

Welcome to the Top 20 Tuesday chart! Every week we take a look at the twenty top-selling discs on the Infinite Discs website, broken down by plastic type as well. So these are the top sellers for the last seven days in order:
Top Twenty Tuesday for February 23rd 2021
#1 – Signature TSA Glow MANTRA
#2 – Ethereal MANTRA
#3 – Ethos MANTRA
#4 – TSA Glow MANTRA
#5 – Aura MANTRA
#6 – Elevation Rubber INTERCEPTOR
#7 – Prime Burst JUDGE
#8 – Z Line BUZZZ
#9 – Star DESTROYER
#10 – ESP ZONE
#11 – Cheengz Premium I-ONE
#12 – Signature Swirly S-Blend CENTURION
#13 – Extinct DIPLODOCUS
#14 – Moss ANKYLOSAURUS
#15 – BaseGrip P MODEL S
#16 – Champion Colored Glow TEEBIRD
#17 – Star SIDEWINDER
#18 – Star LEOPARD3
#19 – ESP NUKE
#20 – Star WRAITH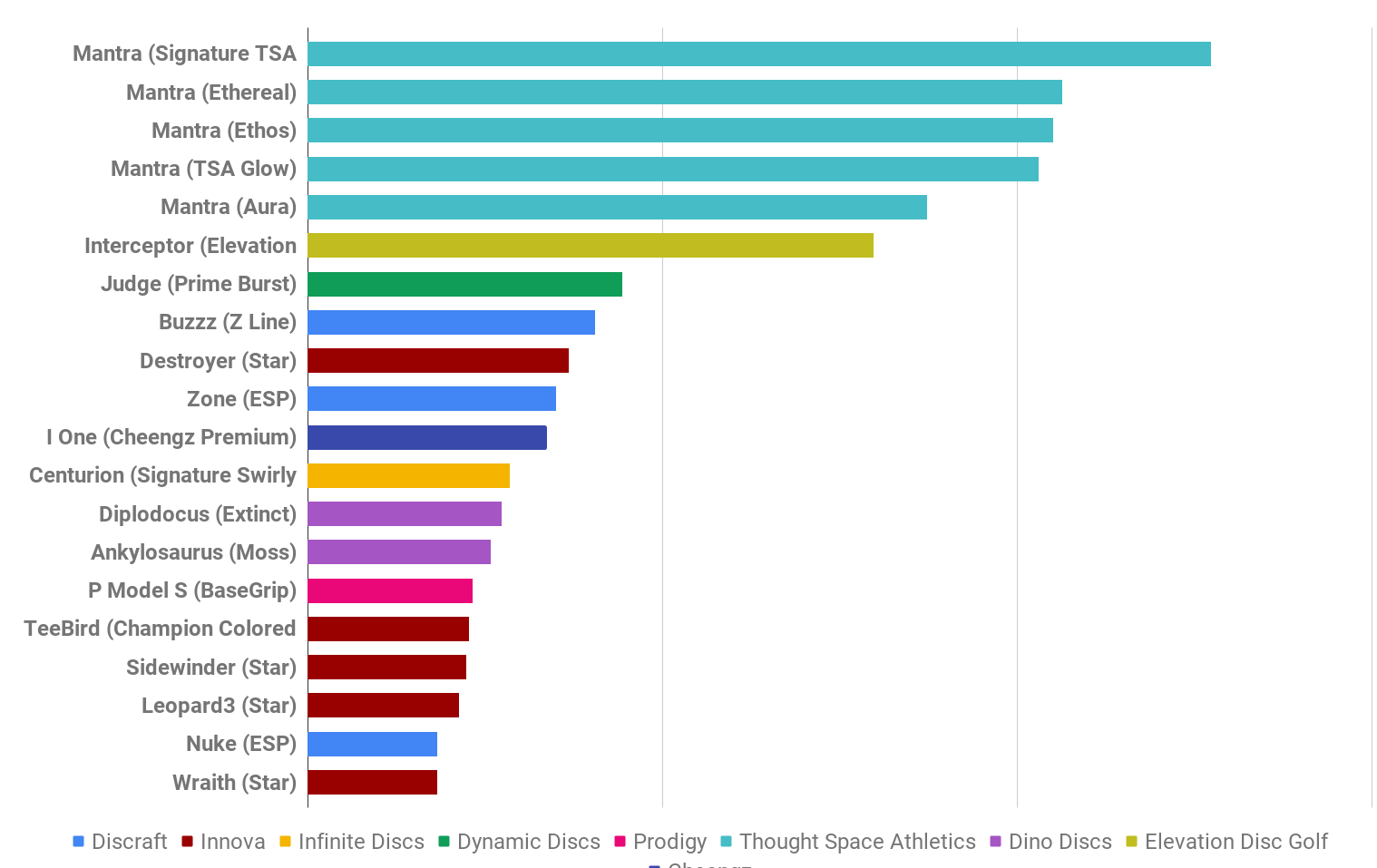 The strange charts continue this week with all of the top 5 spots taken by a single disc– the MANTRA by Thought Space Athletics. People went crazy over the restock of the Mantra, shooting it to the top of the chart in nearly every plastic type available. The #6 spot was taken by the new INTERCEPTOR by Elevation Disc Golf who is bringing floppy rubber back to the game of disc golf. That was an introductory release by a brand new brand, and it sold out in a few hours. Another complete newcomer, Cheengz Disc Golf introduced the I-ONE mid-range which also hit the chart in the #11 spot. This is definitely looking like a year where small brands can grab a lot of attention.
Here is a look at how many times the different brands hit the chart this week: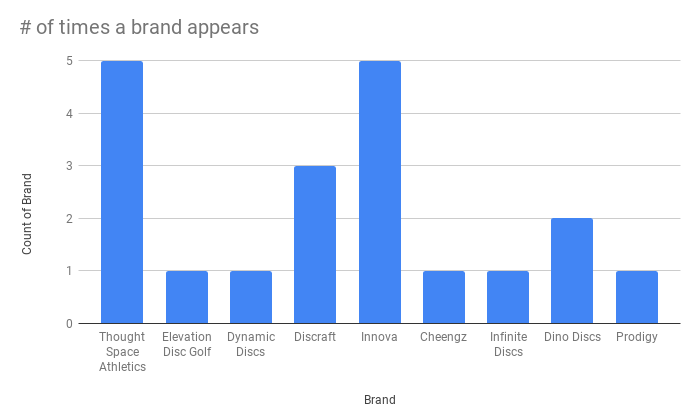 –> Each week we'll invite you to leave a prediction for a certain chart position on next week's TOP TWENTY TUESDAY report. The person to predict that chart position correctly in the comments will win a $10 gift card for the Infinite Discs website.
WINNER – The number 10 spot was the ESP ZONE. While the Zone usually gets a lot of guesses, it didn't get any this last week. That's another week without a winning guess. Give it another try for next week!
NEXT WEEK: Guess the #11 spot for next week. The first person to get it right (include the disc model and plastic type) will win!
THANKS FOR READING AND WATCHING EACH WEEK!