Top Twenty Tuesday for June 29th 2021

Welcome to the Top 20 Tuesday chart! Every week we take a look at the twenty top-selling discs on the Infinite Discs website, broken down by plastic type as well. So these are the top sellers for the last seven days in order.
Top Twenty Tuesday for June 29th 2021
#1 – Ethos PATHFINDER
#2 – Star DESTROYER
#3 – Aura PATHFINDER
#4 – Ethereal PATHFINDER
#5 – Cryztal FLX Sparkle BUZZZ
#6 – Z Line BUZZZ
#7 – Tour Series Z NUKE SS
#8 – TSA Glow PATHFINDER
#9 – Big Z CRANK SS
#10 – Prime Burst EMAC JUDGE
#11 – Cryztal Sparkle BUZZZ SS
#12 – DX AVIAR
#13 – Champion MAKO3
#14 – Active Baseline SENSEI
#15 – Tour Series Galactic AVIAR
#16 – Champion TEEBIRD
#17 – Neutron REACTOR
#18 – Big Z ZONE
#19 – Star WRAITH
#20 – Proton INSANITY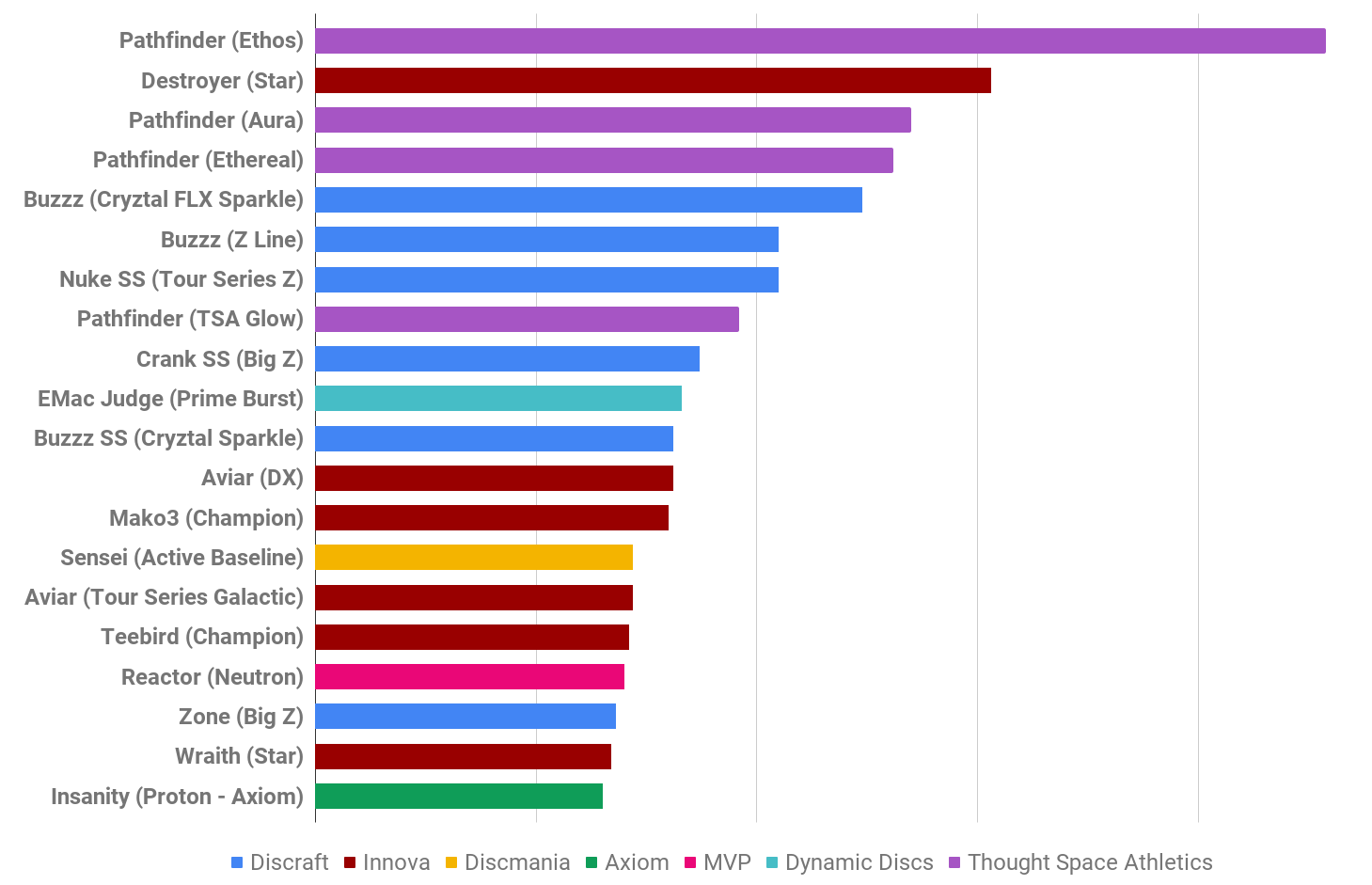 The big winner for the last week of sales was the PATHFINDER by Thought Space Athletics, hitting the Top 20 with four different positions with all four plastics and taking the #1 spot. Discraft took a share of the chart with a mix of restocks and Ledgestone editions. Innova took a number of spots with their popular models, though our supply has diminished.
The weekly chart continues to be driven by new releases and whatever happens to come back in stock that week, as supply continues to fall behind the demand for discs. Here is a look at how many times the different brands appeared on the chart this week: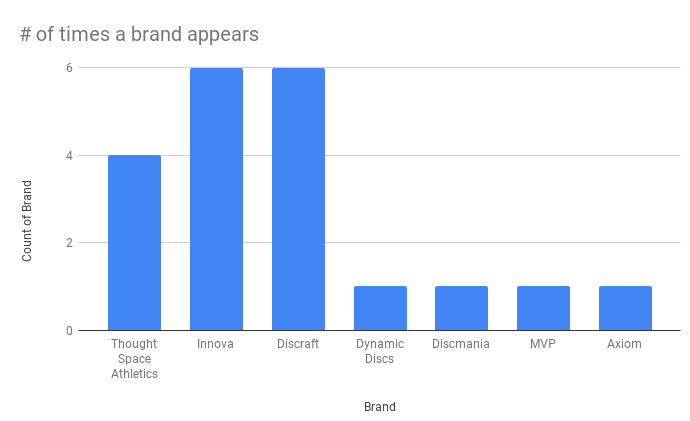 –> Each week we'll invite you to leave a prediction for a certain chart position on next week's TOP TWENTY TUESDAY report. The person to predict that chart position correctly in the comments will win a $10 gift card for the Infinite Discs website.
WINNER – This week the #11 spot was the Cryztal Sparkle Buzzz SS. We've seen fewer correct guesses lately as the discs that hit the chart almost entirely reshuffle every week depending on what comes in stock. Nobody won this week, but give it a shot for next week.
NEXT WEEK: Guess the #3 spot for next week. The first person to get it right (include the disc model and plastic type) will win!
THANKS FOR READING AND WATCHING EACH WEEK!