TOP TWENTY TUESDAY – JANUARY 26TH 2021

Welcome to the Top 20 Tuesday chart! Every week we take a look at the twenty top-selling discs on the Infinite Discs website, broken down by plastic type as well. So these are the top sellers for the last seven days in order:
Top Twenty Tuesday for January 26th 2021
#1 – Star DESTROYER
#2 – Extinct BRONTOSAURUS
#3 – DX AVIAR
#4 – D-Blend ALPACA
#5 – Extinct SPINOSAURUS
#6 – Metal Flake Glow C-Blend CENTURION
#7 – Signature ESP ANAX
#8 – ESP STALKER
#9 – Egg Shell TYRANOSAURUS REX
#10 – Signature ESP HADES
#11 – DX ROC
#12 – Star WRAITH
#13 – Base Grip P MODEL S
#14 – Jawbreaker BANGER GT
#15 – Gummy C-Blend EMPEROR
#16 – Star FIREBIRD
#17 – R-Pro PIG
#18 – Swirly Star X-Out EAGLE
#19 – GStar MAMBA
#20 – Prime Burst JUDGE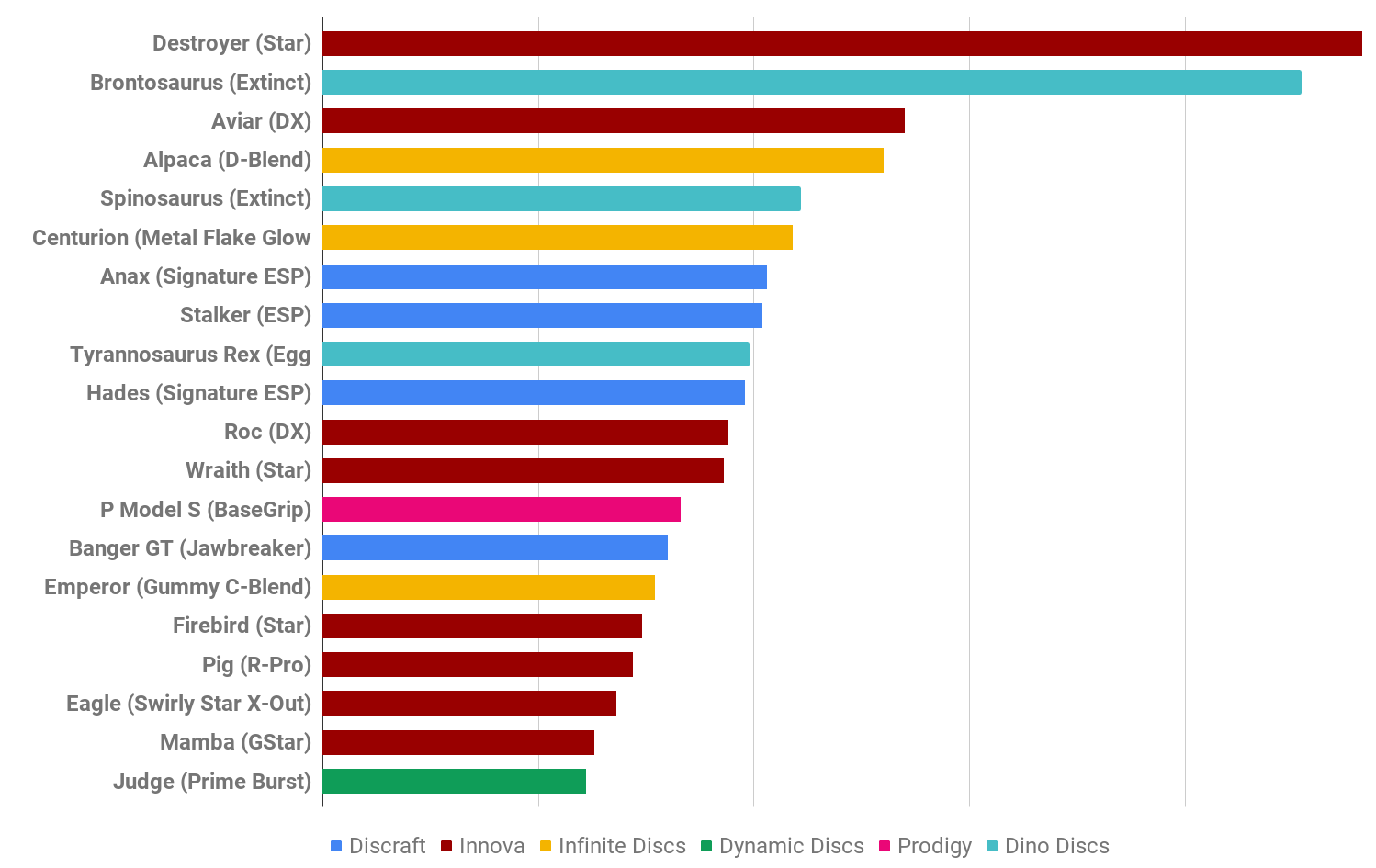 The weekly Top 20 chart appears to be normalizing a little bit as some of the popular discs from bigger brands have started to restock. The Star DESTROYER jumped back to the top of the chart with a restock, and the DX AVIAR putter jumped up to #3. Some Discraft has started to climb back onto the chart with restocks including the ANAX, the HADES, the STALKER, and the BANGER GT.  It is pretty certain that more Innova and Discraft will hit the chart as resupply begins to come back into the marketplace.
Surprisingly enough, three different DINO DISCS models made it onto the chart– the only three models in stock right now. The BRONTOSAURUS entered the chart in the #2 spot with its debut, with the new SPINOSAURUS taking the #5 position and the high-speed TYRANOSAURUS REX still hanging in there (almost gone again). These lightweight discs seem to be making a splash as great options for kids.
Here is a look at how many times the different brands showed up in this week's chart: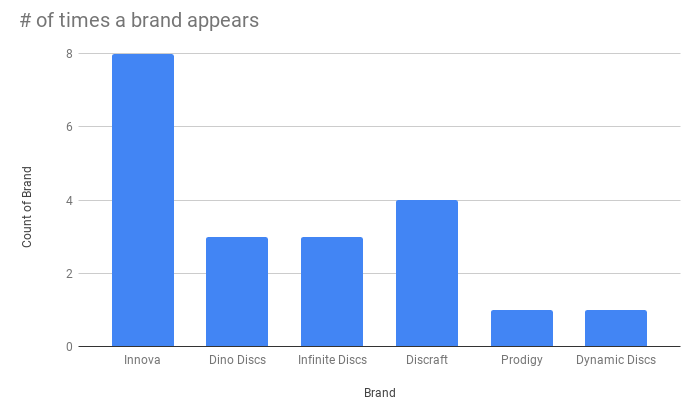 –> Each week we'll invite you to leave a prediction for a certain chart position on next week's TOP TWENTY TUESDAY report. The person to predict that chart position correctly in the comments will win a $10 gift card for the Infinite Discs website.
WINNER – The number 7 spot this week was taken by the Signature EPS ANAX which was restocked this week. It looks like nobody guess the ANAX for this week. But try again by leaving a guess for next week.
NEXT WEEK: Guess the #8 spot for next week. The first person to get it right (include the disc model and plastic type) will win!
THANKS FOR READING AND WATCHING EACH WEEK!