TOP TWENTY TUESDAY – JANUARY 5th 2021

Welcome to the first Top 20 Tuesday chart of 2021, looking back and charting the sales for the last two weeks this time, as we took a break between Christmas and New Year. It should be a very interesting chart, since our inventory levels have dropped to the lowest point in several years due to a lack of inventory at the manufacturers. Many of the most popular discs simply aren't available until those manufacturers get caught up again. We look forward to that!
Top Twenty Tuesday for January 5th 2021
#1 – D-Blend ALPACA
#2 – Champion MAKO3
#3 – I-Blend SPHINX
#4 – Discraft Prototype Putter Blend FIERCE
#5 – Prime Burst JUDGE
#6 – Discraft Special Blend LUNA
#7 – Signature Swirly S-Blend SPHINX
#8 – Star MAKO3
#9 – Star WRAITH
#10 – Star VALKYRIE
#11 – Base Grip P MODEL S
#12 – Pro X-Out WRAITH
#13 – C-Line FD
#14 – Neutron CRAVE
#15 – Cosmic Neutron TRACE
#16 – Super Stupid Soft WIZARD
#17 – VIP UNDERWORLD
#18 – Opto DIAMOND
#19 – Big Z UNDERTAKER
#20 – Swirly S-Blend PHARAOH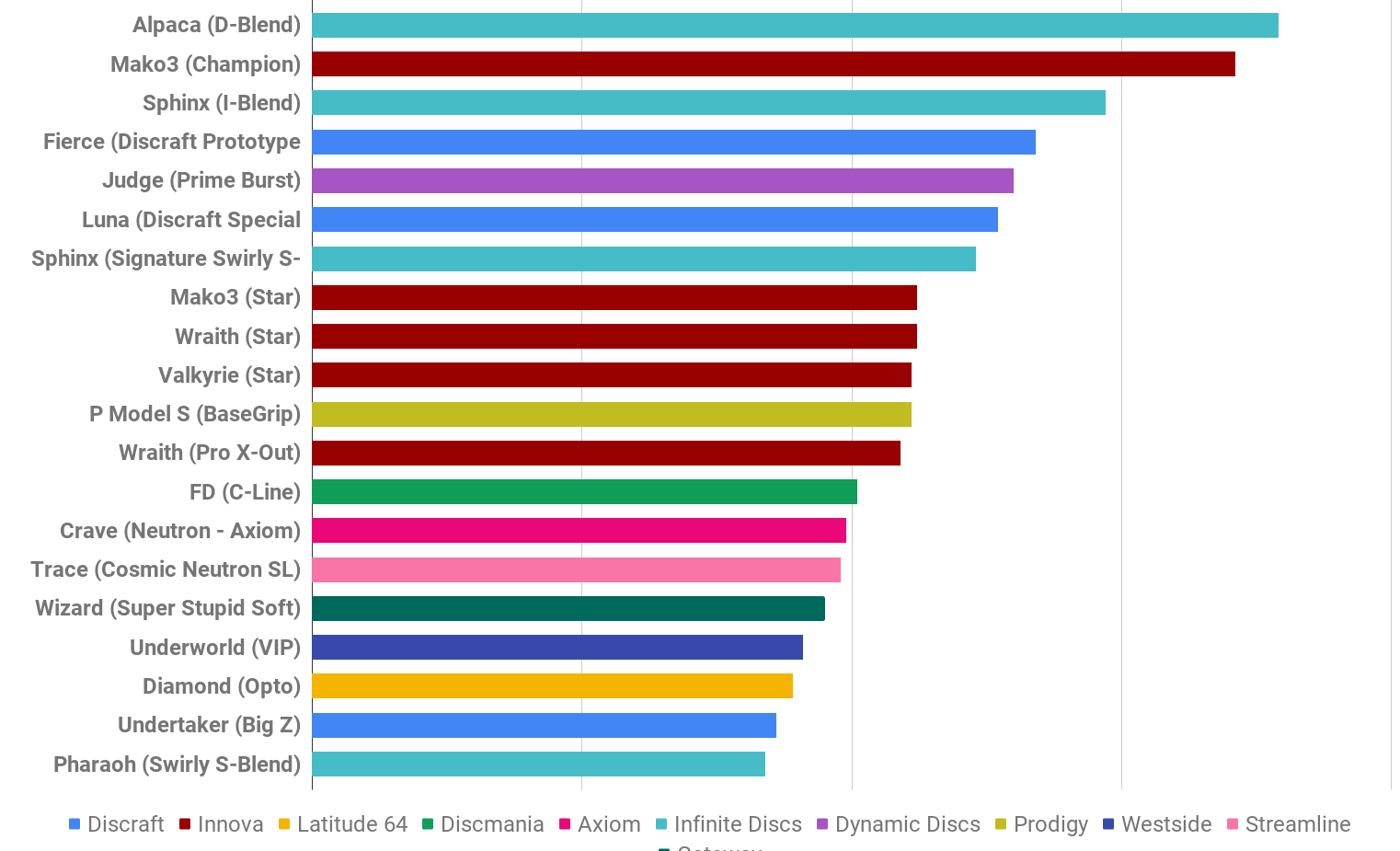 You'll notice more of a brand variety on this chart than we've seen in a while. As the most popular discs from the dominant brands have run out, folks are snapping up the smaller brands, which make some great discs as well. The D-Blend ALPACA putter by Infinite Discs hit the #1 spot. The MAKO3 took two spots on the chart as a popular midrange. Other putters like the JUDGE, FIERCE, LUNA, WIZARD and P MODEL S are selling well while supplies last (and I can tell you that the supplies are not going to last). Hopefully more inventory starts to show up soon!
Here is a look at how many times the different brands showed up on the chart: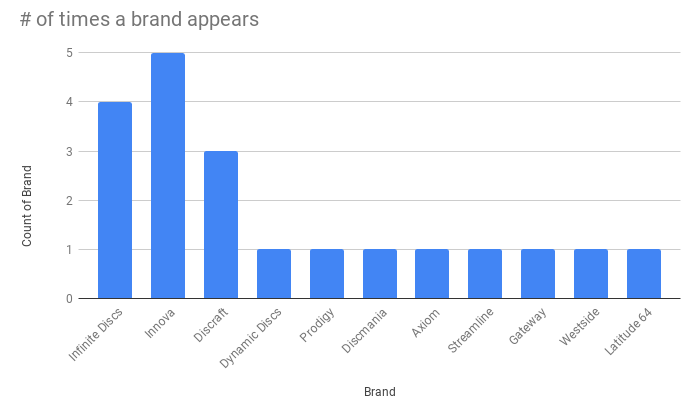 –> Each week we'll invite you to leave a prediction for a certain chart position on next week's TOP TWENTY TUESDAY report. The person to predict that chart position correctly in the comments will win a $10 gift card for the Infinite Discs website.
WINNER – There was no guessing for this week's chart, since we took a week off. But you can place your guess for next week for a chance to win.
NOTE: Guess the #5 spot for next week. The first person to get it right (include the disc model and plastic type) will win!
THANKS FOR READING AND WATCHING EACH WEEK!