TOP TWENTY TUESDAY – JULY 16TH 2019

Welcome to another Top 20 Tuesday sales chart. We break these charts down by plastics as well so you can see which plastic types are most popular for each disc. New discs will often spike in the chart as other top sellers shuffle position. The chart is created by sales figures that are pulled from all Infinite Discs sales for the previous week — our customers decide the results with their purchases.
Top Twenty Tuesday for July 16th, 2019
#1 – ESP ANAX
#2 – ESP ZEUS (formerly the Kong)
#3 – Discraft Special Blend LUNA
#4 – Metallic Opto Trident
#5 – D-Line P2
#6 – Star DESTROYER
#7 – Neo METHOD
#8 – Prism Proton PYRO
#9 – ESP BUZZZ
#10 – Jawbreaker ROACH
#11 – Fuzion RAIDER
#12 – Swirly S-Blend X-Out PHARAOH
#13 – C-Line FD
#14 – Champion MAKO3
#15 – ESP COMET
#16 – Big Z ROACH
#17 – Splatter S-Blend Centurion
#18 – R-Pro PIG
#19 – Star SONIC
#20 – Star WRAITH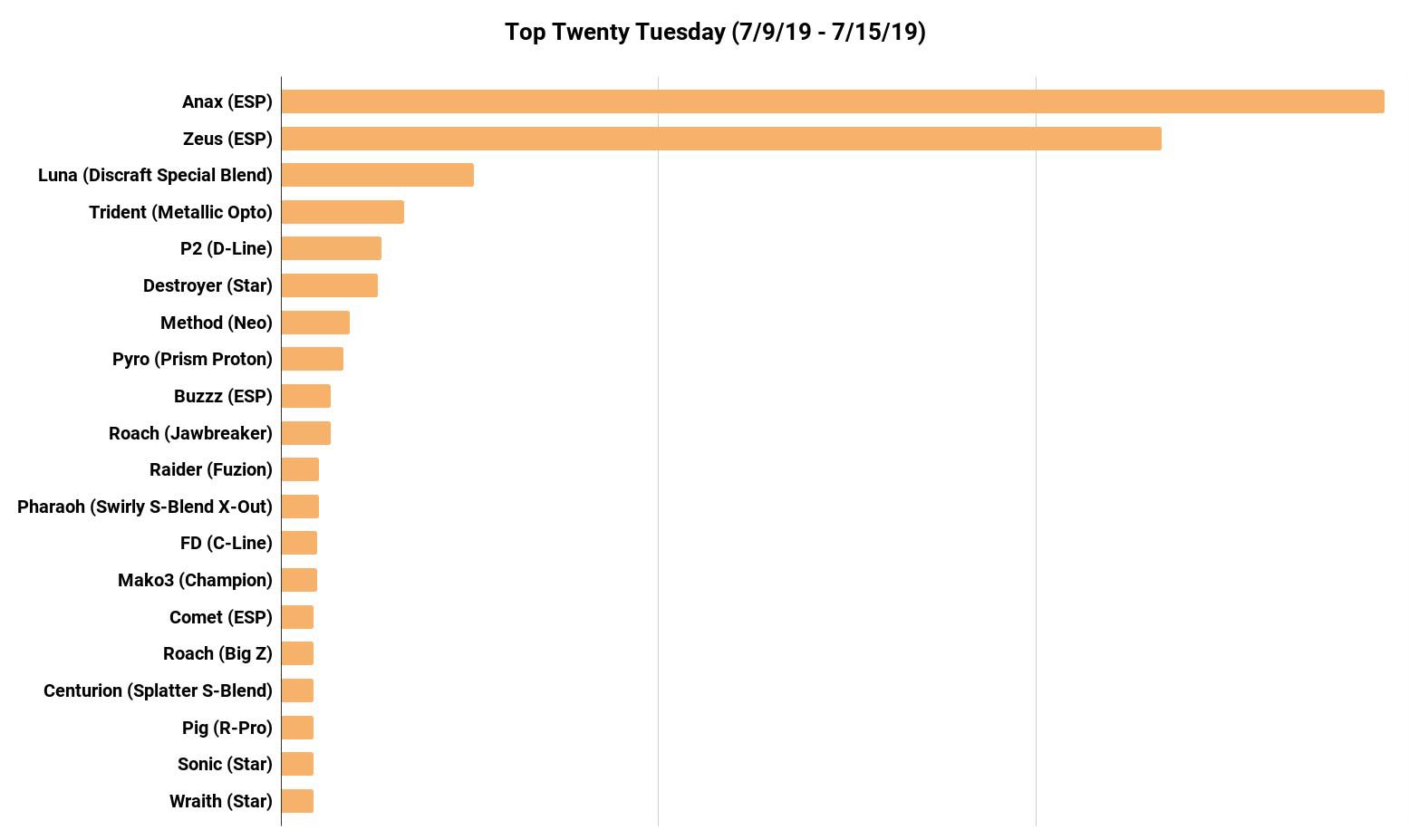 This week was another of those weeks where the top couple of discs just blew everything else away. The new prototype ANAX and the First Run ZEUS took the first two spots with a vengeance. If anybody has any question about whether or not a single player can swing a marketplace, just take a look at the sales of Paul McBeth's new line and any doubts should be put to rest. The Luna putter in Paul's line took the 3rd spot as well.
The #4 spot was taken by a disc that we just sneakily added a few to see if anybody would notice– the Metallic Opto Trident. That out-of-production overstable driver has a strong cult following! The P2 continues to be a strong-selling putter, taking the #5 spot. Other new releases like the Method and the Pyro are still handing around, as is the steady-selling Raider by Dynamic Discs.
It is interesting to see the Roach putter by Discraft moving up into the ranks, particularly in the Jawbreaker and Elite Z plastics. That Elite Z Roach is like a perfect substitute for the much-sought-after Big Z Luna.
Here is how the brands stacked up this week with the number of times they showed up in the Top 20: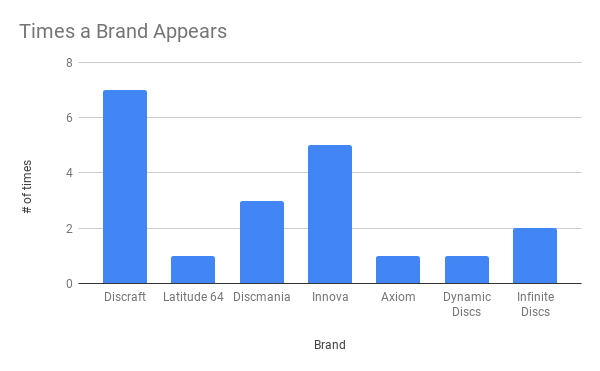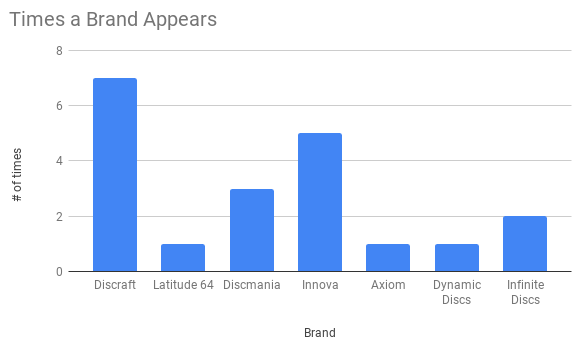 –> Each week we'll invite you to leave a prediction for a certain chart position on next week's TOP TWENTY TUESDAY report. The person to predict that chart position correctly in the comments will win a $10 gift card for the Infinite Discs website.
WINNER – The #5 spot was picked up by the D-Line P2 this week, which is a disc that steadily holds top spots on the top 20 chart week after week. Colin was the only to guess that putter for the #5 spot, so he's the winner this week!
GIFT CARD PREDICTION FOR NEXT WEEK:  Leave your comment below to guess the #7 spot for next week. Good luck!