TOP TWENTY TUESDAY – JUNE 11TH 2019

Infinite Discs is happy to present another Top 20 Tuesday chart, looking back at the discs that sold the most during the last week. We break these charts down by plastics as well so you can see which plastic types are most popular for each disc. New discs will often spike in the chart as other top sellers shuffle position. The chart is created by sales figures that are pulled from all Infinite Discs sales for the previous week — our customers decide the results with their purchases.
Here we go…
Top Twenty Tuesday for June 11th, 2019
#1 – Plasma PILOT
#2 – Star DESTROYER
#3 – Glo Swirly ESP UNDERTAKER
#4 – Rubber Blend BUZZZ
#5 – Full Foil Super Color BUZZZ
#6 – Glo Swirly ESP BANGER GT
#7 – ESP KONG
#8 – D-Line P2
#9 – Fuzion RAIDER
#10 – DX ROC
#11 – Swirly ESP CYCLONE
#12 – Retro KEYSTONE
#13 – DX AVIAR
#14 – Star WRAITH
#15 – Signature Glow Metal Flake C-Line MD3
#16 – Jawbreaker ROACH
#17 – Champion MAKO3
#18 – Star ORC
#19 – ESP BUZZZ
#20 – Pure White WIZARD
The hot-seller this last week was the limited run of Plasma PILOT discs from Streamline to support the MVP Open at Maple Hill. The Star DESTROYER got a nice boost from the release of the "Destroy!" stamp here at Infinite Discs. Then the chart was rocked by Discraft with a bunch of tournament support discs for this year's Ledgestone Open, with some of those special editions selling-out quickly. Even the KONG was pushed down to #7 from all the action on the chart. The Fuzion Raider moved up a few spots to #9, still holding strong as a popular new driver. The KEYSTONE putter as featured in the Trilogy Challenge is still on the chart as well.
Here is a look at how the different brands hit the charts this week: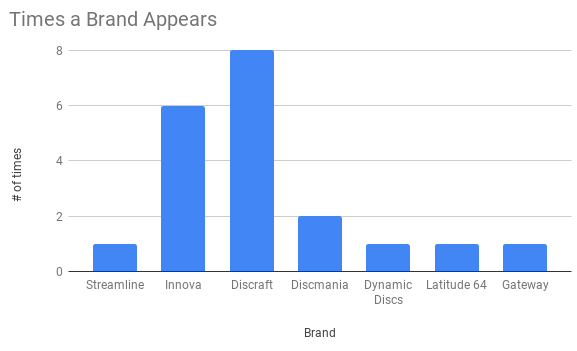 –> Each week we'll invite you to leave a prediction for a certain chart position on next week's TOP TWENTY TUESDAY report. The person to predict that chart position correctly in the comments will win a $10 gift card for the Infinite Discs website.
WINNER – We saw an incredible guess from Chris G. this week to get the 11th spot for the special edition Ledgestone Cyclone. Great guess and congratulations Chris!
GIFT CARD PREDICTION FOR NEXT WEEK:  Leave your comment below this blog to predict the #12 spot for next week's chart.